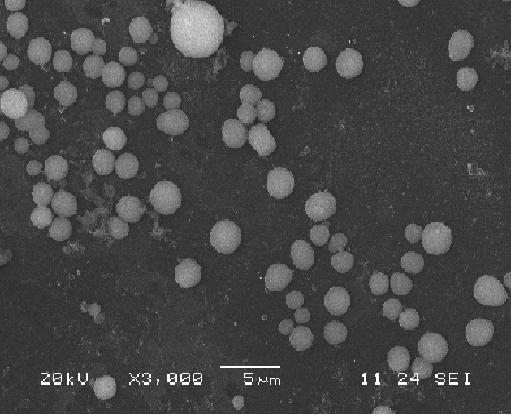 Silicon phase origin on glassy carbon in KF-KCl-K2SiF6 fusion
Abstract
Silicon nucleation process was invesigated in melt KF-KCl-K2SiF6 on glassy carbon substrates at 675 ºС by chronoamperometric method. Using data of the chronoamperograms the linear dependence I – τ3/2 was constructed. That fact testified the progressive nucleation mode of silicon. As seem from SEM micrographs silicon crystals obtained by a single pulse had different sizes, that also confirmed the progressive nucletion mode.
Keywords
method of chronoamperometry; glass-carbon substrate; electrochemistry, silicon
References
Chemezov OV, Batukhtin VP, Apisarov AP, Isakov AV, Zaikov YuP, inventors; Institute of High-Temperature Electrochemistry UB RAS, assignee. Sposob polucheniya nano- i mikrovolokon kremniya elektrolizom dioksida kremniya iz rasplavov soley. Russian Federation patent RU 2427526. 2011 Aug 27. Russian.
Chemezov OV, Vinogradov-Zhabrov ON, Apisarov AP, Isakov AV, Povolotsky IM, Murzakaev AM, Maolkov VB, Zaikov YuP. Perspektivnyye materialy. 2010;9:277–82. Russian.
Grishenkova OV, Semerikova OL, Isaev VA. Rasplavy [Melts]. 2010;5:56-61. Russian.
Baraboshkin AN. Elektrokristallizatsiya metallov iz rasplavlennykh soley [Electrocrystallization of metals from molten salts]. Moscow: Nauka; 1976. 279 p. Russian.
Bieber AL, Massot L, Gibilaro M, Cassayre L, Taxil P, Chamelot P. Silicon electrodeposition in molten fluorides. Electrochim Acta. 2012;62:282-9. doi:10.1016/j.electacta.2011.12.039
Cai Z, Li Y, He X, Liang J. Electrochemical Behavior of Silicon in the (NaCl-KCl-NaF-SiO2) Molten Salt. Metall Mater Trans B. 2010;41(5):1033-7. doi:10.1007/s11663-010-9393-1
Apisarov AA, Redkin AA, Zaikov YuP, Chemezov OV, Isakov AV. Electrical Conductivity of Molten Fluoride–Chloride Electrolytes Containing K2SiF6 and SiO2. J Chem Eng Data. 2011;56(12):4733-35. doi:10.1021/je200717n
Zhuk SI, Minchenko LM, Chemezov OV, Zaikov YuP. Voprosy khimii i khimicheskoi tekhnologii. 2011;4:195-6. Russian.
DOI:
https://doi.org/10.15826/chimtech.2014.1.2.1047
Article Metrics
Metrics powered by PLOS ALM
Copyright (c) 2014 S. I. Zhuk, L. M. Minchenko, O. V. Chemezov, V. B. Malkov, A. V. Isakov, Yu. P. Zaikov

This work is licensed under a
Creative Commons Attribution 4.0 International License
.
Chimica Techno Acta, 2014-2023
ISSN 2411-1414 (Online)
Copyright Notice