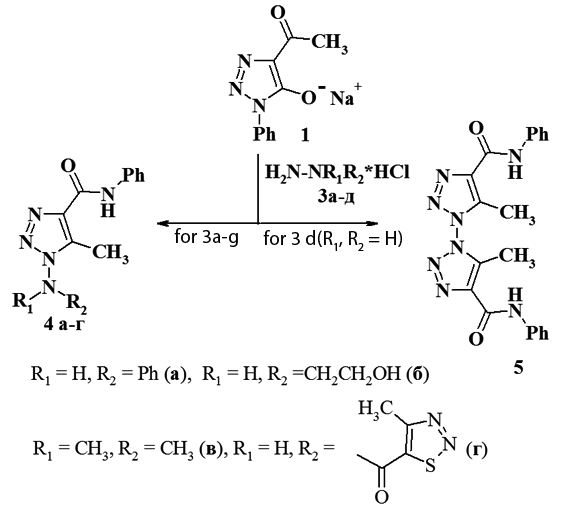 Reaction of 4-acetyl-1,2,3-triazol-5-olate with hydrazine derivatives
Abstract
1,2,3-triazole attracts attention because of the ability opening ring to form α-diazoimin and intramolecular rearrangements with the formation of various heterocyclic systems. Previously the interaction of the 1H-1,2,3-triazole-5-ol sodium salt with amine hydrochloride leading to the formation of isomeric 1,2,3-triazoles was studied. In this paper we present a research of the interaction of 4-acetyl-1,2,3-triazole-5-ol sodium salt with hydrazine derivatives. As result 5-methyl-1,2,3-triazol-4-phenylcarboxamide-phenylamide and bis-5,5'-dimethyl-[1,1']bi[[1,2,3]triazolyl]-4,4'-dicarboxylic acid derivatives were synthesized.
Keywords
1,2,3-Triazoles; rearrangement; hydrazine; bis-triazoles; organic synthesis
References
Tome AC. Science of Synthesis. Vol. 13, Five-Membered Hetarenes with Three or More Heteroatoms. Thieme chemistry; 2004. Chapter 13.13, Product Class 13: 1,2,3-Triazoles; p. 415-602.
Alvarez R, Velazquez S, Felix AS, Aquaro S, De Clercq E, Perno CF, Karlsson A, Balzarini J, Camarasa MJ. 1,2,3-Triazole-[2,5-Bis-O-(tert-butyldimethylsilyl)-.beta.-D-ribofuranosyl]-3'-spiro-5''-(4''-amino-1'',2''-oxathiole 2'',2''-dioxide) (TSAO) Analogs: Synthesis and Anti-HIV-1 Activity. J Med Chem. 1994;4185(37):4185-94. doi: 10.1021/jm00050a015
Khazhieva I, Glukhareva T, Morzherin Yu. In: Problemy teoreticheskoy i eksperimental'noy khimii. XXIII Rossiyskaya molodezhnaya nauchnaya konferentsiya; 2013 Apr 23-26; Ekaterinburg, Russia. p. 506. Russian.
DOI:
https://doi.org/10.15826/chimtech.2015.2.1.005
Article Metrics
Metrics powered by PLOS ALM
Copyright (c) 2015 I. S. Khazhieva, T. V. Glukhareva, Yu. Yu. Morzherin

This work is licensed under a
Creative Commons Attribution 4.0 International License
.
Chimica Techno Acta, 2014-2023
ISSN 2411-1414 (Online)
Copyright Notice