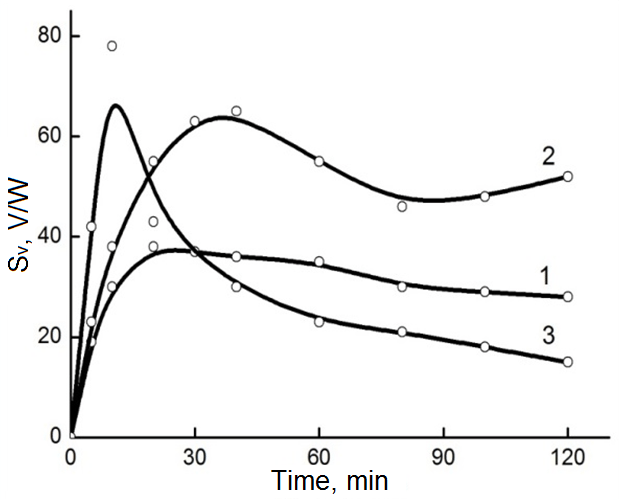 Thermosensitization of nanostructured PbSe films
Abstract
The mode and conditions of thermal sensitization in the temperature range 648-698K lead selenide films deposited from ethylendiamine acetate system were determined. The effect of heat treatment on the morphology and properties of photosensitive chemically deposited films of PbSe was shown. It is concluded that the results obtained by hydrochemical synthesis of nanostructed highly sensitive to infrared range radiation layer of lead selenide provide performance on the level of best foreign analogues.
Keywords
conditions of thermal sensitization; lead selenide; IR radiation
References
Butkevich VG, Bochkov VD, Globus ER. Prikladnaya fizika. 2001;6:66. Russian.
Bode DE. Fizika tonkikh plenok [Thin film physics]. Vol. 3. Khass G, Tun RE, editors. Moscow: Mir; 1968. Chapter, Detektory na osnove soley svintsa [Lead-based detectors]; p. 299-327. Russian.
Markov VF, Maskaeva LN, Ivanov PN. Gidrokhimicheskoe osazhdenie plenok sul'fidov metallov: modelirovanie i eksperiment. Ekaterinburg (Russia): UrO RAN; 2006. 216 p. Russian.
Markov VF, Maskaeva LN, Loshrareva LD, Uimin SI, Kitaev GA. [Pb1–xSnxSe Substitutional solid solution prepared by coprecipitation from aqueos solution]. Neorganicheskie materialy [Inorganic materials]. 1997;33(6):665. Russian.
DOI:
https://doi.org/10.15826/chimtech.2015.2.2.018
Article Metrics
Metrics powered by PLOS ALM
Copyright (c) 2015 V. M. Bakanov, L. N. Maskaeva, V. F. Markov

This work is licensed under a
Creative Commons Attribution 4.0 International License
.
Chimica Techno Acta, 2014-2023
ISSN 2411-1414 (Online)
Copyright Notice