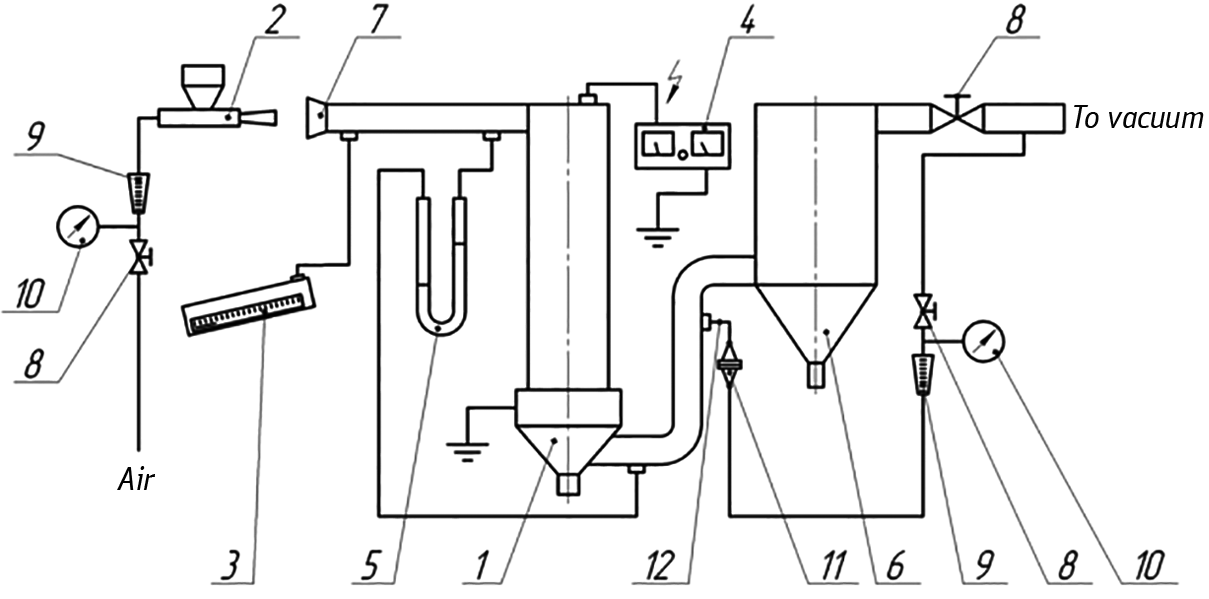 Quantitative assessment of reentrainment in the electrocyclone
Abstract
The paper was devoted to the investigation of the reentrainment which was a parasitic effect incipient at the gas-cleaning systems – cyclones. It was demonstrated that the reentrainment. Arises at the speed of the aerosol from 14 to 27 m/sec. The quantitative characteristics of the reentrainment were determined.
Keywords
eentrainment; cyclones; gas-cleaning systems; irrigation receiving electrode
References
Lim KS, Kim HS, Lee KW. Comparative performances of conventional cyclones and a double cyclone with and without an electric field. J Aerosol Sci. 2004;35(1):103-16. doi:10.1016/j.jaerosci.2003.07.001
Tsai R, Mills AF. A model of particle re-entrainment in electrostatic precipitators. J Aerosol Sci. 1995;26(2):227-39. doi:10.1016/0021-8502(94)00102-5
Xiangrong Z, Lianze W, Keqin Z. A simple criterion for particle-wall adhesion in a wire-plate electrostatic precipitator. J Aerosol Sci. 2005;36(3):411-7. doi:10.1016/j.jaerosci.2004.09.008
Titov AG , Gil'vanova ZR, Inyushkin NV, Ermakov SA, Shchelchkov IP, Aitova AI, Man'kov MG, Tokareva NA, Perfilov SA. Efficiency of Electrostatic Cyclone Operation. Chem Pet Eng. 2014;49(9-10):655-9. doi:10.1007/s10556-014-9814-0
DOI:
https://doi.org/10.15826/chimtech.2015.2.3.024
Article Metrics
Metrics powered by PLOS ALM
Copyright (c) 2015 A. G. Titov, Z. R. Gil'vanova, E. A. Shevchenko, M. K. Masnaviev, A. A. Bir

This work is licensed under a
Creative Commons Attribution 4.0 International License
.
Chimica Techno Acta, 2014-2023
ISSN 2411-1414 (Online)
Copyright Notice