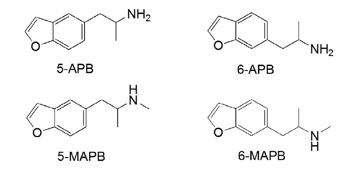 Differentiation of 2- and 6-isomers of (2-dimethylaminopropyl)benzofuran by tandem mass spectrometry
Abstract
Reliable identification of new psychoactive substances of 2-(2-methylaminopropyl)benzofuran and 6-(2-methylaminopropyl)benzofuran is problematic when analyzing by gas chromatography–mass spectrometry method. It found that these two isomers can be reliably differentiated by MS/MS spectra obtained by collision-induced dissociation of their protonated molecules.
Keywords
new psychoactive substances; amphetamine derivatives; chromatography – mass spectrometry; high-resolution mass spectrometry; EI spectra; CID spectra
References
King LA. New phenethylamines in Europe. Drug Test Anal. 2014;6(7-8):808–18. doi:10.1002/dta.1570
Casale JF, Hays PA. The characterization of 6-(2-aminopropyl)benzofuran and differentiation from its 4-, 5-, and 7-positional analogues. Microgram Journal [Internet]. 2012[cited 2016];9(2):61–74. Available from: https://www.dea.gov/pr/microgram-journals/2012/mj9_61-74.pdf
Welter J, Kavanagh P, Meyer MR, Maurer HH. Benzofuran analogues of amphetamine and methamphetamine: studies on the metabolism and toxicological analysis of 5-APB and 5-MAPB in urine and plasma using GC-MS and LC-(HR)-MSn techniques. Anal Bioanal Chem. 2015;407:1371–88. doi:10.1007/s00216-014-8360-0
Welter J, Brandt SD, Kavanagh P, Meyer MR, Maurer HH. Metabolic fate, mass spectral fragmentation, detectability, and differentiation in urine of the benzofuran designer drugs 6-APB and 6-MAPB in comparison to their 5-isomers using GC-MS and LC-(HR)-MSn techniques. Anal Bioanal Chem. 2015;407:3457–70. doi:10.1007/s00216-015-8552-2
Melkozerov VP, Shevyrin VA. Electronic library of mass spectra of electron ionization «EKBDRUGS» (MS LIBRARY EKBDRUGS), certificate of state registration database No. 2015621086 [disk].
DOI:
https://doi.org/10.15826/chimtech.2016.3.2.012
Article Metrics
Metrics powered by PLOS ALM
Copyright (c) 2016 V. A. Shevyrin

This work is licensed under a
Creative Commons Attribution 4.0 International License
.
Chimica Techno Acta, 2014-2023
ISSN 2411-1414 (Online)
Copyright Notice