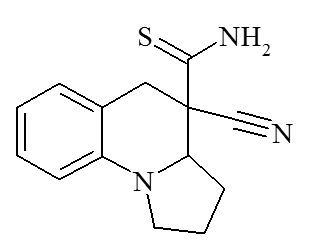 Technology of the pilot production of the tetrahydroquinoline derivative (3aS*,4R*)-4-cyano-1,2,3,3а,4,5-hexahydro-1Н- pyrrolo[1,2-а]quinoline-4-carbothioamide
Abstract
The regulations of the pilot production of (3aS*,4R*)-4-cyano-1,2,3,3а,4,5-hexahydro-1Н-pyrrolo[1,2-а]quinoline-4-carbothioamide designed in Ltd. U-Synthesis is presented in the present work. Main steps of the production are considered, the material balance of the process, specification of main production steps and applied equipment are given.
Keywords
tert-amino effect; cyclization; ortho-vinyl-N,N-dialkylanilines; Knoevenagel condensation; tetrahydroquinolines; CH-active compound
References
Balasubramanian M, Keay JG. Comprehensive Heterocyclic Chemistry II. Vol. 5, Six-membered Rings with One Heteroatom and Fused Carbocyclic Derivatives. Oxford: Pergamon; 1996. Chapter 5.06, Pyridines and their Benzo Derivatives: Applications; p. 245-300. doi:10.1016/B978-008096518-5.00109-X
Barbachyn MR, Dobrowolski PJ, Hurd AR, McNamara DJ, Palmer JR, Romer AG, Ruble JC, Sherry DA, Thomasco LM, Toogood PL, inventors; Pharmacia & Upjohn Company LLC, assignee. Tricyclic tetrahydroquinoline antibacterial agents. United States patent US 7,208,490 B2. 2007 Apr 24.
Perry NB, Blunt JW, Munro MHG. Cytotoxic pigments from new zealand sponges of the genus latrunculia : discorhabdins a, b and c. Tetrahedron. 1988;44(6):1727-34. doi:10.1016/S0040-4020(01)86737-5
Miyoshi M, Morisaki N, Tokiwa Y, Kobayashi H, Iwasaki S, Konishi M, Oki T. Facile reductive rearrangement of dynemicin a to dynemicin H: the direct evidence for the p-phenylene diradical intermediate. Tetrahedron Lett. 1991;32(42):6007-10. doi:10.1016/S0040-4039(00)79450-0
Wender PA, Beckham S, Mohler DL. The intramolecular addition of silylated alkynes to aldehydes: Methodology for the construction of cyclic enediynes and its application to dynemicin analogs. Tetrahedron Lett. 1995;36(2):209-12. doi:10.1016/0040-4039(94)02249-B
Witherup KM, Ransom RW, Graham AC, Bernard AM, Salvatore MJ, Lumma WC, Andersen PS, Pitzenberger SM, Varga SL. Martinelline and martinellic acid, novel G-protein linked receptor antagonists from the tropical plant Martinella iquitosensis (Bignoniaceae). J Am Chem Soc. 1995;117(25):6682-5. doi:10.1021/ja00130a005
El Tahir KEH, Al-Kharji AMH, Ageel AM. Effect of praziquantel and oxamniquineon prostacyclin synthesis by the rat arterial and myometrial tissues. Gen Pharmac. 1992;23(1):131-9. doi:10.1016/0306-3623(92)90060-W
Omura S, Nakagawa A. Structure of virantmycin, a novel antiviral antibiotic. Tetrahedron Lett. 1981;22(3):2199-202. doi:10.1016/S0040-4039(01)90497-6
Williamson NM, March DR, Ward AD. An improved synthesis of 2,2-disubstituted-1,2-dihyroquinolines and their conversion to 3-chloro-2,2-disubstituted-tetrahydroquinolines. Tetrahedron Lett. 1995;36(42):7721-4. doi:10.1016/0040-4039(95)01572-Y
DOI:
https://doi.org/10.15826/chimtech.2016.3.3.015
Copyright (c) 2016 A. A. Poluikova, A. Yu. Platonova
Chimica Techno Acta, 2014-2022
ISSN 2411-1414 (Online)