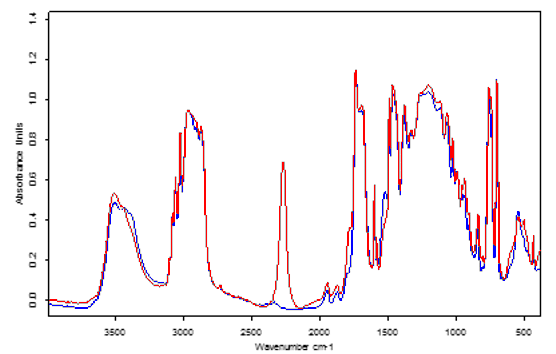 The study of the curing of the polyurethane coating by method of IR spectroscopy
Abstract
The results of the study of the curing process of polyurethane compositions with participation of two different catalysts by the method of IR spectroscopy are given. The time dependences of curing of polyurethane coatings from concentrations of catalysts were determined, on the basis of which the most effective catalyst was selected.
Keywords
polyurethane; polyol; isocyanate; chemical curing; IR spectroscopy
References
Rayt P, Kamming A. Poliuretanovye elastomery [Polyurethane elastomers]. Leningrad (USSR): Khimiya; 1973. 304 p. Russian.
Lipatov YuS, Kercha YuYu, Sergeeva LM. Struktura i svoystva poliuretanov [Structure and properties of polyurethanes]. Kiev: Naukova Dumka; 1970. Glava III, Priroda khimicheskikh i fizicheskikh mezhmolekulyarnykh svyazey v poliuretanakh [Chapter III, Nature of chemical and physical intermolecular bonds in polyurethanes]; p. 37–52. Russian.
Melent'ev SV, Malinovskaya TD, Volokitin OG. [The Investigation of the polyurethane bindering composite fuel coating by the method of IR spectroscopy]. In: [The Collection of materials of the X international conference of students and young scientists «prospects of fundamental Sciences»]; 2013; Tomsk, Russia; 2013. p. 388–390.
Lipatova TE, Bakalo LA. [Progress in the chemistry of polyurethanes]. Kiev: Naukova Dumka; 1972. Russian.
Todosiichuk TT, Kosyanchuk LF, Antonenko OI, Yashchenko LN, Menieres GYa, Getmanchuk IP, Gorbatenko AN. [Optimization of polyurethane curing optically-transparent compositions]. Zhurnal Fizicheskoy Khimii [Journal of Physical Chemistry]. 2012;2(20121):49–52. Russian.
Dekhant I, Dants R. Infrakrasnaya spektroskopiya polimerov [Infrared spectroscopy of polymers]. Moscow: Khimiya; 1976. 459 p. Russian.
DOI:
https://doi.org/10.15826/chimtech.2016.3.4.017
Article Metrics
Metrics powered by PLOS ALM
Copyright (c) 2016 N. A. Korshunova, R. F. Tukhvatullina, O. S. El'tsov

This work is licensed under a
Creative Commons Attribution 4.0 International License
.
Chimica Techno Acta, 2014-2023
ISSN 2411-1414 (Online)
Copyright Notice