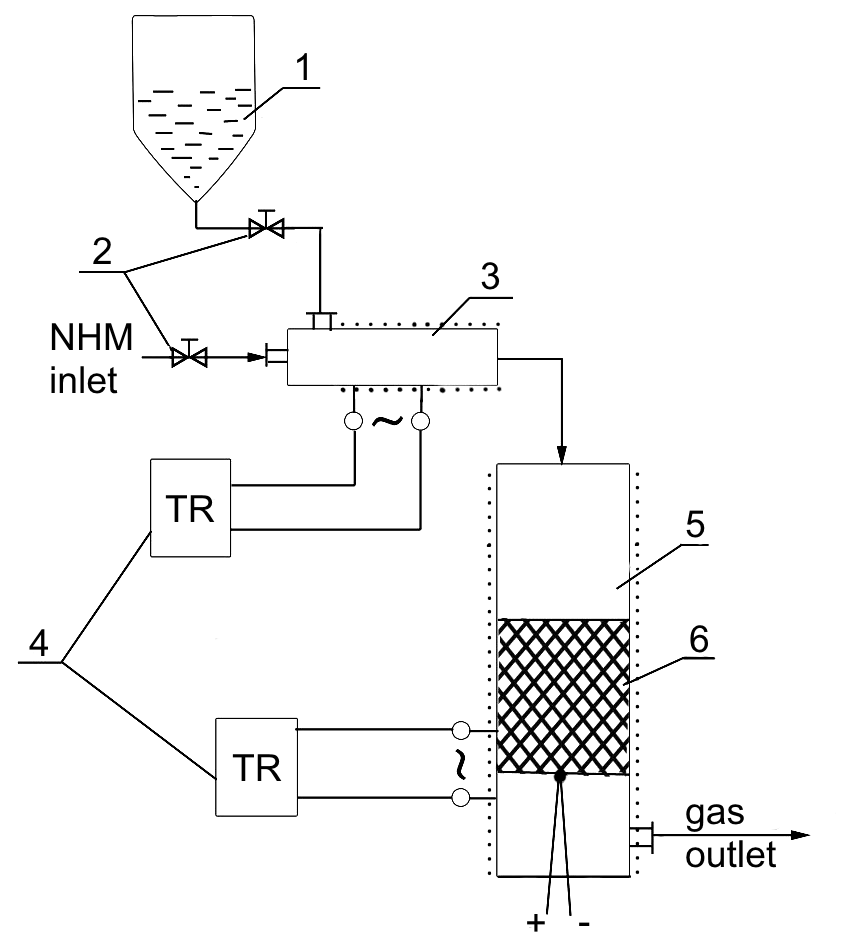 Resistance of industrial nickel-containing methanation catalysts to the poisoning by organic carbon dioxide absorbents
Abstract
We report the results of studies on the influences of the organic carbon dioxide absorbent – aqueous solution of activated methyldiethanolamine (MDEA) – on the physico-chemical and mechanical characteristics of nickel-alumina catalyst NIAP-07-01 (NKM-1) and cement-containing catalysts NIAP-07-07 (NKM-7), Meth-134 and Meth-135 for the hydrogenation of carbon oxide (methanation). It is established that for the nickel-alumina and nickel-cement-containing catalysts subjected to activated methyldiethanolamine (MDEA) it's possible to restore their strength and catalytic properties. In order to increase the time of operation of the methanator it is recommended to apply a new Nickel cement-containing catalyst NIAP-07-07 (NKM-7), which can be produced as tablets, rings or extrudates.
Keywords
nickel-containing catalyst; calcium aluminate; methantion; solution of methyldiethanolamine; hydrogenation; carbon oxides; catalytic activity; mechanical strength
References
Golosman EZ, Efremov VN, Kreyndel' AI, Mironov YuV, Obysov AV, Sobolevskiy VS, Yakerson VI, inventors; Men'shov VN, assignee. Russian Federation patent RU 2143320. 27.12.1999. Russian.
Golosman EZ, Efremov VN. Promyshlennye katalizatory gidrirovaniya oksidov ugleroda [Industrial catalysts for the carbon oxides hydrogenation]. Kataliz v promyshlennosti. 2012;(5):36-55. Russian. doi:10.18412/1816-0387-2012-5-36-55
Alekseev AM. Iz istorii kataliza [History of catalysis]. Moscow: Kal'vis, 2005. [Chapter], GIAP v istorii katalizatornoy promyshlennosti SSSR i Rossii [GIAP in the history of catalysis industry of USSR and Russia]; p. 481-532. Russian.
Melnikov EYa, editor. Spravochnik azotchika. 2nd ed. Moscow: Chemistry, 1987. 512 p. Russian.
Demidenko IM, Yankovskiy NA, Stepanov VA, Nikitina EF, Kravchenko BV. Katalizatory i protsessy s ikh primeneniem v azotnoy promyshlennosti [Catalysts and processes with their application in the nitric industry]. Gorlovka: Gorlovskaya tipografiya, 1998. 198 p. Russian.
Efremov VN, Kashinskaya AV, Polivanov BI, Boevskaya EA, Golosman EZ. O razrushenii katalizatora metanirovaniya pod vozdeystviem vodnogo rastvora potasha [Destruction of the methanation catalyst by water solution of KOH. Part I: The nickel-alumina catalyst NIAP-07-01 (NKM-1)]. Neftegazokhimiya. 2015;4:62-6. Russian.
Takenara S, Shimizu T, Otsuka K. Complete removal of carbon monoxide in hydrogen-rich gas stream through methanation over supported metal catalysts. Int J Hydrogen Energy. 2004;29(10):1065-73. doi:10.1016/j.ijhydene.2003.10.009
Men Y, Kolb G, Zapf R, Hessel V, Love H. Selective methanation of carbon oxides in a microchannel reactor-Primary screening and impact of gas additives. Catal Today. 2007;125(1-2):81-7. doi:10.1016/j.cattod.2007.02.017
Liu Q, Dong X, Mo X, Lin W. Selective catalyc methanation of CO in hydrogen-rich gases over Ni/ZrO2 catalyst. J Natur Gas Chem. 2008;17(3):268-72. doi:10.1016/S1003-9953(08)60062-6
Leites IL, Avetisov AK, Yazvikova NV, Suvorkin SV, Baichtok CK, Dudakova NV, Deev KN, Kosarev GV. Issledovanie fiziko-khimicheskikh svoystv modifitsirovannogo MEDA-absorbenta dlya tonkoy ochistki gaza ot dioksida ugleroda v proizvodstve ammiaka [Investigation of physico-chemical properies of modified MDEA-absorbent for fine purification of gas from carbon dioxide in ammonia production]. Khimicheskaya promyshlennost' segodnya. 2003;1:34-41. Russian.
Аvetisov AK, Kononov SM, Sokolov AM, Baichtok CK, Suvorkin SV, Leites IL, Deripasov VV, Sokolinskiy CA, Yazvikova NV. Opyt modernizatsii otdeleniya absorbtsionnoy ochistki agregata sinteza ammiaka AM-70 na OAO "Nevinnomysskiy Azot" s zamenoy MEA-rastvora na MDEA-absorbent rossiyskogo proizvodstva [Experience of modernization of absorption purification unit of the ammonia-synthesis plant AM-70 at JSC "Nevinnomysskiy Azot": replacement of the MEA solution by MDEA-absorbent made in Russia]. Khimicheskaya promyshlennost' segodnya. 2003;2:22-4. Russian.
Vakk EG, Shuklin GV, Leites IL. Poluchenie tekhnologicheskogo gaza dlya proizvodstva ammiaka, metanola, vodoroda i vysshikh uglevodorodov. Teoreticheskie osnovy, tekhnologiya, katalizatory, oborudovanie, sistemy upravleniya [Obtaining of gas for production of ammonia, methanol, hydrogen and higher hydrocarbons. Theoretical foundations, technology, catalysts, equipment, management: a textbook]. Moscow, 2001. 478 p. ISBN 978-5-98801-033-3. Russian.
Efremov VN, Golosman EZ, Polivanov BI, Kashinskaya AV, Polushin AP. Ustoychivost' nikelevykh promyshlennykh katalizatorov metanirovaniya k vozdeystviyu aktivirovannogo metildietanolamina – absorbent CO2 [Stability of Industrial Nickel Catalysts for Methanation against the Action of Activated Methyldiethanol Amine used as CO2 Absorbent]. Kataliz v promyshlennosti. 2016;16(4):67-76. Russian. doi:10.18412/1816-0387-2016-4-67-76
DOI:
https://doi.org/10.15826/chimtech/2017.4.3.02
Article Metrics
Metrics powered by PLOS ALM
Copyright (c) 2017 V. N. Efremov, E. Z. Golosman, A. V. Kashinskaya, T. I. Mugenov, V. E. Zolotareva, B. I. Polivanov, A. P. Polushin

This work is licensed under a
Creative Commons Attribution 4.0 International License
.
Chimica Techno Acta, 2014-2023
ISSN 2411-1414 (Online)
Copyright Notice