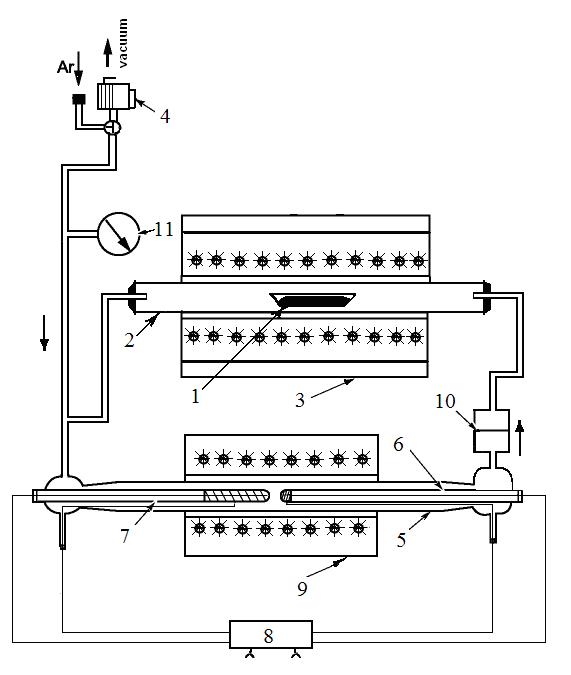 Low-temperature synthesis under low oxygen pressure and thermodynamic properties of YbFe2O4-δ
Abstract
The mixed-valence compound YbFe2O4-d was synthesized using a modified method that allows employing gaseous atmosphere with a controlled ratio of inert gas and oxygen. The stability range for YbFe2O4-d was determined at 1090 °C under reducing conditions. Thermodynamic characteristics for the formation of  YbFe2O4-d from the simple oxides and from elements in the temperature range 700-910 °C have been calculated. The obtained results allow specifying the low-temperature part of Р-Т-Х diagram for the Yb-Fe-O system.
Keywords
oxygen partial pressure; mixed valency; thermodynamic properties of complex oxides; oxygen non-stoichiometry
References
Pyatakov AP, Zvezdin AK. Magnitoelektricheskiye materially I multiferroiki [Magnetoelectric materials and multiferroics]. Uspekhi fizicheskih nauk [Achievements in Physical Sciences]. 2012;182(6):593-620. Russian. doi:10.3367/UFNr.0182.201206b.0593
Kimizuka N, Katsura T. The Standard Free Energy of Formation of YbFe2O4, Yb2Fe3O7, YbFeO3, and Yb3Fe5O12 at 1200 °C. J Solid State Chem. 1975;15:151-7. doi:10.1016/0022-4596(75)90238-8
Kimizuka N, Takenaka A, Sasada Y, Katsura T. A series of new compounds A3+Fe2O4 (A=Ho, Er, Tm, Yb, and Lu). Solid State Commun. 1974;15:1321-3. doi:10.1016/0038-1098(74)91372-6
Katsura T, Sekine T, Kitayama K, Sugihara T, Kimizuka N. Thermodynamic Properties of Fe-Lanthanoid-O Compounds at High Temperatures. J Solid State Chem. 1978;23:43-57. doi.org/10.1016/0022-4596(78)90052-X
Yankin AM, Vedmid' LB. inventors; Institute of Metallurgy UB RAS, assignee. Isobaric console to synchronous thermoanalyzer. Russian Federation patent RU 88452. 2009 Nov 11. Russian.
Chufarov GI, Men' AN, Zhuravleva MG, Balakirev VF, Shchepyotkin AA. Termodinamika processov vosstanovleniya okislov metallov [Thermodynamics of metal oxides' reduction processes]. Moscow: Metallurgy; 1970. 480 p. Russian.
Yankin AM, Balakirev VF, Vedmid' LB, Fedorova OM. A Static Method for Studying Heterogeneous Equilibria. Russ J Phys Chem. 2003;77(11):1899-1902.
Kato K, Kawada I, Kimizuka N, Katsura T. Die Kristallstruktur von YbFe2O4. Zeitschrift für Kristallographie. 1975;141:314-20. doi:10.1524/zkri.1975.141.3-4.314
Portnoy KI, Timofeeva NI. Kislorodnye soedineniya redkozemelnyh elementov [Oxygen compounds of rare-earth elements]. Moscow: Metallurgy; 1986. 480 p. Russian.
Tret'yakov YuD. Khimiya nestekhiometricheskikh okislov [Chemistry of nonstoichiometric oxides]. Moscow: MGU; 1974. 364 p. Russian.
DOI:
https://doi.org/10.15826/chimtech.2018.5.1.03
Copyright (c) 2017 L.B.Vedmid', V.M. Dimitrov, O.M. Fedorova
© Chimica Techno Acta, 2014-2021
ISSN 2411-1414 (Online)