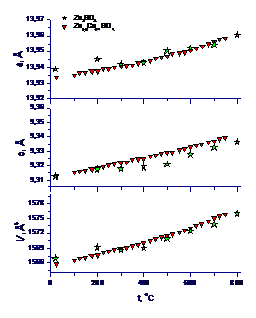 Sol-gel synthesis and crystal chemical properties of the pigment Zn1.9Cu0.1SiO4
Abstract
The pigment Zn1.9Cu0.1SiO4 was obtained by the method of sol-gel synthesis. The crystallization temperature was set at 776 °C, ∆H ≈ -16.3 kJ/mol. Thermal expansion of the individual Zn2SiO4 and Zn1.9Cu0.1SiO4 solid solutions was studied by in situ high-temperature X-ray diffraction. It is shown that the substitution of Zn2+ → Cu2+ does not lead to significant changes in the lattice parameters; in the range from room temperature to 800 °C the structure expands monotonically when heated. The coefficients of volumetric thermal expansion for Zn2SiO4 and Zn1.9Cu0.1SiO4 are αV = 8.05 · 10-6 and 8.81 · 10-6 1/K, respectively. The colorimetric coordinates in the RGB system are 71.8% red, 72.9% green and 79.6% blue, which corresponds to the gray-blue pigment.
Keywords
pigment; willemite; sol-gel synthesis; thermal expansion
References
Berke H. The invention of blue and purple pigments in ancient times. Chem. Soc. Rev. 2007;36:15-30. doi:10.1039/B606268G
Pozza G., Ajo` D., Chiari G., De Zuane F., Favaro M. Photoluminescence of the inorganic pigments Egyptian blue, Han blue and Han purple. J. Cultural Heritage. 2000;1:393-8. doi:10.1016/S1296-2074(00)01095-5
Sidorov V.I., Malayvskyi N.I., Pokid`ko B.V. Poluchenie nizkoosnovnikh silikatov nekotorikh perekhodnikh metallov metodom osadzenizya. Vestnik MGSU. 2007;1:163-6. Russian.
Khleborodova O.A. Tablica sootvetstviya keramicheskikh mass I bazovikh glazurei [Internet]. 2017. Russian. Available from: https://www.ceramistam.ru/blog/Keramicheskie_massy/tablitsa-sootvetstviya-keramicheskikh-mass-i-bazovykh-glazurey/
DOI:
https://doi.org/10.15826/chimtech.2018.5.4.05
Article Metrics
Metrics powered by PLOS ALM
Copyright (c) 2018 R.F. Samigullina, M.V. Rotermel, I.V. Ivanova, T.I. Krasnenko

This work is licensed under a
Creative Commons Attribution 4.0 International License
.
Chimica Techno Acta, 2014-2023
ISSN 2411-1414 (Online)
Copyright Notice