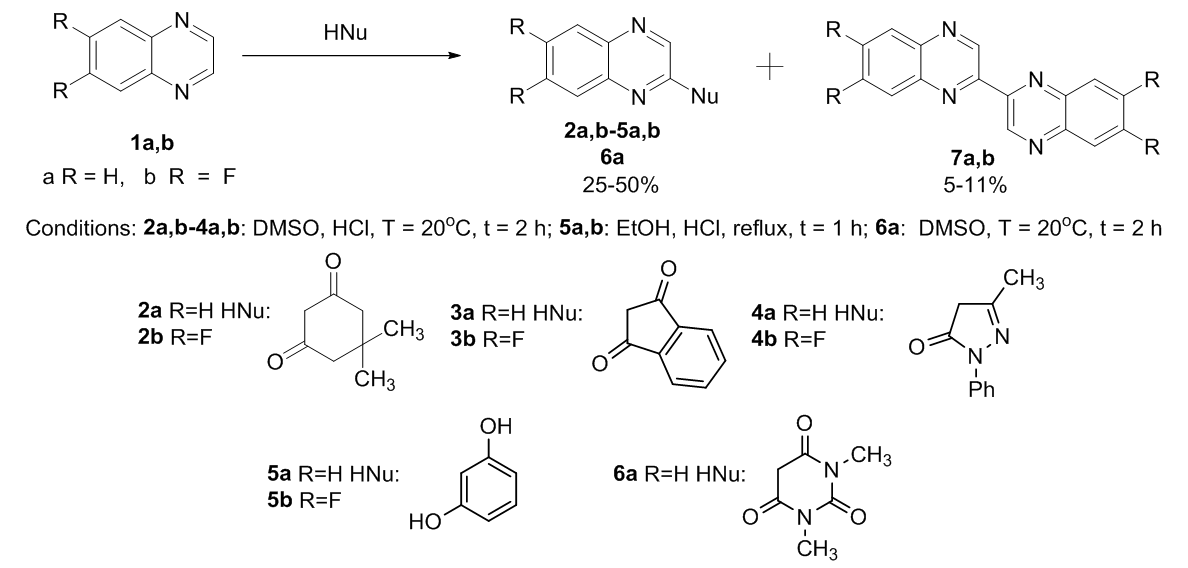 New opportunities for the synthesis of quinoxaline derivatives
Abstract
Convenient methods for the synthesis of quinoxaline derivatives with the use of nucleophilic aromatic substitution of hydrogen in heteroaromatic part of molecule in conditions of the acid catalysis were elaborated. The reactions of substitution of fluorine with amines in aromatic ring of 6,7-difluoroquinoxaline with the formation of monofluoro derivatives were studied.
Keywords
quinoxalines; 6,7-difluoroquinoxalines; quinoxalin-2-ones; 6,7-dufluoroquinoxalin-2-ones; nucleophiles
References
Barlin GB. The Chemistry of Heterocyclic Compounds: The Pyrazines. New York: Wiley-VCH; 1982. 687 p. doi:10.1002/9780470187173
Cheeseman GWN, Cookson RF. The Chemistry of Heterocyclic Compounds: The Condensed Pyrazines. New York: Wiley-VCH; 1979. 843 p.
Sakato G, Makino K, Kurasawa Y. Recent progress in the quinoxaline chemistry. Synthesis and biological activity. Heterocycles. 1988;27(10):2481-515. doi: 10.3987/REV-88-397.
Mamedov VA. Quinoxalines. Synthesis, Reactions, Mechanisms and Structure. Switzerland: Springer; 2016. 437 p. doi:10.1007/978-3-319-29773-6
Mashkovskii M. D. Lekarstvennye sredstva [Drugs] Part II. Moscow: Meditsina; 2014. 1216 p. Russian.
Becklin RR, Chepanoske CL, Pelter JM, Qi L, Robbins PB, Sahasbudhe SR, Selliah R, Simmons K, Stockwell BR, Venkat RG, Von RM, Zhen E, inventors; Prolexys Pharmaceuticals Inc., assignee. Quinoxaline derivatives as antitumor agents. International patent WO2006/081331 A3. 2006 Aug 3.
Thomas KRJ, Velusamy M, Lin JT, Chuen CH, Y-T. Tao. Chromophore-labeled derivatives as efficient electroluminescent materials. Chem Mater. 2005;17(7):1860-66. doi:10.1021/cm047705a
Dailey S, Feast WJ, Peace RJ, Sage IC, Till S, Wood EL. Synthesis and device characterization of side-chain polymer electron transport materials for organic semiconductor applications. J Mater Chem. 2001;11:2238-43. doi:10.1039/B104674H
Sessler JL, Maeda H, Mizuno T, Lynch VM, Furuta H. Quinoxaline-oligopyrroles: Improved pyrrole-based anion receptors. Chem Comm. 2002;7:862-3. doi:10.1039/B111708D
Sessler JL, Maeda H, Mizuno T, Lynch VM, Furuta H. Quinoxaline-bridged porphyrinoids. J Am Chem Soc. 2002;124(45):13474-79. doi:10.1021/ja0273750
Castro PP, Zhao G, Masangkay GA, Hernandez CL, Gutierrez- Tunstad M. Quinoxaline excision: a novel approach to tri- and diquinoxaline cavitands. Org Lett. 2004;3:333-6. doi:10.1021/ol036045x
Pratt YT. The Chemistry of Heterocyclic Compounds: Quinoxalines. Eds.: Weissberger GA, Taylor EC. New York: John Wiley & Sons; 1956;6:377-454.
Charushin VN, Chupakhin ON. Topics in Heterocyclic Chemistry: Metal-free C-H functionalization of aromatic compounds through the action of nucleophilic reagents. Eds.: Charushin VN, Chupakhin ON. Switzerland: Springer; 2014;37:1-51. doi:10.1007/978-3-319-07019-3
Charushin VN, Nosova EV, Lipunova GN, Chupakhin ON. Fluorine in Heterocyclic Chemistry. 6-Membered Heterocycles: Fluoroquinolones: Synthesis and application. Switzerland: Springer; 2014;2:111-79. doi:10.1007/978-3-319-04435-4
Zoltewicz JA, Oestreich TM, O'Halloran JK, Helmick LS. Covalent amination of heteroaromatic compounds. J Org Chem. 1973;38:1949-52. doi:10.1021/jo00950a037
Chupakhin ON, Sidorov EO, Shein SM, Bilkis II. Substitution of hydrogen and dimerization of quinoxaline ring by activity of dimethylaniline. Rus J Org Chem. 1976;12(11):2464-8.
Nikam SS, Sahasrabudhe AD, ShastiRK, Ramanathan S. A facile synthesis of (20oxo-1,2-dihydroquinoxalin-3-yl)-methyl ketones and (quinoxalin-2-yl)-methyl ketones. Synthesis. 1983;2:145-7. doi:10.1055/s-1983-30259
Ponomareva AYu, Beresnev DG, Itsikson NA, Chupakhin ON, Rusinov GL. Synthesis of [2,3-b]thieno- and furoquinoxalines by the SNH and SNipso reactions of 2-substituted quinoxalines with acetophenones. Mend Comm. 2006;16:16-8. doi:10.1070/MC2006v016n01ABEH002208
Ponizovskii MG, Chupakhin ON, Charushin VN, Alexandrov GG. Cyclization of N-alkylazinium cations with bisnucleophiles. 6. Cycloelimination of tetrahydro-endo-furo[2,3-b]quinoxalines leading to 2,3-disubstituted tetrahydroquinoxalines. Chem Het Comp. 1982;18:1098-103. doi:10.1007/BF00503204
Azev YuA, Oparina ED, Golomolzin BV, Ermakova OS, Bakulev VA. A simple means of preparing quinoxaline derivatives: Direct introduction of C-nucleophiles into quinoxaline nucleus by substituting a hydrogen atom. Pharm Chem J. 2013;3:172-5. doi:10.1007/s11094-013-0919-0
Azev YuA, Kodess MI, Ezhikova MA, Gibor AM, Baranov VI, Ermakova OS, Bakulev VA. New opportunities for the synthesis of quinoxaline-substituted heterocyclic and aryl moieties. Pharm Chem J. 2013;9:498-502. doi:10.1007/s11094-013-0989-z
Azev YuA, Oparina ED. Reactions of unsubstituted quinoxaline with nucleophiles. Chem Het Comp. 2012;10:1306-8. doi:10.1007/s10593-012-0909-2
Azev YuА, Ermakova ОS, Bakulev VА, Kovalev IS, Tsmokalyuk АN, Kozitsina АN, Pervova МG, Filyakova VI. Features of quinoxaline reactions with C-nucleophiles: examples of dimerization of heterocycle in course of hydrogen substitutioin. Rus J Gen Chem. 2015;7(85):1635-8. doi: 10.1134/S1070363215070105
Scheinkman AK, Lopatinskaya KhYa, Terent'ev PB. Reaction of quinoxaline with benzopyridines in acetic anhydrides in the presence of Zn dust. Chem Het Comp. 1985; 7(21):805-10. doi:10.1007/BF00519152
Sundberg RJ. Indoles. Eds.: Katrizky A, Meth-Cohn O, Rees C. London: Academic Press; 1996. 175 p.
Stepanova EV, Shtil AA, Lavrenov SN, Bukhman VM, Inshakov AN, Mirchink EP, Trenin AS, Galatenko OA, Isakova EB, Glazunova VA, Dezhenkova LG, Solomko ESh, Bykov EE, Preobrazhenskaya MN. Tris(1-alkylindol-3-yl)methylium salts as a novel class of antitumor agents. Rus Chem Bull. 2010;59:2259-67. doi:10.1007/s11172-010-0386-7
Azev YuA, Ermakova OS, Ezhikova MA, Kodess MI, Berseneva VS, Kovalev IS. Transformations of 6,7-difluoroquinoxaline with indoles: synthesis of indole-substituted 6,7-difluoroquinoxalines and tris(indolyl-3-yl)methane derivatives. Chem Nat Comp. 2017;3:519-22. doi:10.1007/s10600-017-2036-x
Pfleiderer W, Ferch H. Untersuchungen in der Pyrimidinreihe X Umsetzungen mit 1,3-Dimethyl- and 1,3,5-Trimethyl-4-chlor-uracil. J Lieb Ann Chem. 1958;1(615):52-6. doi:10.1002/jlac.19586150109
Azev YuA, Oparina ED, Kovalev IS, Slepukhin PA, Novikova RK. Reactions of quinoxaline with 3-methyl-1-phenylpyrazol-5-one. Mend Comm. 2012;22:37-8. doi:10.1016/j.mencom.2012.01.014
Chupakhin ON, Egorov IN, Rusinov VL, Slepukhin PA. Asymmetric induction in the reactions of azinones with C-nucleophiles. Russ Chem Bull. 2010;5:991-1001. doi:10.1007/s11172-010-0195-z
Azev YuA, Ermakova OS, Berseneva VS, Bakulev VA, Ezhikova MA, Kodess MI. Synthesis of fluoroquinoxalin-2(1H)-one derivatives containing substituents in the pyrazine and benzene fragments. Rus J Org Chem. 2017;1:90-5. doi:10.1134/S107042801701016X
Azev YuA, Kodess MI, Ezhikova MA, Ermakova OS, Berseneva VS, Bakulev VA. Reactions of quinoxaline-2-one with β-diketones: a new approach to 6a,7-dihydro-5H-pyrido[1,2-a]quinoxaline-6,8-diones. Mend Comm. 2017;1:97-8. doi:10.1016/j.mencom.2017.01.032
Azev YuA, Ermakova OS, Berseneva VS, Kodess MI, Ezhikova MA, Ganebnykh IN. Synthesis of the 6-oxidopyrido[1,2-a]quinoxalinium derivatives from quinoxaline-2-one and aldehydes – new examples of domino reactions. Mend Comm. 2017;6(27):637-9. doi:10.1016/j.mencom.2017.11.034
Charushin VN, Mokrushina GA, Tkachev AV. Nucleophilic substitutions in 6,7-difluororquinoxalines. J Fluor Chem. 2001;1:71-80. doi:10.1016/S0022-1139(00)00345-6
DOI:
https://doi.org/10.15826/chimtech.2019.6.1.02
Copyright (c) 2019 Olga Koptyaeva, Yuriy Azev, Yuriy Shafran, Tatyana Pospelova, Oleg Chupakhin
Chimica Techno Acta, 2014-2021
ISSN 2411-1414 (Online)