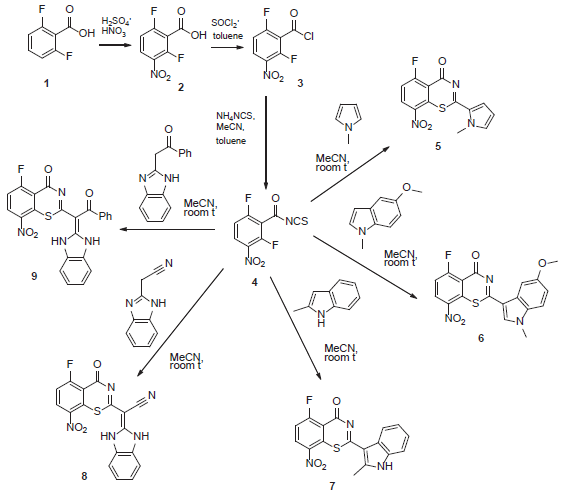 Synthetic approaches to 2-aryl/hetaryl- and 2-(hetaryl)ylidene derivatives of fluorinated 1,3-benzothiazin-4-ones
Abstract
A series of 2-hetaryl- and 2-(hetaryl)ylidene substituted 5-fluoro-8-nitro-1,3-benzothiazin-4-ones was synthesized by interaction of 2,6-difluoro-3-nitrobenzoylisothiocyanate with C-nucleophiles. Cyclocondensation of polyfluorobenzoylchlorides with aryl and hetaryl thioamides represents new approach to 1,3-benzothiazin-4-ones. Some compounds proved to be promising for further development of tuberculostatic agents.
Keywords
1,3-benzothiazin-4-ones; 2-fluorobenzoylchloride; 2-fluorobenzoyl-isothiocyanate; indole; pyrrole; cyanomethylbenzimidazole; benzoylmethylbenzimidazole; thioamide; cyclocondensation; tuberculostatics
References
Chetty S, Ramesh M, Singh-Pillay A, Soliman M. Recent advancements in the development of anti-tuberculosis drugs. Bioorg Med Chem Lett. 2017;27(3):370-86. doi:10.1016/j.bmcl.2016.11.084
Kimura H, Sato Y, Tajima Y, Suzuki H, Yukitake H, Imaeda T, Kajino M, Oki H, Takizawa M, Tanida S. BTZO-1, a Cardioprotective Agent, Reveals that Macrophage Migration Inhibitory Factor Regulates ARE-Mediated Gene Expression. Chem Biology. 2010;17(12):1282-94. doi:10.1016/j.chembiol.2010.10.011
Nosova EV, Lipunova GN, Charushin VN, Chupakhin ON. Synthesis and biological activity of 2-amino- and 2-aryl(hetaryl) substituted 1,3-benzothiazin-4-ones. Mini-Reviews in Medicinal Chemistry. 2019;19(12):999-1014. doi:10.2174/1389557518666181015151801
Szabo J, Bani-Akoto E, Dombi G, Gunther G, Bernath G, Fodor L. Ring-closure reaction of N-arylthiomethylaroylamides to 1,3-benzothiazines. J. Heterocyc. Chem. 1992;29(5):1321-4. doi:10.1002/jhet.5570290545
Nosova EV, Lipunova GN, Laeva AA, Charushin VN. Polyfluorobenzoyl chlorides and isothiocyanates in reactions with CH-reactive benzimidazoles. Russ. Chem. Bull. 2005;54(3):733-7. doi:10.1007/s11172-005-0312-6
Nosova EV, Laeva AA, Trashakhova TV, Golovchenko AV, Lipunova GN, Slepukhin PA, Charushin VN. Fluorine-containing heterocycles: XVIII. Monofluoro derivatives of quinazolines and 1,3-benzothiazin-4-ones. Russ J Org Chem. 2009;45(6):904-12. doi:10.1134/S1070428009060189
Nosova EV, Poteeva AD, Lipunova GN, Slepukhin PA, Charushin VN. Synthesis of Fluorine-Containing 2-Pyrrolyl- and 2-Indolyl-Substituted 1,3-Benzothiazin-4-ones. Russ J Org Chem. 2019;55(3):384-7. doi:10.1134/S1070428019030205
Nosova EV, Batanova OA, Lipunova GN, Charushin VN. Synthesis of novel 8-nitro-substituted 1,3-benzothiazin-4-ones. Mendeleev Communications. 2020;30(4);427-9. doi:10.1016/j.mencom.2020.07.007
Yoshida Y, Barrett D, Azami H, Morinaga C, Matsumoto S, Matsumoto Y, Takasugi H. Studies on Anti-Helicobacter pylori Agents. Part 1: Benzyloxyisoquinoline Derivatives. Bioorg Med Chem. 1999;7(11):2647–66. doi:10.1016/S0968-0896(99)00203-5
Mohareb RM, Abdallah AEM, Mohamed AA. Synthesis of Novel Thiophene, Thiazole and Coumarin Derivatives Based on Benzimidazole Nucleus and Their Cytotoxicity and Toxicity Evaluations. Chem Pharm Bull. 2018;66(3):309-18. doi:10.1248/cpb.c17-00922
Mochul'skaya NN, Andreiko AA, Kodess MI, Vasil'eva EB, Filyakova V.I, Gubaidullin AT, Litvinov IA, Sinyashin OG, Aleksandrov GG, Charushin VN. Annelation of the thiazole ring to 1,2,4-triazines by tandem AN-AN or SNH-SNH reactions. Russ Chem Bull, Int Ed. 2004;53(6):1279-89. doi:10.1023/B:RUCB.0000042287.32992.54
Lipunova GN, Nosova EV, Mokrushina GA, Ogloblina EG, Aleksandrov GG, Charushin VN. Fluorocontaining Heterocycles: IX. Derivatives of Imidazo[2,1-b][1,3]benzothiazine. Russ J Org Chem. 2003;39(2):248-56. doi:10.1023/A:1025548505109
DOI:
https://doi.org/10.15826/chimtech.2020.7.3.01
Article Metrics
Metrics powered by PLOS ALM
Copyright (c) 2020 Emiliya V. Nosova, Olga A. Batanova, Nataliya N. Mochulskaya, Galina N. Lipunova

This work is licensed under a
Creative Commons Attribution 4.0 International License
.
Chimica Techno Acta, 2014-2023
ISSN 2411-1414 (Online)
Copyright Notice