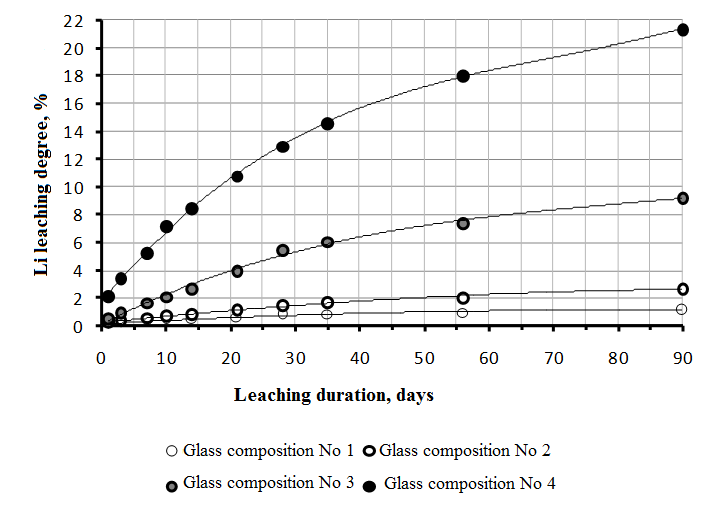 Investigation of Borosilicate Glasses with Simulated HLW Components and Determination of Their Chemical Durability
Abstract
The paper discusses the current status of the HLW vitrification technology applied at the radiochemical plant of the Mayak PA. Conceptual and technical solutions proposed to develop the technology of vitrification of various types of liquid HLW at the Mayak PA are presented. Compositions of borosilicate glasses with HLW components are described, temperatures of their melting and easy pouring are determined. Chemical durability parameters obtained for the borosilicate glasses are provided.
Keywords
borosilicate glass; vitrification; high-level waste; chemical durability; vitrification melter
References
Goel A, McCloy JS, Pokorny R, Kruger AA. Challenges with vitrification of Hanford High-Level Waste (HLW) to borosilicate glass – An overview. J Non-Cryst Solids: X. 2019;4:100033. doi:10.1016/j.nocx.2019.100033
Ozhovan MI, Poluektov PP. Primeneniye styokol pri immobilizatsii radioaktivnykh otkhodov [The use of glass for immobilization of radioactive waste]. Bezopasnost' okruzhayushchey sredy [Environmental Safety]. 2010;1:112–5. Russian.
Vedishcheva NM, Shakhmatkin BA, Wright AC. The structure of sodium borosilicate glasses: thermodynamic modeling vs. experiment. J Non-Cryst Solids. 2004;345–6;39–44. doi:10.1016/j.jnoncrysol.2004.07.040
Kozlov PV, Remizov MB, Belanova EA, Vlasova NV, Orlova VA, Martynov KV. Modifikatsiya sostava alyumofosfatnykh styokol s imitatorami VAO dlya povysheniya ikh ustoychivosti. 1. Vliyaniye modifikatorov na vyazkost' i kristallizatsionnuyu sposobnost' rasplavov [Modification of composition of aluminophosphate glasses with simulated HLW to increase their durability. 1. Effect of modifiers on viscosity and crystallization capacity of melts]. Voprosy radiatsyonnoy bezopasnosti [Radiation Safety Problems]. 2019;1:3–15. Russian.
Shaydullin SM, Kozlov PV, Remizov MB, Verbitsky KV, Melentyev AB, Bendasov DI. Plavitel' s donnym slivom dlya otverzhdeniya VAO v borosilikatnoye steklo. Aktual'nye problemy innovatsionnogo razvitiya yadernykh tekhnologiy [Melter with bottom drain for HLW immobilization in borosilicate glass. Topical issues of innovative development of nuclear technologies]: In: Abstracts of the conference in the framework of scientific session at NRNU MEPhI; 2019 April 8-12; Seversk, Russia. p. 4 Russian.
Batorshin GSh, Remizov MB, Kozlov PV, Logunov MV, Kustov SV. Tekhnologiya pererabotki yadernogo naslediya FGUP PO Mayak - nakoplennykh vysokoaktivnykh geterogennykh otkhodov [Technology for Reprocessing of Nuclear Legacy High-Level Heterogeneous Waste Accumulated at the Mayak PA]. Voprosy radiatsyonnoy bezopasnosti [Radiation Safety Problems]. 2015;1:3–10. Russian.
Underground Disposal of Radioactive Waste. General Guidelines. IAEA Safety Series No. 54. Vienna: IAEA, 1981. 56 p.
Kozlov PV, Remizov MB, Makarovsky RA, Dementyeva II, Lupekha NA, Zubrilovsky EN, Kustov SV, Miroshnichenko AA. Osnovnye podkhody, opyt i problem pererabotki nakoplennykh v yomkostyakh zhidkikh radioaktivnykh otkhodov slozhnogo himicheskogo sostava [Main Approaches, Practices and Problems of Reprocessing of Radioactive Waste with Complex Chemical Composition Accumulated in the Storage Tanks]. Radioaktivnye otkhody [Radioactive Waste]. 2018[cited 2020 November 25];4(5):55–64. Russian. Available from: http://ibrae.ac.ru/docs/Radwaste_Journal_4(5)18/055-066_Kozlov_BASIC%20APPROACHES,%20EXPERIENCE%20AND%20PROBLEMS.pdf
Radioactive Waste. Opredeleniye khimicheskoy ustoychivosti otverzhdyonnnykh vysokoaktivnykh otkhodov metodom dlitelnogo vyshchelachivaniya. GOST R 52126-2003 [Determination of Chemical Stability of Solidified High-Level Waste Using Long-Term Leaching Method. State Standard GOST R 52126-2003]. Moscow: IPK Standards Publishing House, 2003. 5 p. Russian.
Sbor, pererabotka, khranenye i konditsionirovaniye zhidkikh radioaktivnykh otkhodov. Trebovaniya bezopasnosti. NP-019-2015 [Collection, Reprocessing, Storage and Conditioning of Liquid Radioactive Waste. Safety Requirements. Rules and Regulations NP-019-2015]. Moscow: Gosatomnadzor of Russia, 2015. 22 p. Russian.
DOI:
https://doi.org/10.15826/chimtech.2021.8.1.05
Copyright (c) 2020 Shaydullin S.M., Belanova E.A., Kozlov P.V., Remizov M.B., Dvoryanchikova E.M.
Chimica Techno Acta, 2014-2022
ISSN 2411-1414 (Online)