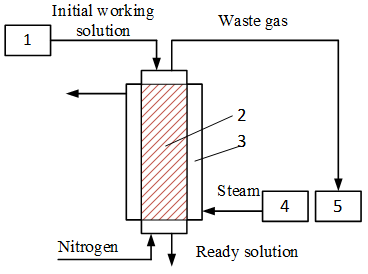 Continuous copper leaching technology
Abstract
The parameters of the continuous technological process of leaching copper from fine copper waste using nitric acid as an oxidizer are studied. Optimal conditions for a continuous leaching process were established, in which solutions with a mass concentration of copper ions greater than 25 g/dm3 were obtained.
Keywords
copper leaching; copper waste treatment
References
WBMS: proizvodstvo medi v 2019 godu neznachitel'no vyroslo [WBMS: copper production in 2019 increased insignificantly] [Internet]. Moscow: JSC "Metallservis"; c2020 [cited 2020 Oct 10]. Russian. Available from: https://mc.ru/news/nw/news_id/11688
Naboichenko SS. Smirnov VI. Gidrometallurgiya medi [Hydrometallurgy of copper]. Moscow: Metallurgiya; 1974. 272 p. Russian.
Bredikhin VN, Manyak NK, Kaftanenko AYa. Med' vtorichnaya: monografiya [Secondary Copper: monograph]. Donetsk: DonNTU; 2006. 416 p. Russian.
Lidin RA, Molochko VA, Andreeva LL. Khimicheskie svoystva neorganicheskikh veshchestv [Chemical properties of inorganic substances]. Moscow: Khimiya; 2000. 408 p. Russian.
Lurie YY. Analiticheskaya khimiya promyshlennykh stochnykh vod [Analytical chemistry of industrial waste waters]. Moscow: Khimiya; 1984. 448 p. Russian.
Bykhovskaya MS, Ginzburg SL, Halizova OD. Metody opredeleniya vrednykh veshchestv v vozdukhe i drugikh sredakh [Methods for determining harmful substances in the air and other environments]. Moscow: Medgiz; 1960. 312 p. Russian.
DOI:
https://doi.org/10.15826/chimtech.2021.8.1.09
Copyright (c) 2021 L. I. Mukhortova, O. E. Nasakin, A. V. Eremkin, I. V. Glushkov
Chimica Techno Acta, 2014-2022
ISSN 2411-1414 (Online)