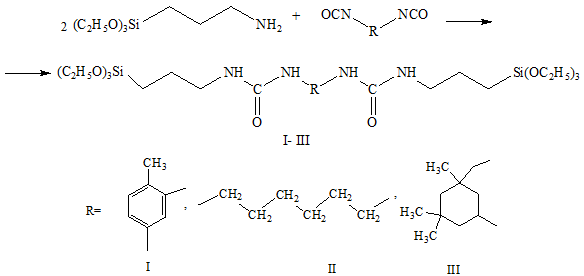 Synthesis and research of polyfunctional silylureas used in electric deposition of tin-indium alloy
Abstract
Polyfunctional silylureas were synthesized by the interaction of 3-aminopropyltriethoxysilane with isocyanates of various structures in an inert aromatic solvent. Commercially available diisocyanates such as isophorone diisocyanate, hexamethylene diisocyanate, 2,4-toluene diisocyanate were used as isocyanates. In this case, freshly distilled toluene was used as a solvent. The structures of the obtained compounds were confirmed by the data of IR and NMR1H spectroscopy. Using the synthesized compounds, formulations of compositions for electrodeposition of a tin-indium alloy on a copper wire were developed. The possibility of using silylureas of various structures as effective surfactants used in the electrodeposition of the tin-indium alloy is shown. The operational characteristics of the obtained wire were investigated, including the wire diameter, coating thickness, tensile strength, electrical resistance, and direct current electrical resistivity.
Keywords
isophorone diisocyanate; hexamethylene diisocyanate; 2,4-toluene diisocyanate; 3-aminopropyltriethoxysilane; polyfunctional silylureas; electrodeposition; indium-tin alloy; copper wire; electrode; solar panels
References
Prospects for Energy Technologies 2008. Scenarios and Strategies until 2050 [Internet]. International Energy Agency. OECD / IEA, 2008. p. 10-15 [cited 29.07.2021]. Available from: https://iea.blob.core.windows.net/assets/0e190efb-daec-4116-9ff7-ea097f649a77/etp2008.pdf
Lobanov ML, Kardonina NI, Rossina NG, Yurovskikh AS. Zashchitnye pokrytiya : uchebnoe posobie [Protective coat-ings: textbook]. Yekaterinburg: Ural Federal University Publishing House; 2014. p. 87-89. Russian.
Vinokurov EG, Margolin LN, Farafonov VV. Elektroosazhdenie kompozitsionnykh pokrytiy [Electrodeposition of composite coatings]. Izvestiya vysshikh uchebnykh zavedeniy. Seriya: Khimiya i khimicheskaya tekhnologiya., 2020;63(8):4-38. Russian.
Bessel VV, Kucherov VG, Mingaleeva RD. Izuchenie solnechnykh fotoelektricheskikh elementov [Study of solar photovoltaic cells]. Moscow: Publishing Center of the Russian State University of Oil and Gas (NRU), 2016. p. 36-37. Russian.
Toshio I, Yuichi M, Toshihide U, Hajime K, Susumu Y, Ma-sayuki T. Electrochemical deposition of a Ni - fluoroplastic composite film on the powder of a hydrogen-absorbing AB5 type alloy. Nippon kagaku kaishi. 2001;7:387-391.
Zorkina OV, Perelygin YuP. Elektroosazhdeniye splava olovo-indiy iz sulfatnogo elektrolita [Electrodeposition of a tin - indium alloy from a sulfate electrolyte]. Materialy Vserossiyskoy konferentsii «Progressivnaya tekhnologiya i voprosy ekologii v galvanotekhnike i proizvodstve pechatnykh plat» [Book of abstracts of "Progressive technology and environmental issues in electroplating and printed circuit board production" conference]. Penza: DNTP, 2000. p. 48-49. Russian.
Fursova NYu. Elektroosazhdeniye splava Sn-Sb iz sulfata elektrolity s organicheskimi dobavkami [Electrodeposition of Sn-Sb alloy from sulfate electrolytes with organic additives] [dissertation]. Moscow: Mendeleev University of Chemical Technology, 2000. 146 p. Russian.
Kryvtsov AK, Khamaev VA, Gryaznova GI, Pavelyeva LA, Karabinov YuV, inventors. Elektrolit dlya osazhdeniya pokrytiy iz splava olovo-indiy. USSR patent SU 865997 A1. 23 Sep 1981. Russian.
Perelygin YuP. Elektroosazhdeniye indiya i splavov na ego sonove. Raspredeleniye toka mezhdu sovmestnymi reaktsi-ami vosstanovleniya ionov na katode [Plating indium and its alloys. Current distribution between joint recovery reactions of ions reduction at the cathode] [dissertation]. Moscow: Mendeleev University of Chemical Technology. 1996. 235 р. Russian.
Kotov VL, Gryaznova Gl, Chuvilyaeva TV, Kryvtsov AK. Izvestiya Vysshikh Uchebnykh Zavedeniy Seriya "Khimiya I Khimicheskaya Tekhnologiya". 1985;28(9):70-73. Russian.
Belevskiy SS. Indutsirovannoe soosazhdenie nanokristallicheskikh Co-W pokrytiy I ikh mekhanicheskie svoystva [Induced coprecipitating of nano-crystalline Co-W coatings and their mechanical properties] [dissertation]. Chisinau: Institute of Applied Physics; 2012. 142 p. Russian.
Patianova AO, Ivanova KYu, Rogozhina LG, Kuzmin MV, Semenov VL. Improving the environmental production of electrodes for solar panels. Chimica Techno Acta. 2020;7(4):186–191. doi:10.15826/chimtech.2020.7.4.09
Ivanova KYu, Kuzmin MV, Kol'tsov NI. Synthesis and research of polyfunctional siliconcontaining amines - new promoters of adhesion. Chimica Techno Acta. 2020;7(4):199–203. doi:10.15826/chimtech.2020.7.4.11
DOI:
https://doi.org/10.15826/chimtech.2021.8.3.05
Article Metrics
Metrics powered by PLOS ALM
Copyright (c) 2021 K.Yu. Ivanova, M.V. Kuzmin, L.G. Rogozhina, A.O. Patianova, V.L. Semenov, R.I. Alexandrov

This work is licensed under a
Creative Commons Attribution 4.0 International License
.
Chimica Techno Acta, 2014-2023
ISSN 2411-1414 (Online)
Copyright Notice