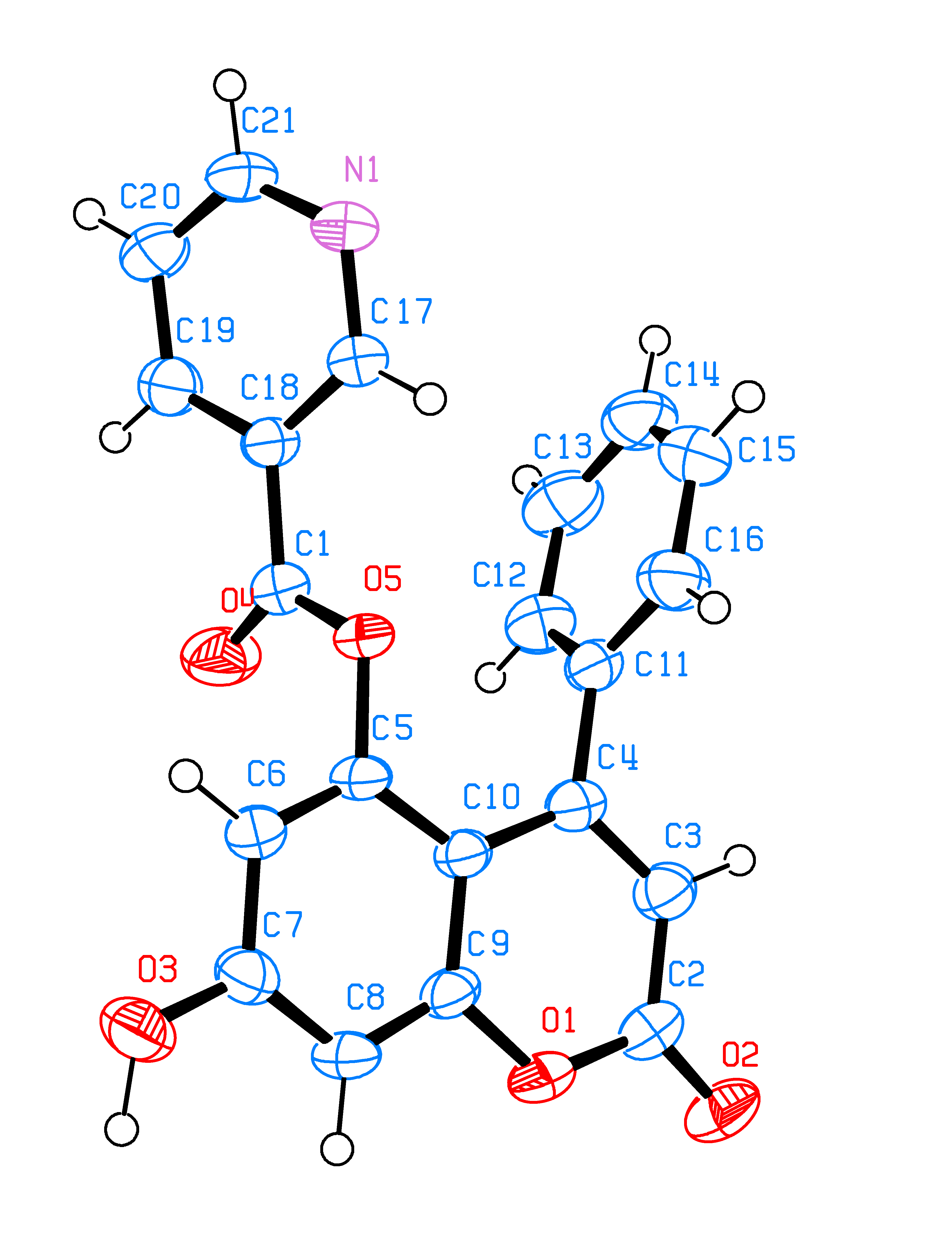 Unusual nicotinoylation of 4-phenyl-5,7-dihydroxycoumarin
Abstract
In the present work, we report a convenient synthesis of 5- and 7-substituted-4-phenyl coumarins. In contrast to previous results obtained with 4-alkylcoumarins, nicotinoylation of 5,7-dihydroxy-4-phenylcoumarin with nicotinoyl benzotriazole or nicotinoyl azide selectively provides 5-O protected ester. The combination of the nicotinoylation reaction followed by tosylation-denicotinoylation yields 5-hydroxy-7-tosyloxy-coumarin derivative, which may be useful in the synthesis of inophyllum, a tetracyclic HIV reverse transcriptase inhibitor, as well as its analogues.
Keywords
5,7-dihydroxy-4-phenylcoumarin; nicotinoylation; esterification; protecting group; inophyllum
References
Fatykhov RF, Chupakhin ON, Inyutina AK, Khalymbadzha IA. Synthetic Approaches to Unsymmetrically Substituted 5,7-Dihydroxycoumarins. Synthesis. 2020;52:660–672. doi:10.1055/s-0039-1690780
Murray RDH. The naturally occurring coumarins. Fortschr Chem Org Naturst. 2002;83:1–619. doi:10.1007/978-3-7091-6172-2_1
Srikrishna D, Godugu C, Dubey PK. A Review on Pharmacologi-cal Properties of Coumarins. Mini Rev Med Chem. 2018;18:113–141. doi:10.2174/1389557516666160801094919
Stefanachi A, Leonetti F, Pisani L, Catto M, Carotti A. Couma-rin: A Natural, Privileged and Versatile Scaffold for Bioactive Compounds. Molecules 2018;23:250. doi:10.3390/molecules23020250
Sakunpak A, Matsunami K, Otsuka H, Panichayupakaranant P. Isolation of new monoterpene coumarins from Micromelum minutum leaves and their cytotoxic activity against Leishmania major and cancer cells. Food Chem. 2013;139:458–463. doi:10.1016/j.foodchem.2013.01.031
Kaur M, Kohli S, Sandhu S, Bansal Y. Coumarin: a promising scaffold for anticancer agents. Anti-Cancer Agents Med Chem. 2015;15:1032–1048. doi:10.2174/1871520615666150101125503
Patil AD, Freyer AJ, Eggleston DS, Haltiwanger RC, Bean MF, Taylor PB, Caranfa MJ, Breen AL, Bartus HR. The inophyllums, novel inhibitors of HIV-1 reverse transcriptase isolated from the Malaysian tree, Calophyllum inophyllum Linn. J Med Chem. 1993;36:4131–1138. doi:10.1021/jm00078a001
Ji HJ, Wang DM, Hu JF, Sun MN, Li G, Li ZP, Wu DH, Liu G, Chen NH. IMM-H004, a novel coumarin derivative, protects against oxygen-and glucose-deprivation/restoration-induced apoptosis in PC12 cells. Eur J Pharmacol. 2014;723:259–266. doi:10.1016/j.ejphar.2013.11.023
Inyutina AK, Fatykhov RF, Khalymbadzha IA, Sharapov AD, Bobkina MV, Chupakhin ON. New approach to the synthesis of biologically active derivatives of pyranocoumarins. AIP Conf Proc. 2019;2063:040019. doi:10.1063/1.5087351
Fatykhov RF, Khalymbadzha IA, Chupakhin ON, Charushin VN, Inyutina AK, Slepukhin PA, Kartsev VG. 1-Nicotinoylbenzotriazole: A Convenient Tool for Site-Selective Protection of 5,7-Dihydroxycoumarins. Synthesis. 2019;51:3617–3624. doi:10.1055/s-0039-1690104
Adkinson DK, Magri DC, Pitters JL, Griffiths K, Norton PR, Workentin MS. Photolysis and Thermolysis of Pyridyl Carbonyl Azide Monolayers on Single-Crystal Platinum. Photochem Pho-tobiol. 2013;89(5):1020–1028. doi:10.1111/php.12086
Iinuma M, Tanaka T, Hamada K, Mizuno M, Asai F. Flavonoids Syntheses. VI. Synthesis and Spectral Properties of 4-Arylcoumarins (Neoflavones). Chem Pharm Bull. 1987;35:3909-3913. doi:10.1248/cpb.35.3909
Sheldrick GM, A short history of SHELX. Acta Crystallogr Sect A. 2008;64:112–122. doi:10.1107/S0108767307043930
The Cambridge Crystallographic Data Centre (CCDC). Available online: http://www.ccdc.cam.ac.uk
DOI:
https://doi.org/10.15826/chimtech.2022.9.1.05
Article Metrics
Metrics powered by PLOS ALM
Copyright (c) 2021 A.D. Sharapov, R.F. Fatykhov, I.A. Khalymbadzha, A.P. Potapova, P.A. Slepukhin, O.N. Chupakhin

This work is licensed under a
Creative Commons Attribution 4.0 International License
.
Chimica Techno Acta, 2014-2023
ISSN 2411-1414 (Online)
Copyright Notice