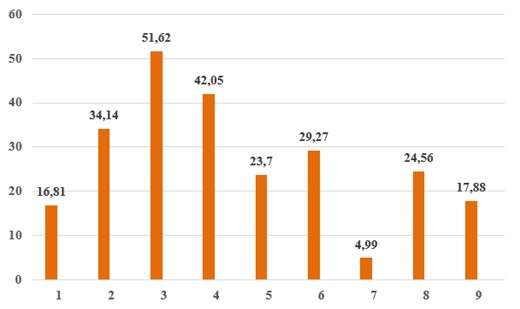 Obtaining cyclopentanone in the presence of metal oxides
Abstract
The possibility of obtaining cyclopentanone by pyrolysis of calcium adipate at different temperatures was considered. The pyrolysis proceeded with the formation of cyclopentanone and cyclopentene. The use of metal salts and metal oxide catalysts for the dehydrogenation of lower alkanes makes it possible to increase the yields of the target products. The best results were achieved in the presence of a «K-16u» catalyst.
Keywords
adipic acid, pyrolysis, cyclopentanone, cyclopentene, catalysts, metal oxides
References
Kisil IM, Preobrazhensky VA, Zolin VS, Gorodetskaya NI, Davydov YuI, Polikarpov AV, Salomykov VI. Method of utili-zation of acidic wastewater of caprolactam production: Pat. 2039740 Rus. Federation. 93009600/04; declared 02.24.1993; publ. 07.20.1995
Tsvetkova IV, Golovanov AA, Reznikova NS, Chirkunova NV. Obtaining cyclopentanone from acidic wastewater of capro-lactam production. Chimica Techno Acta. 2020;7(4):177–179. doi:10.15826/chimtech.2020.7.4.07
Sokolova AA, Glazko IL, Martynenko EA. Isolation of adipic acid from aqueous acid effluents of caprolactam production. Bulletin of MITHT of M.V. Lomonosov. 2013;6:78–71
Kogay TI, Vasileva NU. Synthesis, purification and identifi-cation of organic compounds: guidelines. Krasnoyarsk: Krasnoyarsk State University, 2005. 90p. Russian.
Kirpichnikov PA, Liakumovich AG, Pobedimskiy DG, Popova LM. Chemistry and technology of monomers for synthetic rubbers. Leningrad: Chimiya, 1981. 264 p. Russian.
DOI:
https://doi.org/10.15826/chimtech.2021.8.4.10
Article Metrics
Metrics powered by PLOS ALM
Copyright (c) 2021 I.V. Tsvetkova, A.A. Golovanov, A.A. Kondrateva, N.V. Chirkunova

This work is licensed under a
Creative Commons Attribution 4.0 International License
.
Chimica Techno Acta, 2014-2023
ISSN 2411-1414 (Online)
Copyright Notice