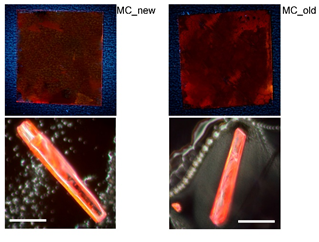 Synthesis of highly stable luminescent molecular crystals based on (E)-2-((3-(ethoxycarbonyl)-5-methyl-4-phenylthiophen-2-yl)amino)-4-oxo-4-(p-tolyl)but-2-enoic acid
Abstract
The synthesis of (E)-2-((3-(ethoxycarbonyl)-5-methyl-4-phenylthiophen-2-yl)amino)-4-oxo-4-(p-tolyl)but-2-enoic acid was performed. This organic compound was used as a building block for the organic molecular crystals with highly stable photoluminescence at ambient conditions, which has been established during 10 years of exploitation.
Keywords
organic molecular crystal; photoluminescence; structure rigidity; substituted 2,4-dioxobutanoic acids; Gewald thiophenes
References
Etherington MK. Thermally activated delayed fluorescence: beyond the single molecule. Front Chem. 2020;8:716. doi:10.3389/fchem.2020.00716
Gu L, Shi H, Bian L, Gu M, Ling K, Wang X, Ma H, Cai S, Ning W, Fu L, Wang H, Wang S, Gao Y, Yao W, Huo F, Tao Y, An Z, Liu X, Huang W. Colour-tunable ultra-long organic phosphorescence of a single-component molecular crystal. Nat Photonics. 2019;13(6):406–411. doi:10.1038/s41566-019-0408-4
Ha JM, Hur SH, Pathak A, Jeong J-E, Woo HY. Recent advances in organic luminescent materials with narrowband emission. NPG Asia Mater. 2021;13(1):53. doi:10.1038/s41427-021-00318-8
Zhao H, Zhao Y, Song Y, Zhou M, Lv W, Tao L, Feng Y, Song B, Ma Y, Zhang J, Xiao J, Wang Y, Lien DH, Amani M, Kim H, Chen X, Wu Z, Ni Z, Wang P, Shi Y, Ma H, Zhang X, Xu JB, Troisi A, Javey A, Wang X. Strong optical response and light emission from a monolayer molecular crystal. Nat Commun. 2019;10(1):5589. doi:10.1038/s41467-019-13581-9
Zhao W, He Z, Tang BZ. Room-temperature phosphorescence from organic aggregates. Nat Rev Mater. 2020;5(12):869–885. doi:10.1038/s41578-020-0223-z
Hochstrasser RM. The luminescence of organic molecular crystals. reviews of modern physics. 1962;34(3):531–550. doi:10.1103/RevModPhys.34.531
Rangel T, Rinn A, Sharifzadeh S, da Jornada FH, Pick A, Louie SG, Witte G, Kronik L, Neaton JB, Chatterjee S. Low-lying excited states in crystalline perylene. Proc Natl Acad Sci. USA. 2018;115(2):284–289. doi:10.1073/pnas.1711126115
Yang J, Zhen X, Wang B, Gao X, Ren Z, Wang J, Xie Y, Li J, Peng Q, Pu K, Li Z. The influence of the molecular packing on the room temperature phosphorescence of purely organic luminogens. Nat Commun. 2018;9(1):840. doi:10.1038/s41467-018-03236-6
Huang K, Song L, Liu K, Lv A, Singh M, Shen K, Shen J, Wang J, Wang H, Shi H, Ma H, Gu M, Sun G, Yao W, An Z, Huang W. Elastic organic crystals with ultralong phosphorescence for flexible anti-counterfeiting. Flexible Electronics. 2021;5(1):21. doi:10.1038/s41528-021-00117-9
An Z, Zheng C, Tao Y, Chen R, Shi H, Chen T, Wang Z, Li H, Deng R, Liu X, Huang W. Stabilizing triplet excited states for ultralong organic phosphorescence. Nat Mater. 2015;14(7):685–690. doi:10.1038/nmat4259
Jinnai K, Kabe R, Lin Z, Adachi C. Organic long-persistent luminescence stimulated by visible light in p-type systems based on organic photoredox catalyst dopants. Nat Mater. 2021. doi:10.1038/s41563-021-01150-9
Xie Z, Zhang X, Wang H, Huang C, Sun H, Dong M, Ji L, An Z, Yu T, Huang W. Wide-range lifetime-tunable and responsive ultralong organic phosphorescent multi-host/guest system. Nat Commun. 2021;12(1):3522. doi:10.1038/s41467-021-23742-4
Najafov H, Lee B, Zhou Q, Feldman LC, Podzorov V. Observation of long-range exciton diffusion in highly ordered organic semiconductors. Nat Mater. 2010;9(11):938–943. doi:10.1038/nmat2872
Takeda M, Matsui J, Masuhara A. Aging effect on the co-crystallization behavior of the donor and acceptor crystals in aqueous dispersions. Mater Adv. 2021;9(2)2935–2942. doi:10.1039/D0MA01001D
Sof'ina OA, Igidov NM, Koz'minykh EN, Trapeznikova NN, Kasatkina YS, Koz'minykh VO. Reactions of Acylpyruvic Acids and 2,3-Dihydrofuran-2,3-diones with 2,3-Diaminopyridine. Russ J Org Chem. 2001;37(7):1017–1025. doi:10.1023/A:1012438902959
Moeinpour F, Dorostkar N, Vafaei M. Mg/La mixed oxide as an efficient heterogeneous basic catalyst for synthesis of 2-aminothiophenes under microwave irradiation. Synth Commun. 2012;42(16):2367-2374. doi:10.1080/00397911.2011.557175
Shipilovskikh SA, Makhmudov RR, Lupach DY, Pavlov PT, Babushkina EV, Rubtsov AE. Synthesis and analgesic activity of substituted 4-(Het)aryl-4-oxo-2-thienylaminobut-2-enoic Acids Pharm Chem J. 2013;47(7):366–370. doi:10.1007/s11094-013-0960-z
Milichko VA, Makarov SV, Yulin AV, Vinogradov AV, Krasilin AA, Ushakova E, Dzyuba VP, Hey-Hawkins E, Pidko EA, Belov PA. Van der Waals metal-organic framework as an excitonic material for advanced photonics. Adv Mater. 2017;29(12):1606034. doi:10.1002/adma.201606034
Kulachenkov NK, Sun D, Mezenov YA, Yankin AN, Rzhevskiy S, Dyachuk V, Nomine A, Medjahdi G, Pidko EA, Milichko VA. Photochromic Free MOF-Based Near-Infrared Optical Switch. Angew. Chem Int Ed Engl. 2020;59(36):15522–15526. doi:10.1002/anie.202004293
Ito F, Suzuki Y, Fujimori J, Sagawa T, Hara M, Seki T, Yasukuni R, Lamy de la Chapelle M. Direct visualization of the two-step nucleation model by fluorescence color changes during evaporative crystallization from solution. Sci Rep. 2016;6:22918. doi:10.1038/srep22918
DOI:
https://doi.org/10.15826/chimtech.2021.8.4.11
Article Metrics
Metrics powered by PLOS ALM
Copyright (c) 2021 N.A. Zhestkij, E.V. Gunina, S.P. Fisenko, A.E. Rubtsov, D.A. Shipilovskikh, V.A. Milichko, S.A. Shipilovskikh

This work is licensed under a
Creative Commons Attribution 4.0 International License
.
Chimica Techno Acta, 2014-2023
ISSN 2411-1414 (Online)
Copyright Notice