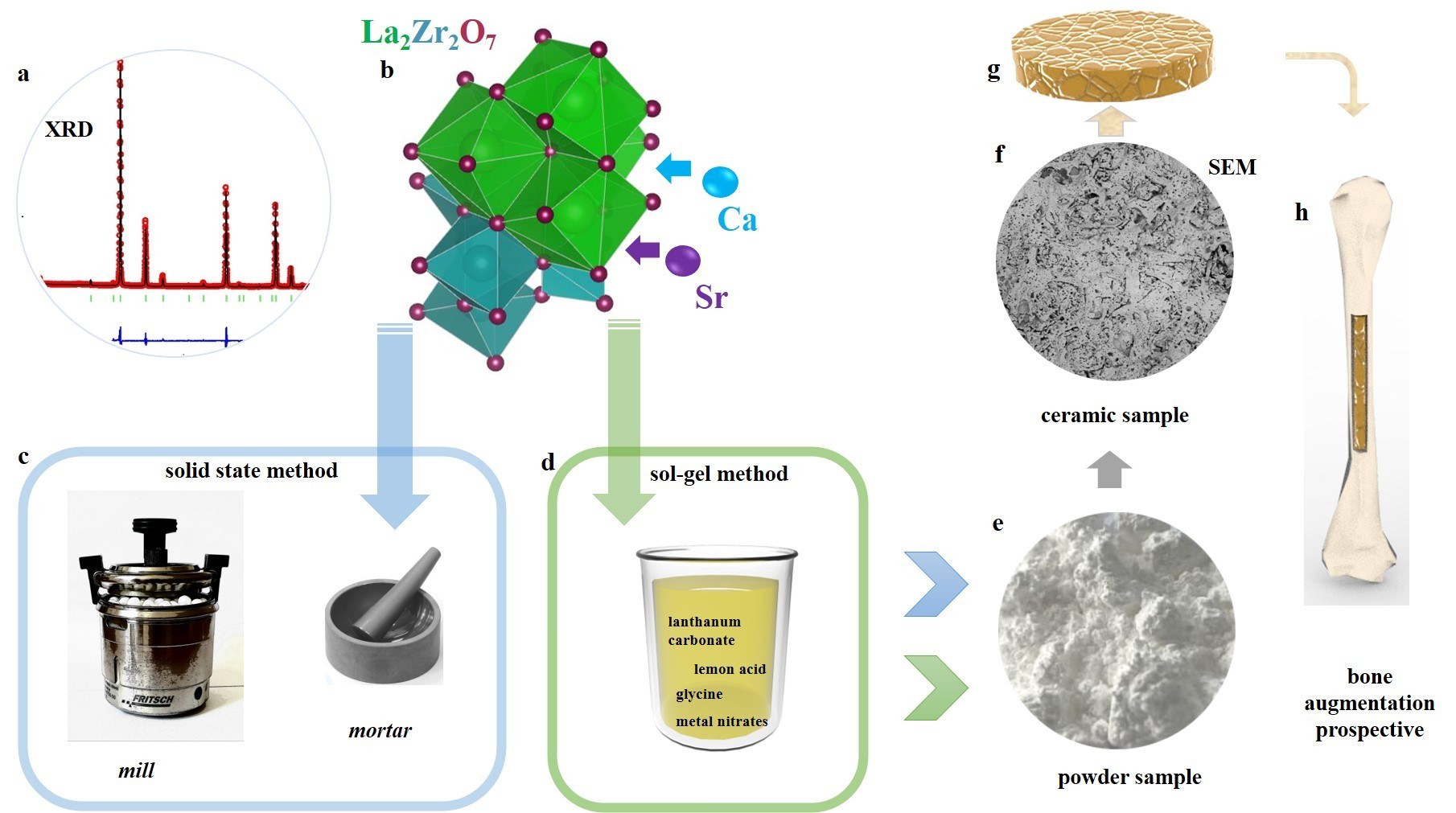 Ceramic materials based on lanthanum zirconate for the bone augmentation purposes: materials science approach
Abstract
The creation of new non-toxic materials that combines high osteointegration and strength characteristics is an urgent contemporary challenge. The use of complex oxides, such as lanthanum zirconate (La2Zr2O7), as non-reservable alloplastic implant materials is a novel and promising way of fulfilling this challenge. In this work, the ceramic materials based on undoped and alkali-earth (Ca, Sr) doped La2Zr2O7 were obtained. The main physical and chemical characteristics of the ceramic materials were determined. The effects of synthesis method and dopant nature on the target characteristics of potential allografts were established.
Keywords
La2Zr2O7; bioceramics; augmentation; implant; osteoreplacement material
References
Winkler T, Sass FA, Duda GN, Schmidt-Bleek K. A review of biomaterials in bone defect healing, remaining shortcomings and future opportunities for bone tissue engineering: The unsolved challenge. Bone Joint Res. 2018;7(3):232–243. doi:10.1302/2046-3758.73.BJR-2017-0270.R1
Natarajan D, Ye Z, Wang L, Ge L, Pathak JL. Rare earth smart nanomaterials for bone tissue engineering and implantology: Advances, challenges, and prospects. Bioeng Transl Med. 2021;(1):e10262. doi:10.1002/btm2.10262
Zhao R, Yang R, Cooper PR, Khurshid Z, Shavandi A, Ratnayake J. Bone grafts and substitutes in dentistry: a review of current trends and developments. Mol.2021;26(10):3007. doi:10.3390/molecules26103007
Zhang LY, Bi Q, Zhao C, Chen JY, Cai MH, Chen XY. Recent advances in biomaterials for the treatment of bone defects. Organog. 2020;16(4):113–125. doi:10.1080/15476278.2020.1808428
Wang W, Yeung KWK. Bone grafts and biomaterials substitutes for bone defect repair: a review. Bioact Mater. 2017;2(4):224–247. doi:10.1016/j.bioactmat.2017.05.007
Haugen HJ, Lyngstadaas SP, Rossi P, Perale G, Periodontol JC. Bone grafts: which is the ideal biomaterial? J Clin Peri-odontol. 2019;46(Suppl 21):92–102. doi:10.1111/jcpe.13058
Panseri S, Montesi M, Hautcoeur D, Dozio SM, Chamary S, De Barra E, Tampieri A, Leriche A. Bone-like ceramic scaffolds designed with bioinspired porosity induce a different stem cell response. J Mater Sci Mater Med. 2021;32(1):3. doi:10.1007/s10856-020-06486-3
Wei H, Cui J, Lin K, Xie J, Wang X. Recent advances in smart stimuliresponsive biomaterials for bone therapeutics and regeneration. Bone Res. 2022;10:17. doi:10.1038/s41413-021-00180-y
Wang P, Zhao L, Liu J, Weir MD, Zhou X, Xu HHK. Bone tis sue engineering via nanostructured calcium phosphate biomaterials and stem cells. Bone Res. 22015:14017. doi:10.1038/boneres.2014.17
Zhang K ,Wang S, Zhou C, Cheng L, Gao X, Xie X, Sun J, Wang H, Weir MD, Reynolds MA, Zhang N, Bai Y. Advanced smart biomaterials and constructs for hard tissue engineering and regeneration. Bone Res. 2018;6(11):31. doi:10.1038/s41413-018-0032-9
Khan F, Tanaka M. Designing smart biomaterials for tissue engineering. Int J Molecular Sci. 2018;19:17. doi:10.3390/ijms19010017
Oliveira ÉR, Nie L, Podstawczyk D, Allahbakhsh A, Ratnayake J, Brasil DL. Shavandi SA. Advances in growth factor delivery for bone tissue engineering. Int J Molecular Sci. 2021;22:903. doi:10.3390/ijms22020903
Sarian MN, Iqbal N, Sotoudehbagha P, Razavi M, Ahmed QU, Sukotjo C, Hermawan H. Potential bioactive coating system for high-performance absorbable magnesium bone implants. Bioact Mater. 2022;22:42–63. doi:10.1016/j.bioactmat.2021.10.034
Ressler A, Ivanišević I, Žužić A, Somers N. The ionic substituted octacalcium phosphate for biomedical applications: a new pathway to follow? Ceram Int. 2022;48(7):8838–88511. doi:10.1016/j.ceramint.2021.12.126
Zhu G, Zhang T, Chen M, Yao K, Huang X, Zhang B, Li Y, Liu J, Wang Y, Zhao Z. Bone physiological microenvironment and healing mechanism: basis for future bone-tissue engineering scaffolds. Bioact Mater. 2021;6(11):4110–4140. doi:10.1016/j.bioactmat.2021.03.043
Matsunaga K, Murata H. Strontium substitution in bioac-tive calcium phosphates: A first-principles study. J Phys Chem B. 2009;113(11):3584–3589. doi:10.1021/jp808713m
Chen Z, Tong J, Li X, Yan Y. Advantages and disadvantages of interbody implant materials in lumbar fusion. Chin J Tissue Eng Res. 2022;26(10):1671–1678. doi:10.12307/2022.209
Zhang JA, Lam PH, Beretov J, Murrell GAC. A review of bone grafting techniques for glenoid reconstruction. Shoulder Elbow. 2022;14(2):123–134. doi:10.1177/17585732211008474
Rodríguez-Merchán EC. Bone healing materials in the treatment of recalcitrant nonunions and bone defects. Int J Molecular Sci. 2022;23:3352. doi:10.3390/ijms23063352
Dixon DT, Gomillion CT. Conductive scaffolds for bone tissue engineering: current state and future outlook. J Func-tional Biomater. 2022;13(1):1. doi:10.3390/jfb13010001
Izmodenova MYu, Gilev MV, Ananyev MV, Zaytsev DV, An-tropova IP, Farlenkov AS, Tropin ES, Volokitina EA, Kutepov SM, Yushkov BG. Bone tissue properties after lanthanum zirconate ceramics implantation: experimental study. Traumatol Orthop Russ. 2020;26(3):130–140. doi:10.21823/2311-2905-2020-26-3-130-140
Silva ADR, Pallone EMJA, Lobo AO. Modification of surfaces of alumina-zirconia porous ceramics with Sr2+ after SBF. J Aust Ceram Soc. 2020;56:517–524. doi:10.1007/s41779-019-00360-4
Lyagaeva YuG, Medvedev DA, Demin AK, Yaroslavtseva TV, Plaksin SV, Porotnikova NM. Specific features of preparation of dense ceramic based on barium zirconate. Semicond. 2014;48(10);1353–1358. doi:10.1134/S1063782614100182
DOI:
https://doi.org/10.15826/chimtech.2022.9.2.09
Article Metrics
Metrics powered by PLOS ALM
Copyright (c) 2022 Natalia Tarasova, Anzhelika Galisheva, Ksenia Belova, Anastasia Mushnikova, Elena Volokitina

This work is licensed under a
Creative Commons Attribution 4.0 International License
.
Chimica Techno Acta, 2014-2023
ISSN 2411-1414 (Online)
Copyright Notice