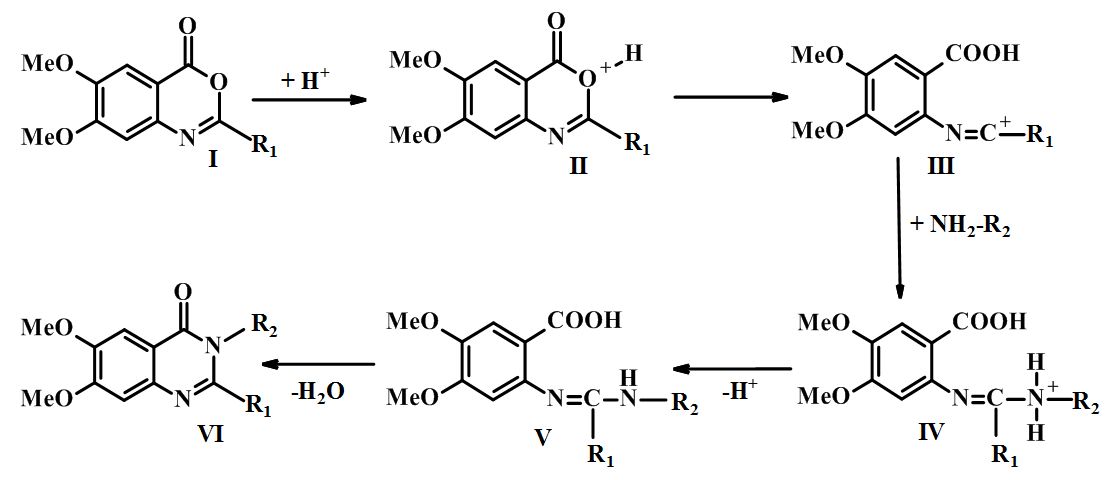 Synthesis and evaluation of cerebroprotective activity of novel 6,7-dimethoxyquinazolin-4(3H)-one derivatives containing residues of amino acids and dipeptides
Abstract
Neurodegenerative processes of the central nervous system are an important socially significant problem of modern society. They cause many diseases, such as Alzheimer's disease and cerebral ischemia, which significantly reduce the quality of human life and can lead to disability or death. The aim of this study was to synthesize novel 6,7-dimethoxyquinazolin-4(3H)-one derivatives with the remains of neuroactive amino acids and dipeptides in order to investigate their cerebroprotective properties. As a result of the study, 13 novel 6,7-dimetho-xyquinazolin-4(3H)-one derivatives were synthesized. Cerebral ischemia in rats was reproduced by irreversible right-sided occlusion of the middle cerebral artery using the Tamura method, and the area of brain necrosis was evaluated. Cognitive functions were evaluated in the Y-maze test. Among the studied quinazolinone derivatives, compounds 3i, 3j and 3k have the most pronounced cerebrotropic activity, which is not inferior to ethylmethylhydroxypyridine succinate in terms of pharmacological activity, making them promising objects for further research.
Keywords
quinazolinones; synthesis; medicinal chemistry; cerebroprotective activity; ischemia; amino acids; dipeptides
References
Lin YF, Smith AV, Aspelund T, Betensky RA, Smoller, JW, Gudnason V, launer LJ, Blacker D. Genetic overlap between vascular pathologies and Alzheimer's dementia and poten-tial causal mechanisms. Alzheimer's Dementia. 2019;15(1):65–75. doi:10.1016/j.jalz.2018.08.002
Chiriapkin AS, Kodonidi IP, Pozdnyakov DI, Glushko AA. Synthesis, in vitro and docking studies of 2-substituted 5,6,7,8-tetrahydrobenzo[4,5]thieno[2,3-d]pyrimidine-4(3H)-one derivatives as agents for the treatment of Alz-heimer's disease. Chim Techno Acta. 2022;9(2):20229204. doi:10.15826/chimtech.2022.9.2.04
Capizzi A, Woo J, Verduzco-Gutierrez M. Traumatic Brain Injury. Med Clin North Am. 2020;104(2):213–238. doi:10.1016/j.mcna.2019.11.001
Danics K, Forrest SL, Kapas I, Erber I, Schmid S, Törő K, Majtenyi K, Kovacs GG. Neurodegenerative proteinopathies associated with neuroinfections. J Neural Transm. 2021;128:1551–1566. doi:10.1007/s00702-021-02371-7
Mishchenko O, Palagina N. Experimental research of cere-broprotective activity of the new 4-aminobutatanoic acid derivative. EUREKA Health Sci. 2021;3:95–100. doi:10.21303/2504-5679.2021.001851
Doyle KP, Simon RP, Stenzel-Poore MP. Mechanisms of is-chemic brain damage. Neuropharmacol. 2008;55(3):310–318. doi:10.1016/j.neuropharm.2008.01
Pasala PK, Shaik RA, Rudrapal |M, Khan J, Alaidarous MA, Khairnar SJ, Bendale AR, Naphade VD, Sahoo RK, Zothantluanga JH, Walode SG. Cerebroprotective effect of Aloe Emodin: In silico and in vivo studies. Saudi J Biol Sci.2022;29(2):998–1005. doi:10.1016/j.sjbs.2021.09.077
Sepehri N, Iraji A, Yavari A, Asgari MS, Zamani S, Hosseini S, Bahadorikhalili S, Pirhadi S, Larijani B, Khoshneviszadeh M, Hamedifar H, Mahdavi M, Khoshneviszadeh M. The nat-ural-based optimization of kojic acid conjugated to differ-ent thio-quinazolinones as potential anti-melanogenesis agents with tyrosinase inhibitory activity. Bioorg Med Chem. 2021;36:116044. doi:10.1016/j.bmc.2021.116044
Soliman AM, Karam HM, Mekkawy MH, Ghorab MM. Anti-oxidant activity of novel quinazolinones bearing sulfona-mide: Potential radiomodulatory effects on liver tissues via NF-κB/ PON1 pathway. Eur J Med Chem. 2020;197:112333. doi:10.1016/j.ejmech.2020.112333
Soliman AM, Mekkawy MH, Karam HM, Higgins M, Dinko-va-Kostova AT, Ghorab MM. Novel iodinated quinazoli-nones bearing sulfonamide as new scaffold targeting radia-tion induced oxidative stress. Bioorg Med Chem Lett. 2021;42:128002. doi:10.1016/j.bmcl.2021.128002
Anwar A, Shahbaz MS, Saad SM, Kanwal, Khan KM, Siddiqui R, Khan NA. Novel antiacanthamoebic compounds belong-ing to quinazolinones. Eur J Med Chem. 2019;182:111575. doi:10.1016/j.ejmech.2019.111575
Hekal MH, Abu El-Azm FSM. New potential antitumor quinazolinones derived from dynamic 2-undecyl benzoxa-zinone: Synthesis and cytotoxic evaluation. Synth Com-mun. 2018;48(18):2391–2402. doi:10.1080/00397911.2018.1490433
Ugale VG, Bari SB, Khadse SC, Reddy PN, Bonde CG, Chaudhari PJ. Exploring quinazolinones as anticonvulsants by molecular fragmentation approach: structural optimiza-tion, synthesis and pharmacological evaluation studies. Chem Sel. 2020;5(10):2902–2912. doi:10.1002/slct.201904776
Akyüz G. Synthesis and urease inhibition studies of some new quinazolinones. J Heterocycl Chem. 2021;58(5):1164–1170. doi:10.1002/jhet.4247
Sakr A, Rezq S, Ibrahim SM, Soliman E, Baraka MM, Romero DG, Kothayer H. Design and synthesis of novel quinazoli-nones conjugated ibuprofen, indole acetamide, or thioace-tohydrazide as selective COX-2 inhibitors: anti-inflammatory, analgesic and anticancer activities. J Enzym Inhib Med Chem. 2021;36(1):1810–1828. doi:10.1080/14756366.2021.1956912
Sudula SR, Jala R, Siddoju K, Ega JK. One pot synthesis of some new N-allyl and N-benzyl quinazolinones and their anti-inflammatory activity. J Indian Chem Soc. 2021;98(3):100033. doi:10.1016/j.jics.2021.100033
Thorat DB, Shivkumar B, Rao N, Mohankumar KM. Synthe-sis and evaluation of new 4(3H)-quinazolinones deriva-tives as potential anti-inflammatory agents. Asian J Res Pharmut Sci. 2021;11(3):213–218. doi:10.52711/2231-5659.2021.00034
Deshineni RGAC, Banothu J, Velpula R, Chellamella G. Syn-thesis, anticancer and antibacterial evaluation of novel 1,3-disubstituted-1H-pyrazole-4-yl-methylene embedded fused thiazolo[2,3-b]quinazolinones. Chem Data Collect. 2020;30:100546. doi:10.1016/j.cdc.2020.100546
Patel HM, Noolvi MN, Shirkhedkar AA, Kulkarni AD, Pardeshi CV, Surana SJ. Anti-convulsant potential of quinazolinones. RSC Adv. 2016:6(50):44435–44455. doi:10.1039/C6RA01284A
Neupane R, Malla S, Abou-Dahech MS, Balaji S, Kumari S, Waiker DK, Moorthy NSHN, Trivedi P, Ashby CR Jr., Karthikeyan C, Tiwari AK. Antiproliferative Efficacy of N-(3-chloro-4-fluorophenyl)-6,7-dimethoxyquinazolin-4-amine, DW-8, in colon cancer cells is mediated by intrinsic apoptosis. Mol. 2021;26(15):4417. doi:10.3390/molecules26154417
Saul S, Huang P-T, Einav S, Asquith CRM. Identification and evaluation of 4-anilinoquin(az)online as potent inhibitors of both dengue virus (DENV) and Venezuelan equine en-cephalitis virus (VEEV). Bioorg Med Chem Lett. 2021;52(15):128407. doi:10.1016/j.bmcl.2021.128407
Yao D, Li C, Jiang J, Huang J, Wang J, He Z, Zhang J. Design, synthesis and biological evaluation of novel HDAC Inhibi-tors with improved pharmacokinetic profile in breast can-cer. Eur J Med Chem. 2020;205:112648. doi:10.1016/j.ejmech.2020.112648
Nunes PSG, da Silva G, Nascimento S, Mantovani SP, de Andrade P, Bernardes ES, Kawano DF, Leopoldino AM, Car-valho I. Synthesis, biological evaluation and molecular docking studies of novel 1,2,3-triazole-quinazolines as anti-proliferative agents displaying ERK inhibitory activity. Bioorg Chem. 2021;113:104982. doi:10.1016/j.bioorg.2021.104982
Mizukawa Y, Ikegami-Kawai M, Horiuchi M, Kaiser M, Kojima M, Sakanoue S, Miyagi S, Chick CN, Togashi H, Tsu-baki M, Ihara M, Usuki T, Itoh I. Quest for a potent antima-larial drug lead: Synthesis and evaluation of 6,7-dimethoxyquinazoline-2,4-diamines. Bioorg Med Chem. 2021;33:116018. doi:10.1016/j.bioorg.2021.104982
Prinsloo IF, Zuma NH, Aucamp J, N'Da DD. Synthesis and in vitro antileishmanial efficacy of novel quinazolinone de-rivatives. Chem Biol Drug Des. 2021;97:383–398. doi:10.1111/cbdd.13790
Chang X, Sun D, Shi D, Wang G, Chen Y, Zhang K, Tan H, Liu J, Liu B, Ouyang L. Design, synthesis, and biological evaluation of quinazolin-4(3H)-one derivatives co-targeting poly(ADP-ribose) polymerase-1 and bromodomain containing protein 4 for breast cancer therapy. Acta Pharm Sinica B. 2021;11(1):156–180. doi:10.1016/j.apsb.2020.06.003
Chen J-N, Li T, Chen L, Qin T-S, Sun Y-X, Chen C-T, He Y-Z, Liu G, Yao D, Wei Y, Li Q-Y, Zhang G-J. Synthesis and in vitro anti-bladder cancer activity evaluation of quinazoli-nyl-arylurea derivatives. Eur J Med Chem. 2020;205:112661. doi:10.1016/j.ejmech.2020.112661
Gusev EI, Skvortsova VI, Dambinova SA, Raevskiy KS, Ale-kseev AA, Bashkatova VG, Kovalenko AV, Kudrin VS, Ya-kovleva EV. Neuroprotective effects of glycine for therapy of acute ischaemic stroke. Cerebrovasc Dis. 2000;10(1):49–60. doi:10.1159/000016025
Kodonidi IP, Chiriapkin AS, Tworowski DE. Molecular de-sign of N-acyl derivatives of 2-(2-oxopyrolidin-1-yl)-acetamide with GABA-ergic and glutamatergic activities. Pharm Pharmacol. 2021;9(1):84–97. doi:10.19163/2307-9266-2021-9-1-84-97
Brenneman DE, Gozes I. A femtomolar-acting neuroprotec-tive peptide.J Clin Invest. 1996;97(10):2299–2307. doi:10.1172/JCI118672
Gozes I, Perl O, Giladi E, Davidson A, Ashur-Fabian O, Ru-binraut S, Fridkin M. Mapping the active site in vasoactive intestinal peptide to a core of four amino acids: Neuropro-tective drug design. Proceed Nat Acad Sci. 1999;96(7):4143–4148. doi:10.1073/pnas.96.7.4143
Meloni BP, Mastaglia FL, Knuckey NW. Cationic Arginine-Rich Peptides (CARPs): A novel class of neuroprotective agents with a multimodal mechanism of action. Front Neu-rol. 2020;11:108. doi:10.3389/fneur.2020.00108
Edwards AB, Anderton RS, Knuckey NW, Meloni BP. Charac-terisation of neuroprotective efficacy of modified poly-arginine-9 (R9) peptides using a neuronal glutamic acid excitotoxicity model. Mol Cell Biochem. 2017;426:75–85. doi:10.1007/s11010-016-2882-z
Shashoua VE, Adams DS, Boyer-Boiteau A, Cornell-Bell A, Li F, Fisher M. Neuroprotective effects of a new synthetic pep-tide, CMX-9236, in in vitro and in vivo models of cerebral ischemia. Brain Research. 2003;963(1–2):214–223. doi:10.1016/S0006-8993(02)04058-1
Percie du Sert N, Hurst V, Ahluwalia A, Alam S, Avey MT, Baker M ,Browne WJ, Clark A, Cuthill IC, Dirnagl U, Emer-son M, Garner P, Holgate ST, Howells DW, Karp NA, Lazic SE, Lidster K, MacCallum CJ, Macleod M, Pearl EJ, Petersen OH, Rawle F, Reynolds P, Rooney K, Sena ES, Silberberg SD, Steckler T, Würbel H. The ARRIVE guidelines 2.0: Updated guidelines for reporting animal research. PLoS Biol. 2020;18(7):e3000410. doi:10.1371/journal.pbio.3000410
Tamura A, Graham DI, McCulloch J, Teasdale GM. Focal cerebral ischaemia in the rat: 1. Description of technique and early neuropathological consequences following mid-dle cerebral artery occlusion. J Cereb Blood Flow Metab. 1981;1(1):53–60. doi:10.1038/jcbfm.1981.6
Pozdnyakov DI, Rukovitsina VM, Abaev VT, Oganesyan ET, Larskii MV. Effect of 3-[(е)-3-(3,5-di-tert-butyl-4-hydroxyphenyl)-3-оксопроп-1-енил]-6-methoxy-chrome-4-one on oxidative status of brain tissue under conditions of cerebral ischemia. Eksperimental'naya i Klinicheskaya Farmakologiya. 2021;84(2):3–7. doi:10.30906/0869-2092-2021-84-3-3-7
Amani M, Zolghadrnasab M, Salari AA. NMDA receptor in the hippocampus alters neurobehavioral phenotypes through inflammatory cytokines in rats with sporadic Alz-heimer-like disease. Physiol Behav. 2019;202:52–61. doi:10.1016/j.physbeh.2019.01.005
Ovakimyan АG, Bicherov АА, Kodonidi IP, Oganesyan EТ, Manvelyan EА, Bicherov АV, Tyurin RV, Zaychenko SB, Manvelyan ММ. Prediction, synthesis and study of dopha-minergic activity of hydroxy- and methoxyphenyl deriva-tives of 4-(3)quinazolinone. Modern problems of science and education. 2015;2–2:511. https://science-education.ru/ru/article/view?id=23168
Rabinstein AA. Update on Treatment of Acute Ischemic Stroke. Continuum (Minneap Minn). 2020;26(2):268–286. doi:10.1212/CON.0000000000000840
Angeloni C, Vauzour D. Natural Products and Neuroprotec-tion. Int J Mol Sci. 2019;20(22):5570. doi:10.3390/ijms20225570
Pozdnyakov DI, Zolotykh DS, Larsky MV. Correction of mito-chondrial dysfunction by succinic acid derivatives under experimental cerebral ischemia conditions. Current Issues in Pharmacy and Medical Sciences. 2021;34(1):42–48. doi:10.2478/cipms-2021-0008
Pozdnyakov DI, Voronkov AV, Rukovitsynа VM. Chromon-3-aldehyde derivatives restore mitochondrial function in rat cerebral ischemia. Iran J Basic Med Sci. 2020;23(9):1172–1183. doi:10.22038/ijbms.2020.46369.10710
Kim JS, Lee KB, Park J-H, Sung SM, Oh K, Kim E-G, Chang D-i, Hwang YH, Lee E-J, Kim W-K, Ju C, Kim BS, Ryu J-M. Safe-ty and Efficacy of Otaplimastat in Patients with Acute Is-chemic Stroke Requiring tPA (SAFE-TPA): A Multicenter, Randomized, Double-Blind, Placebo-Controlled Phase 2 Study. Ann Neurol. 2020;87:233–245. doi:10.1002/ana.25644
Lyden P, Pryor KE, Coffey CS, et al. Final results of the RHAPSODY trial: a multicenter, phase 2 trial using a con-tinual reassessment method to determine the safety and tolerability of 3K3A-APC, a recombinant variant of human activated protein C, in combination with tissue plasmino-gen activator, mechanical thrombectomy or both in moder-ate to severe acute ischemic stroke. Ann Neurol 2019;85:125–136. doi:10.1002/ana.25383
Hill MD, Goyal M, Menon BK, et al. Efficacy and safety of nerinetide for the treatment of acute ischaemic stroke (ESCAPE-NA1): a multicentre, double-blind, randomized controlled trial. The Lancet. 2020;395:878–887. doi:10.1016/S0140-6736(20)30258-0
DOI:
https://doi.org/10.15826/chimtech.2022.9.2.12
Article Metrics
Metrics powered by PLOS ALM
Copyright (c) 2022 Alexey S. Chiriapkin, Ivan P. Kodonidi, Dmitry I. Pozdnyakov

This work is licensed under a
Creative Commons Attribution 4.0 International License
.
Chimica Techno Acta, 2014-2023
ISSN 2411-1414 (Online)
Copyright Notice