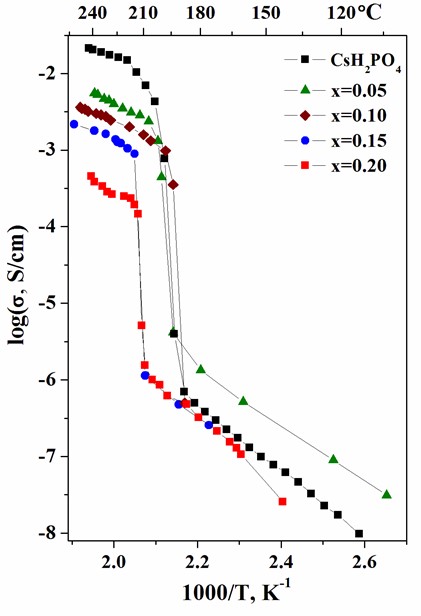 Proton-conducting membranes based on CsH2PO4 and copolymer of tetrafluoroethylene with vinylidene fluoride
Abstract
In this work, proton conductivity, morphology and mechanical properties of (1–x)CsH2PO4–xF-42 (x=0.05–0.3, weight ratio) membranes were investigated for the first time. Thin flexible membranes for x≥0.15 with the uniform distribution of the components were obtained by a tape casting method. Mechanical properties of the membranes were measured by Vickers microhardness tests for a low polymer content (x˂0.15), also the tensile strength for membranes with high polymer content x=0.2–0.3 were evaluated. Proton conductivity of the (1–x)CsH2PO4–xpF-42 composite polymer electrolytes decreases monotonically with increasing x due to the effect of a «conductor-insulator» percolation. The combination of conductivity, mechanical strength and hydrophobic properties of (1–x)CsH2PO4–xF-42 makes certain compositions of proton-conducting membranes (x~0.2–0.25) promising for their use in intermediate-temperature fuel cells, despite decreased conductivity.
Keywords
proton conductivity; cesium dihydrogen phosphate; fluoropolymer; p(VDF/TFE); tape casting
References
Haile SM, Chisholm CRI, Sasaki K, Boysen DA, Uda T. Solid acid proton conductors: from laboratory curiosities to fuel cell electrolytes. Faraday Discuss. 2007;134:17-39. doi:10.1039/B604311A
Uda T, Haile SM. Electrochem. Thin-membrane solid-acid fuel cell. Solid State Lett. 2005;8:A245. doi:10.1149/1.1883874
Ponomareva V, Bagryantseva I, Zakharov B, Bulina N, Lavrova G, Boldyreva E. Crystal structure and proton conductivity of a new Cs3(H2PO4)(HPO4)·2H2O phase in the caesium di- and monohydrogen orthophosphate system. Acta Cryst. 2017;C73:773–779. doi:10.1107/S2053229617012335
Sanghvi S, Haile SM. Crystal structure, conductivity, and phase stability of Cs3(H1.5PO4)2 under controlled humidity. Solid State Ionics. 2020;349:115291. doi:10.1016/j.ssi.2020.115291
Weil M, Stöger B. The caesium phosphates Cs3(H1.5PO4)2(H2O)2, Cs3(H1.5PO4)2, Cs4P2O7(H2O)4, and CsPO3 MonatsheftefürChemie – Chemical Monthly. 2020;151:1317–1328. doi:10.1007/s00706-020-02675-6
Wang LS, Patel SV, Sanghvi SS, Hu YY, Haile SM. Structure and Properties of Cs7(H4PO4)(H2PO4)8: A New Superprotonic Solid Acid Featuring the Unusual Polycation (H4PO4)+. JACS. 2020;142(47):19992–20001. doi:10.1021/jacs.0c08870
Baranov AI, Khiznichenko VP, Sandler VA, Shuvalov LA. Frequency Dielectric Dispersion in the Ferroelectric and Superionic Phases of CsH2PO4. Ferroelectrics. 1988;81:1147–1150. doi:10.1080/00150198808008840
Boysen DA, Uda T, Chisholm CRI, Haile SM. High-performance solid acid fuel cells through humidity stabili-zation. Sci. 2004;303:68–70. doi:10.1126/science.109092
Taninouchi Y, Uda T, AwakuraY, Ikeda A, Haile SM. Dehydration behavior of the superprotonic conductor CsH2PO4 at moderate temperatures: 230 to 260 °С. J Mater Chem. 2007;17:3182–3189. doi:10.1039/B704558C
Qing G, Kikuchi R, Takagaki A, Sugawara T, Oyama ST. CsH2PO4/polyvinylidene fluoride composite electrolytes for intermediate temperature fuel cells. J Electrochem Soc. 2014;161:451–457. doi:10.1149/2.052404jes
Xie Q, Li Y, Hu J, Chen X, Li H. A CsH2PO4-based composite electrolyte membrane for intermediate temperature fuel cells. J Membrane Sci. 2015;489:98–105. doi:10.1016/j.memsci.2015.03.083
Qing G, Kikuchi R, Takagaki A, Sugawara T, Oyama ST. CsH2PO4/epoxy composite electrolytes for intermediate temperature fuel cells. Electrochim Acta. 2015;169:219–226. doi:10.1016/j.electacta.2015.04.089
Bagryantseva IN, Gaydamaka AA, Ponomareva VG. Interme-diate temperature proton electrolytes based on cesium dihydrogen phosphate and Butvar polymer. Ionics. 2020;26:1813–1818. doi:10.1007/s11581-020-03505-9
Bagryantseva IN, Ponomareva VG, Lazareva NP. Proton-conductive membranes based on CsH2PO4 and ultradispersed polytetrafluoroethylene. Solid State Ionics. 2019;329:61–66. doi:10.1016/j.ssi.2018.11.010
Bagryantseva IN, Ponomareva VG, Khusnutdinov VR. In-termediate temperature proton electrolytes based on cesium dihydrogen phosphate and poly (vinylidene fluoride-cohexafluoropropylene). J Materi Sci. 2021;56(25):14196–14206. doi:10.1007/s10853-021-06137-0
Navarrete L, Yoo CY, Serra JM. Comparative study of epoxy‐CsH2PO4 composite electrolytes and porous metal based electrocatalysts for solid acid electrochemical cells. Membranes. 2021;11:196. doi:10.3390/membranes11030196
Koch EC. Metal-fluorocarbon based energetic materials. Wiley-VCH Verlag GmbH & Co. KGaA;Germany, 2012. P. 360.
Drobny JG. Technology of fluoropolymers. Taylor & Francis Group:LLC:Boca Raton;2009.248.
Ameduri B. From vinylidene fluoride (VDF) to the applications of vdf-containing polymers and copolymers: recent developments and future trends. Chem Rev. 2009;109:6632–6686. doi:10.1021/cr800187m
Lovinger AJ, Davis DD, Cais RE, Kometani JM. Compositional variation of the structure and solid-state transformations of vinylidene fluoride/tetrafluoroethylene copolymers. Macromolec. 1988;21:78–83. doi:10.1021/ma00179a017
DOI:
https://doi.org/10.15826/chimtech.2022.9.3.03
Article Metrics
Metrics powered by PLOS ALM
Copyright (c) 2022 Irina N. Bagryantseva, Yuri E. Kungurtsev, Valentina G. Ponomareva

This work is licensed under a
Creative Commons Attribution 4.0 International License
.
Chimica Techno Acta, 2014-2023
ISSN 2411-1414 (Online)
Copyright Notice