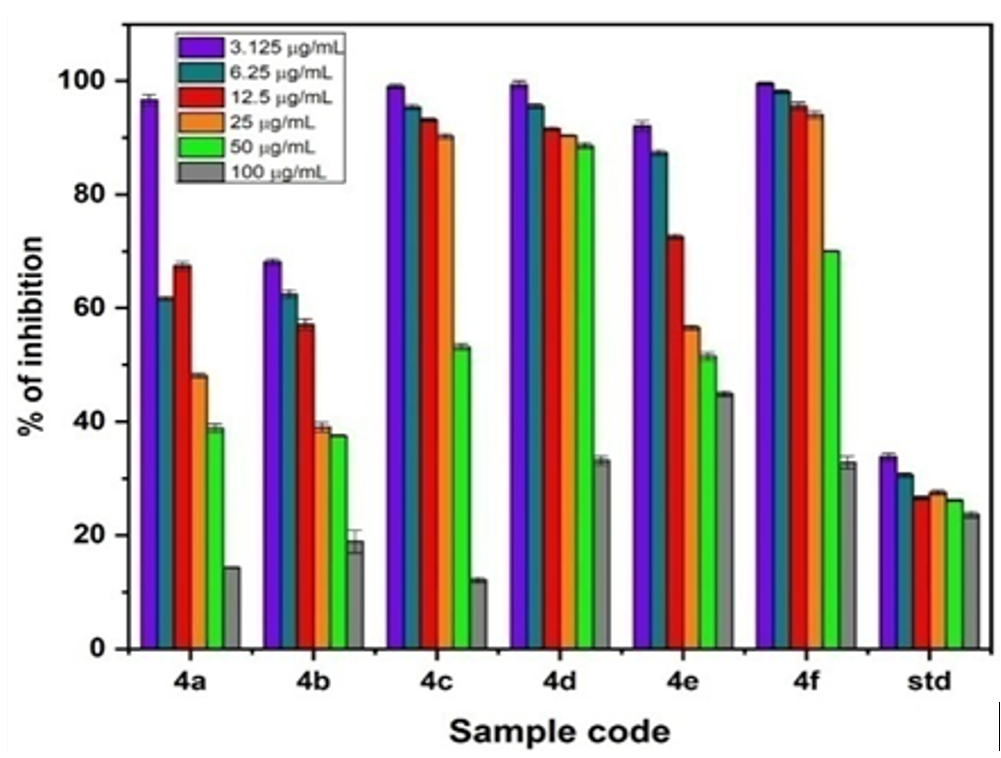 Substituted benzocoumarin derivatives: synthesis, characterization, biological activities and molecular docking with ADME studies
Abstract
Herein, an efficient and convenient method for the synthesis of 4-(substitutedphenyl)-1,2-dihydro-2-oxo-6-(2-oxo-2H-benzo[g]chromen-3-yl)pyridine-3-carbonitrile derivatives have been reported using ammonium acetate as catalyst. The structures of synthesized compounds were confirmed using FT-IR, 1H, 13C-NMR and LC-MS spectroscopic techniques. The synthesized compounds have been evaluated for antibacterial activity against bacterial strains by agar diffusion method at different concentrations. Further, all the targeted compounds were screened for anti-oxidant and anti-cancer studies by DPPH and MTT assay methods at different concentrations. Compound 4b displayed good antioxidant and anticancer (against MCF-7 cell line) activity. Further, the binding capability for the synthesized compounds (4a–j) was analyzed by molecular docking studies using human peroxiredoxin 5 (PDB ID: 1HD2) and P38 MAP kinase (PDB ID: 1OUK) protein. Further, the physicochemical properties were analysed from ADME studies respectively.
Keywords
benzo-coumarin; anti-bacterial; anti-cancer; anti-oxidant; molecular docking
References
Kontogiorgis C, Anastasia D, Hadjipavlou-Litina D. Coumarin-based drugs: a patent review (2008-present). Expert Opin Ther Patents. 2012;22:437–454. doi:10.1517/13543776.2012.678835
Narale VS. Synthesis of coumarin and their derivatives with their applications by different methods. World J Pharm Res. 2018;8:336–342. doi:10.20959/wjpr20188-11873
Bhattarai N, Kumbhar AA, Pokharel RY, Yadav PN. Anticancer potential of coumarin and its derivatives. Mini Rev Med Chem. 2021;21:2996–3029. doi:10.2174/1389557521666210405160323
Femy Maria KM, Sneha Antony, Amala Babu, Vinod B, Daisy PA. A meticulous review on coumarin derivatives as a marvel medication for thousands of ailments. Int J Pharm Sci Rev Res. 2021;30:242–253. doi:10.47583/ijpsrr.2021.v70i02.030
Borges F, Roleira F, Milhazes N, Santana L, Uriarte E. Simple coumarins and analogues in medicinal chemistry occurrence synthesis and biological activity. Curr Med Chem. 2005;12:887–916. doi:10.2174/0929867053507315
Luo KW, Sun JG, Chan JW, Yang L, Wu SH, Fung KP, Liu FY. Anticancer effects of imperatorin isolated from Angelica dahurica: induction of apoptosis in HepG2 cells through both death-receptor-and mitochondria mediated pathways. Chemother. 2011;57:449–459. doi:10.1159/000331641
Spino C, Dodier M, Sotheeswaran S. Anti-HIV coumarins from Calophyllum seed oil. Bioorg Med Chem Lett. 1998;8:3475–3478. doi:10.1016/S0960-894X(98)00628-3
Poole SK, Poole CF. Thin-layer chromatographic method for the determination of the principal polar aromatic flavour compounds of the cinnamons of commerce. 1994;119:113–120. doi:10.1039/an9941900113
Rosselli S, Maggio AM, Faraone N, Spadaro V, Morris-Natschke SL, Bastow KF, Lee HK, Bruno M. The cytotoxic properties of natural coumarins isolated from roots of Ferulago campestris (Apiaceae) and of synthetic ester derivatives of aegelinol. Nat Prod Commun. 2009;4:1701–1706. doi:10.1177/1934578X0900401219
Whang WK, Park HS, Ham I, Oh M, Namkoong H, Kim HK, Hwang DW, Hur SY, Kim TE, Park YG. Natural compounds. fraxin and chemicals structurally related to fraxin protect cells from oxidative stress. Exp Mol Med. 2005;37:436–446. doi:10.1038/emm.2005.54
Crichton EG, Waterman PG. Dihydromammea c/ob: a new coumarin from the seed of Mammea Africana. Phytochem. 1978;17:1783–1786. doi:10.1016/S0031-9422(00)88695-1
Fort D, Rao K, Jolad S, Luo J, Carlson T, King S. Antihyper-glycemic activity of Teramnus labialis (Fabaceae). Phytomed. 2000;6:465–467. doi:10.1016/S0944-7113(00)80075-6
Shin E, Choi KM, Yoo HS, Lee CK, Hwang BY, Lee MK. Inhibitory effects of coumarins from the stem barks of Fraxinus rhynchophylla on adipocyte differentiation in 3T3-L1 cells. Biol Pharm Bull. 2010;33:1610–1614. doi:10.1248/bpb.33.1610
Piller N. A comparison of the effectiveness of some anti-inflammatory drugs on thermal oedema. Br J Exp Pathol. 1975;56:554–559.
Jyoti D, Singla R, Kumar M, Vikas Jaitak. Recent developments of C-4 substituted coumarin derivatives as anticancer agents. Eur J Med Chem. 2016;119:141–168. doi:10.1016/j.ejmech.2016.03.087
Stanchev S, Momekov, Jensen G, Manolov FI. Synthesis, computational study and cytotoxic activity of new 4-hydroxycoumarin derivatives. Eur J Med Chem. 2008;43:694–706. doi:10.1016/j.ejmech.2007.05.005
Thornes RD, Daly L, Lynch G, Breslin B, Browne H, Corrigan HY, Daly P, Edwards G, Gaffney E. Treatment with coumarin to prevent or delay recurrence of malignant melanoma. Cancer Res Clin Oncol. 1994;120:32–34. doi:10.1007/BF01377122
Mohler JL, Gomella LG, Crawfrdo ED, Glode LM, ZippeFair CD, Marshall WR. Phase II Evaluation of Coumarin (1,2-Benzopyrone) in metastatic prostatic carcinoma. Prostate. 1992;20:123–131. doi:10.1002/pros.2990200208
Rodney C, Richie MD, FACP, FCCP, John O, Swanson MD. Breast cancer: a review of the literature. J Insur Med. 2003;35:85–101.
Niinivehmas S, Pentikäinen OT. Coumarins as tool compounds to aid the discovery of selective function modulators of steroid hormone binding proteins. Mol. 2021;26:5142. doi:10.3390/molecules26175142
Song F, Huo X, Guo Z. Antibreast Cancer Potential of Natural and Synthetic Coumarin Derivatives. Curr Top Med Chem. 2021;21:1692–1709. doi:10.2174/1568026621666210303145430
Braca A, De Tommasi N, Di Bari L, Pizza C, Politi M, Morelli I. Antioxidant principles from bauhinia tarapotensis. J Nat Prod. 2001;64:892–895. doi:10.1021/np0100845
Kenchappa R, Bodke YD, Telkar S, Nagaraja O. Synthesis and antimicrobial activity of fused isatin and diazepine derivatives derived from 2-acetyl benzofuran. Russ J Gen Chem. 2017;87:2027–2038. doi:10.1134/S1070363217090195
Shridhar C, Ghagane, Sridevi I, Puranik, Vijay Kumbar M. In vitro antioxidant and anticancer activity of Leea indica leaf extracts on human prostate cancer cell lines. Integr Med Res. 2017;6:79–87. doi:10.1016/j.imr.2017.01.004
Joy MN, Bodke YD, Telkar S, Bakulev VA. Synthesis of cou-marins linked with 1,2,3-triazoles under microwave irradiation and evaluation of their antimicrobial and antioxidant activity. J Mex Chem Soc. 2020;64:53–73. doi:10.29356/jmcs.v64i1.1116
Ghafar SZA, Mediani A, Maulidiani NSR, Abas F. Antioxidant, α-glucosidase and nitric oxide inhibitory activities of phyllanthus acidus and LC– MS/MS profile of the active extract. Food Biosci. 2018;18:1–28. doi:10.1016/j.fbio.2018.08.009
Joy MN, Bodke YD, Telkar S. 4-Methyl-7-alkynyl coumarin derivatives as potent antimicrobials and antioxidants. Bulg Chem Commun. 2020;52:237–244. doi:10.34049/bcc.5091
Kumbar VM, Peram MR, Kugaji MS, Shah T, Patil SP, Muddapur UM, Bhat KG. Effect of curcumin on growth, bio-film formation and virulence factor gene expression of porphyromonas gingivalis. Odontol. 2020;1:148–156. doi:10.1007/s10266-020-00514
Pandith A, Dasagrandhi C, Kim HR, Kim HS. Selective dis-crimination of putrescine and cadaverine based on a Fe3+-morpholinoanthracene ensemble in solution and solid state and logic gate aided biological applications in mixed aqueous medium. Sens Actuators B Chem. 2017;1–37. doi:10.1016/j.snb.2017.07.115
Venkatesh T, Bodke YD, Aditya Rao SJ. Facile CAN catalyzed one pot synthesis of novel indol-5,8-pyrimido[4,5-d]pyrimidine derivatives and their pharmacological study. Chem. Data Collect. 2020;25;1–13. doi:10.1016/j.cdc.2019.100335
Hussein K, Eswaramoorthy R, Melaku Y, Endale M. Antibacterial and Antioxidant Activity of isoflavans from the Roots of Rhynchosia ferruginea and in Silico Study on DNA Gy-rase and Human Peroxiredoxin. Int J Second Metabol. 2021;8:321–336. doi:10.21448/ijsm.962120
Aditya Rao SJ, Ramesh CK, Raghavendra S, Paramesha M. Dehydroabietylamine A diterpene from carthamus tinctorious L. showing antibacterial and anthelmintic effects with computational evidence. Curr Comput Aided Drug Des. 2020;16:231–237. doi:10.2174/1573409915666190301142811
Swamy GK, Ramesh G, Pruthviraj K, Banu S, Roopa B, Preritha HJ, Rajeshwari BS, Ravikumar Shetty PR, Aruna Kumar DB, Sreenivasa S. In silico ADME, Molecular docking and cyclic voltammetry studies of 1, 4, 5-trisubstituted 1, 2, 3-triazole ethanone and ethanol derivatives via Metal free approach. Chem Data Collect. 2020;28:1–23. doi:10.1016/j.cdc.2020.100452
Lipinski CA, Lombardo F, Dominy BW, Feeney PJ. Experimental and computational approaches to estimate solubility and permeability in drug discovery and development set-tings. Adv Drug Deliv Rev. 1997;23:3–25. doi:10.1016/S0169-409X(96)00423-1
Raghavendra S, Aditya Rao SJ, Ramesh CK, Kumar. Multiple ligand simultaneous docking (MLSD): A novel approach to study the effect of inhibitors on substrate binding to PPO. Comput Biol Chem. 2015;59:81–86. doi:10.1016/j.compbiolchem.2015.09.008
Sander T, Freyss J, Von Korff M. Rufener Data Warrior C: An open-source program for chemistry aware data visualization and analysis. J Chem Inf Model. 2015;55:460–473. doi:10.1021/ci500588j
Joy MN, Bodke YD, Telkar S. 4-Methyl-7-Amino/Amido Coumarin Derivatives as Potential Antimicrobials and An-tioxidants. Chem Nat Compd. 2020;56:614–620, doi:10.1007/s10600-020-03106-y
Haredi AA, Eldeeb MM, El-Naggar, Temairk H, Mohamed MA. Novel, quinazolin-2, 4-dione hybrid molecules as pos-sible inhibitors against malaria: synthesis, and in silico molecular docking studies. Front Mol Biosci. 2020;7:1–19. doi:10.3389/fmolb.2020.00105
Lipinski CA. Lead- and drug-like compounds: the rule-of-five revolution. Drug Discov Today Technol. 2004;1:337–341. doi:10.1016/j.ddtec.2004.11.007
Muegge I. Selection criteria for drug‐like compound. Med Res Rev. 2003;23:302–321. doi:10.1002/med.10041
Breemen RB, Li van Y. Caco-2 cell permeability assays to measure drug absorption. Expert Opin Drug Metab Toxico. 2005;1:175–185. doi:10.1517/17425255.1.2.175
Alam S, Khan F. Virtual screening, docking, ADMET and system pharmacology studies on garcinia caged xanthone derivatives for anticancer activity. Sci Reports. 2018;8:1–16. doi:10.1038/s41598-018-23768-7
Rohitash Y, Mohammed I, Puneet D, Dheeraj KC, Shailen-dra H. Virtual screening, ADMET prediction and dynamics simulation of potential compounds targeting the main protease of SARS-CoV-2. J Biomol Struct Dyn. 2021;39:6617–6632. doi:10.1080/07391102.2020.1796812
Mishra S, Dahima R. In vitro ADME studies of TUG-891, a GPR-120 inhibitor using SWISSADME predictor. J Drug Deliv Ther. 2019;9:366–369. doi:10.22270/jddt.v9i2-s.2710
Swamy GK, Ramesh G, Pruthviraj K, Salma Banu, Roopa B, Preritha HJ, Rajeshwari BS, Ravikumar M, Raghuram Shetty P, Aruna Kumar DB, Sreenivasa S. Synthesis, characteri-zation, PASS prediction, in-silico ADME, molecular docking and cyclic voltammetry studies of 1, 4, 5-trisubstituted 1, 2, 3-triazole ethanone and ethanol derivatives via metal free approach. Chem Data Collect. 2020;28:1–23. doi:10.1016/j.cdc.2020.100452
Md. Lutful Amin. P-glycoprotein Inhibition for Optimal Drug Delivery. Drug Target Insights. 2013:7:27–34. doi:10.4137%2FDTI.S12519
DOI:
https://doi.org/10.15826/chimtech.2022.9.4.19
Article Metrics
Metrics powered by PLOS ALM
Copyright (c) 2022 Megha G.V., Yadav D. Bodke, Shanavaz H., Muthipeedika Nibin Joy

This work is licensed under a
Creative Commons Attribution 4.0 International License
.
Chimica Techno Acta, 2014-2023
ISSN 2411-1414 (Online)
Copyright Notice