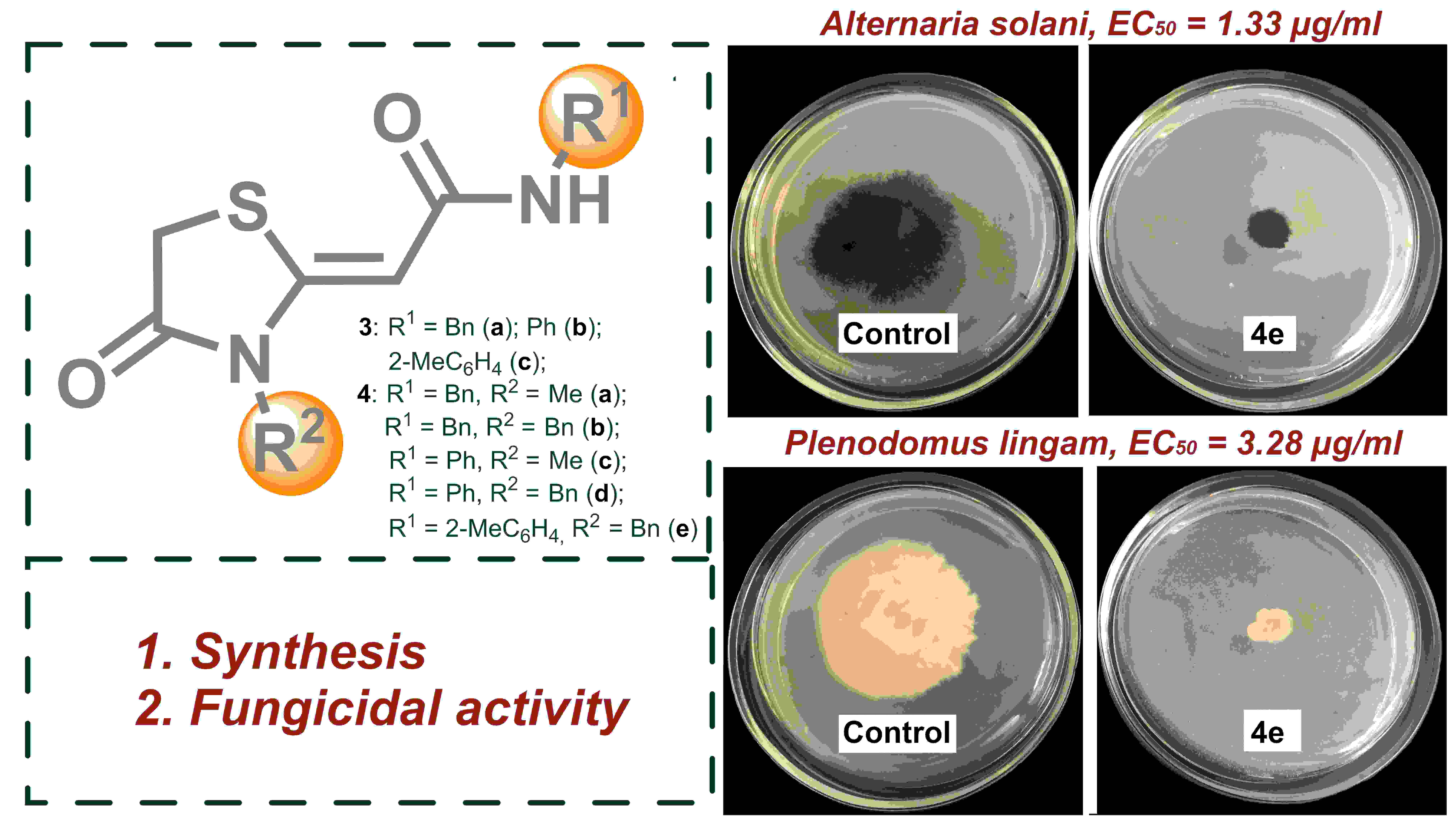 2-(4-Oxo-1,3-thiazolidin-2-ylidene)acetamid as promising scaffold for designing new antifungal compounds
Abstract
1,3-Thiazolidin-4-one derivatives with a exocyclic C=C double bond in position 2 of the hetero ring have a wide spectrum of biological activity, but their fungicidal activity has not been studied as much as it should be. This paper presents a simple and convenient approach for obtaining potential antifungal agents based on 2-(4-oxo-1,3-thiazolidin-2-ylidene)acetamides. The first examples of evaluating the fungicidal activity of 8 obtained compounds on 8 strains of phytopathogenic fungi are presented. A highly active compound 4e with EC50 of 0.85 and 2.29 µg/mL against A. solani and P. lingam, respectively, was found to be promising for further study.
Keywords
1,3-thiazolidine; cyanoacetamide; exocyclic double bond; fungicide; biological activity
References
Trotsko N. Antitubercular properties of thiazolidin-4-oneseA review. Eur J Med Chem. 2021;215:113266. doi:10.1016/j.ejmech.2021.113266
Kumar H, Deep A, Kumar Marwaha R. Design, synthesis, in silico studies and biological evaluation of 5-((E)-4-((E)-(substituted aryl/alkyl)methyl)benzylidene)thiazolidine-2,4-dione derivatives. BMC Chem. 2020;14:25.
doi:10.1186/s13065-020-00678-2
Chandrappa S, Kavitha CV, Shahabuddin MS, Vinaya K, Ananda Kumar CS, Ranganatha SR, Raghavan SC, Rangappa KS. Synthesis of 2-(5-((5-(4-chlorophenyl)furan-2-yl)methylene)-4-oxo-2-thioxothiazolidin-3-yl)acetic acid derivatives and evaluation of their cytotoxicity and induction of apoptosis in human leukemia cells. Bioorg Med Chem. 2009;17(6):2576–2584. doi:10.1016/j.bmc.2009.01.016
Zhou H, Wu S, Zhai S, Liu A, Sun Y, Li R, Zhang Y, Ekins S, Swaan PW, Fang B, Zhang B, Yan B. Design, synthesis, cytoselective toxicity, structure-activity relationships, and pharmacophore of thiazolidinone derivatives targeting drug-resistant lung cancer cells. J Med Chem. 2008;51(5):1242–1251. doi:10.1021/jm7012024
Uchôa FDT, da Silva TG, de Lima M do CA, Galdino SL, Pitta I da R, Costa TD. Preclinical pharmacokinetic and pharmacodynamic evaluation of thiazolidinone PG15: An anti-inflammatory candidate. J Pharm Pharmacol. 2009;61(3):339–345. doi:10.1211/jpp.61.03.0008
Agarwal A, Lata S, Saxena KK, Srivastava VK, Kumar A. Synthesis and anticonvulsant activity of some potential thiazolidinonyl 2-oxo/thiobarbituric acids. Eur J Med Chem. 2006;41(10): 1223–1229. doi:10.1016/j.ejmech.2006.03.029
Terzioğlu N, Karalı N, Gürsoy A, Pannecouque C, Leysen P, Paeshuyse J, Neyts J, De Clercq E. Synthesis and primary antiviral activity evaluation of 3-hydrazono-5-nitro-2-indolinone derivatives. Arkivoc. 2006;1:109–118.
Powers JP, Piper DE, Li Y, Mayorga V, Anzola J, Chen JM, Jaen JC, Lee G, Liu J, Peterson MG, Tonn GR, Ye Q, Walker PC, Wang, Z. SAR and Mode of Action of Novel Non-Nucleoside Inhibitors of Hepatitis C NS5b RNA Polymerase. J Med Chem. 2006;49:1034–1046. doi:10.1021/jm050859x
Pizzo C, Saiz C, Talevi A, Gavernet L, Palestro P, Bellera C, Cazzulo JJ, Chidichimo A, Wipf P, Mahler SG. Synthesis of 2-Hydrazolyl-4-Thiazolidinones Based on Multicomponent Reactions and Biological Evaluation Against Trypanosoma Cruzi. Chem Biol Drug Des. 2011;77(3):166–172.
doi:10.1111/j.1747-0285.2010.01071.x
Bhandari SV, Bothara KG, Patil AA, Chitre TS, Sarkate AP, Gore ST, Dangre SC, Khachane CV. Design, Synthesis and Pharmacological Screening of Novel Antihypertensive Agents Using Hybrid Approach. Bioorg Med Chem. 2009;17(1),390–400. doi:10.1016/j.bmc.2008.10.032
Vicini P, Geronikaki A, Incerti M, Zani F, Dearden J, Hewitt M. 2-Heteroarylimino-5-benzylidene-4-thiazolidinones analogues of 2-thiazolylimino-5-benzylidene-4-thiazolidinones with antimicrobial activity: Synthesis and structure-activity relationship. Bioorg Med Chem. 2008;16(7):3714–3724. doi:10.1016/j.bmc.2008.02.001
Salem MA. Synthesis of New Thiazole, Bithiazolidinone and Pyrano[2,3-d]thiazole Derivatives as Potential Antimicrobial Agents. Croat Chem Acta. 2017;90(1):7–15. doi:10.5562/cca2955
Siddiqui IR, Singh PK, Singh J, Singh J. Facile synthesis and fungicidal activity of novel 4,4'-bis[2''-(5'''-substituted rhodanin-3'''-yl)thiazol-4"-yl]bibenzyls. Indian J. Chem., Sect B [Internet]. 2005[cited 2016];44: 2102–6. English. Available from: http://nopr.niscpr.res.in/handle/123456789/9197, Accessed on 07 December 2022.
Mendgen T, Steuer C, Klein CD. Privileged scaffolds or promiscuous binders: A comparative study on rhodanines and related heterocycles in medicinal chemistry. J Med Chem. 2011;55(2):743–753. doi:10.1021/jm201243p
Huang L, Lümmen P, Berry EA. Crystallographic investigation of the ubiquinone binding site of respiratory Complex II and its inhibitors. Biochim Biophys Acta – Proteins and Proteom. 2021;1869:140679. doi:10.1016/j.bbapap
Noha RM, El hamid MK, Ismail MM, Manal RM, Salwa E. Design, synthesis and screening of benzimidazole containing compounds with methoxylated aryl radicals as cytotoxic molecules on (HCT-116) colon cancer cells. Eur J Med Chem. 2091:112870. doi:10.1016/j.ejmech.2020.112870
Wang S, Zhao Y, Zhu W, Liu Y, Guo K, Gong P. Synthesis and Anticancer Activity of Indolin-2-one Derivatives Bearing the 4-Thiazolidinone Moiety. Arch Pharm Chem Life Sci. 2012;345:73–80. doi:10.1002/ardp.201100082
Ranjan P, Kumar SP, Kari V, Jha PC. Exploration of interaction zones of b-tubulin colchicine binding domain of helminths and binding mechanism of anthelmintics. Comput Biol Chem. 2017;68:78–91. doi:10.1016/j.compbiolchem.2017.02.008
Avupati VR, Yejella RP, Akula A, Guntuku GS, Doddi BR, Vutla VR, Anagani SR, Adimulam LS, Vyricharla AK. Synthesis, characterization and biological evaluation of some novel 2,4-thiazolidinediones as potential cytotoxic, antimicrobial and antihyperglycemic agents. Bioorg Med Chem Lett. 2012;22(20):6442–6450. doi:10.1016/j.bmcl.2012.08.052
Li YX, Wang SH, Li ZM, Su N, Zhao WG. Synthesis of novel 2-phenylsulfonylhydrazono-3-(2′,3′,4′,6′-tetra-O-acetyl-β-d-glucopyranosyl)thiazolidine-4-ones from thiosemicarbazide precursors. Carbohydr Res. 2006;341(17):2867–2870. doi:10.1016/j.carres.2006.09.010
Haroun M, Tratrat C, Kolokotroni A, Petrou A, Geronikaki A, Ivanov M, Kostic M, Sokovic M, Carazo A, Mlad ˇenka P, Sree-harsha N, Venugopala KN, Nair AB, Elsewedy HS. 5-Benzyliden-2-(5-methylthiazol-2-ylimino)thiazolidin-4-ones as Antimicro-bial Agents. Design, Synthesis, Biological Evaluation and Mo-lecular Docking Studies. Antibiot. 2021;10(3):309. doi:10.3390/antibiotics10030309
Abo-Bakr AM, Hassan EA, Mahdy A-HS, Zayed SE. Synthetic and biological studies on some new camphor thiazolidinones. J Iran Chem Soc. 2021;18(10):2757–2769. doi:10.1007/s13738-021-02228-6
Orchard MG, Neuss JC, Galley CM, Carr A, Porter DW, Smith P, Scopes DIC, Haydon D, Vousden K, Stubberfield CR, Young K, Page M. Rhodanine-3-acetic acid derivatives as inhibitors of fungal protein mannosyl transferase 1 (PMT1). Bioorg Med Chem Lett. 2004;14(15):3975–3978. doi:10.1016/j.bmcl.2004.05.050
Chaban T, Matiichuk Y, Chulovska Z, Tymoshuk O, Chaban I, Matiychuk V. Synthesis and biological evaluation of new 4-oxo-thiazolidin-2-ylidene derivatives as antimicrobial agents. Arch Pharm. 2021;354(7):2100037. doi:10.1002/ardp.202100037
Obydennov KL, Galushchinskiy AN, Kosterina MF, Glukha-reva TV, Morzherin YY. Synthesis of 4-(4-oxo-1,3-thiazolidin-2-ylidene)-pyrrolidine-2,3,5-triones. Chem Heterocycl Compd. 2017;53(5):622–625. doi:10.1007/s10593-017-2102-0
Kolarević A, Ilić BS, Kocić G, Džambaski Z, Šmelcerović A, Bondžić BP. Synthesis and DNase I inhibitory properties of some 4‐thiazolidinone derivatives. J Cell Biochem. 2019;120(1):264–274. doi:10.1002/jcb.27339
Džambaski Z, Marković R, Kleinpeter E, Baranac-Stojanović M. 2-Alkylidene-4-oxothiazolidine S-oxides: synthesis and stereochemistry. Tetrahedron. 2013;69(31):6436–6447. doi:10.1016/j.tet.2013.05.087
Obydennov KL, Kalinina TA, Galieva NA, Beryozkina TV, Zhang Y, Fan Z, Glukhareva TV, Bakulev VA. Synthesis, fungicidal activity, and molecular docking of 2-acylamino and 2-thioacylamino derivatives of 1H-benzo[d]imidazoles as anti-tubulin agents. J Agric Food Chem. 2021;69(40):12048–12062. doi:10.1021/acs.jafc.1c03325
Obydennov KL, Khamidullina LA, Galushchinskiy AN, Shatunova SA, Kosterina MF, Kalinina TA, Fan Zh, Glukhareva TV, Morzherin YuYu. Discovery of Methyl (5Z)-[2-(2,4,5-Trioxopyrrolidin-3-ylidene)-4-oxo-1,3-thiazolidin-5-ylidene]acetates as Antifungal Agents against Potato Diseases. J Agric Food Chem. 2018;66(24):6239–6245. doi:10.1021/acs.jafc.8b02151
Yu X, Teng P, Zhang Y-L, Xu Z-J, Zhang M-Z, Zhang W-H. De-sign, synthesis and antifungal activity evaluation of coumarin-3-carboxamide derivatives. Fitoterapia. 2018;127:387–395. doi:10.1016/j.fitote.2018.03.013
DOI:
https://doi.org/10.15826/chimtech.2023.10.1.06
Copyright (c) 2022 Konstantin L. Obydennov, Tatiana A. Kalinina, Daria V. Ryabova, Maria F. Kosterina, Tatiana V. Glukhareva

This work is licensed under a
Creative Commons Attribution 4.0 International License
.
Chimica Techno Acta, 2014-2023
ISSN 2411-1414 (Online)
Copyright Notice