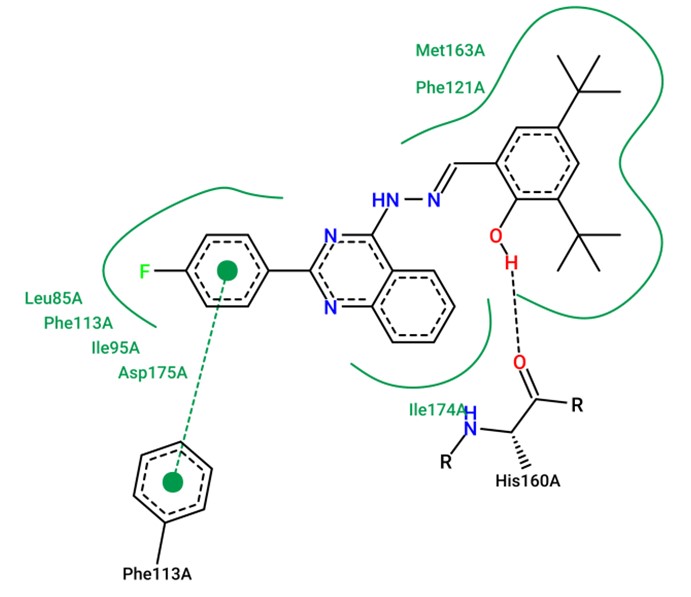 Synthesis and cytotoxic activity of (2-arylquinazolin-4-yl)hydrazones of 2-hydroxybenzaldehydes
Abstract
2-Phenyl-6,7-difluoro and 2-(4-fluorophenyl)quinazoline derivatives bearing salicylidenhydrazino fragments at position 4 were prepared based on 4,5-difluoroantranilic acid or anthranilamide. Molecular docking to casein kinase 2 was performed; compounds with high in silico activity to CK2 were revealed. Cytotoxic activity of the synthesized compounds was studied on cancer cell line MDA-MB-231 and normal cell line WI26 VA4.
Keywords
2-arylquinazolines; salicylidenhydrazines; in silico activity; casein kinase 2 inhibitor; cytotoxic activity
References
Furman RR, Sharman JP, Coutre SE, Cheson BD, Pagel JM, Hillmen P, Barrientos JC, Zelenetz AD, Kipps TJ, Flinn I, Ghia P, Eradat H. Resistance mechanisms for the Bruton's tyrosine kinase inhibitor ibrutinib. N Engl J Med. 2014;370(24):997–1007. doi:10.1056/NEJMoa1400029
Chen X, Li W, Hu X, Geng Y, Wang R, Yin Y, Shu Y. Biomed Pharmacother. 2011;65(8):542–546. doi:10.1016/j.biopha.2011.04.017
Laramas M, Pasquier D, Filhol O, Ringeisen F, Descotes JL. Nuclear localization of protein kinase CK2 catalytic subunit (CK2α) is associated with poor prognostic factors in human prostate cancer. Eur J Cancer. 2007;43(5):928–934. doi:10.1016/j.ejca.2006.11.021
Charoenrat P, Rusch V, Talbot SG, Sarkaria I, Viale A, Socci N, Ngai I, Rao P, Singh B. Casein kinase II alpha subunit and C1-inhibitor are independent predictors of outcome in patients with squamous cell carcinoma of the lung. Clin Cancer Res. 2004;10(17):5792–5803. doi:10.1158/1078-0432.CCR-03-0317
Ortega CE, Seidner Y, Dominguez I. Mining CK2 in Cancer. PLoS ONE 2014;9(12):e115609. doi:10.1371/journal.pone.0115609
Faust RA, Gapany M, Tristani P, Davis A, Adams GL, Ahmed K. Elevated protein kinase CK2 activity in chromatin of head and neck tumors: association with malignant transformation. Cancer Lett. 1996;101(1):31–35. doi:10.1016/0304-3835(96)04110-9
Faust RA, Niehans G, Gapany M, Hoistad D, Knapp D, Cherwitz D, Davis A, Adams GL, Ahmed K. Subcellular immunolocalization of protein kinase CK2 in normal and carcinoma cells. Int J Biochem Cell Biol. 1999;31(9):941–949. doi:10.1016/s1357-2725(99)00050-3
Gapany M, Faust RA, Tawfic S, Davis A, Adams GL, Ahmed K. Association of elevated protein kinase CK2 activity with aggressive behavior of squamous cell carcinoma of the head and neck. Mol Med. 1995;1(6):659–666.
Kim HS, Chang YG, Bae HJ, Eun JW, Shen Q, Park SJ, Shin WC, Lee EK, Park S, Ahn YM, Park WS, Lee JY, Nam SW. Oncogenic potential of CK2α and its regulatory role in EGF-induced HDAC2 expression in human liver cancer. FEBS J. 2014;281(3):851–861. doi:10.1111/febs.12652
Rabjerg M, Bjerregaard H, Halekoh U, Jensen BL, Walter S, Marcussen N. Molecular characterization of clear cell renal cell carcinoma identifies CSNK2A1, SPP1 and DEFB1 as promising novel prognostic markers. APMIS. 2016;124(5):372–383. doi:10.1111/apm.12519
Nitta RT, Gholamin S, Feroze AH, Agarwal M, Cheshier SH, Mitra SS, Li G. Casein kinase 2α regulates glioblastoma brain tumor-initiating cell growth through the β-Catenin pathway. Oncogene. 2014;34(28):3688–3699. doi:10.1038/onc.2014.299
Pagano MA, Cesaro L, Meggio F, Pinna LA. Protein kinase CK2: a newcomer in the 'Druggable Kinome'. Biochem Soc Trans. 2006;34(6):1303–1306. doi:10.1042/BST0341303
Guerra B, Issinger O-G. Protein kinase CK2 in human diseases. Curr Med Chem. 2008;15(19):1870–1886. doi:10.2174/092986708785132933
Silva-Pavez E, Tapia J. Protein kinase CK2 in cancer energetics. Front Oncol. 2020;10:893. doi:10.3389/fonc.2020.00893
Borgo C, D'Amore C, Sarno S, Salvi M, Ruzzene M. Protein kinase CK2: a potential therapeutic target for diverse human diseases. Curr Signal Transduct Ther. 2021;6(1):1–20. doi:10.1038/s41392-021-00567-7
Chua MMJ, Lee M, Dominguez I. Cancer-type dependent expression of CK2 transcripts. PLoS ONE. 2017;12(12):e0188854. doi:10.1371/journal.pone.0188854
Haddach M, Pierre F, Regan CF, Borsan C, Michaux J, Stefan E, Kerdoncuff P, Schwaebe MK, Chua PC, Siddiqui-Jain A, Macalino D, Drygin D, O'Brien SE, Rice WG, Ryckman DM. Synthesis and SAR of inhibitors of protein kinase CK2: novel tricyclic quinoline analogs. Bioorg Med Chem Lett. 2012;22(1):45–48. doi:10.1016/j.bmcl.2011.11.087
Lyapustin DN, Kotovskaya SK, Butorin II, Ulomsky EN, Rusinov VL, Babkov DA, Pokhlebin AA, Spasov AA, Melekhin VV, Tokhtueva MD, Shcheglova AV, Makeev OG. CK2 inhibition and antitumor activity of 4,7-Dihydro-6- nitroazolo[1,5-a]pyrimidines. Mol. 2022;27(16):5239. doi:10.3390/molecules27165239
Iegre J, Atkinson EL, Brear PD, Cooper BM, Hyvönen M, Spring DR. Chemical probes targeting the kinase CK2: a journey outside the catalytic box. Org Biomol Chem. 2021;19(20):4380–4396. doi:10.1039/d1ob00257k
Dowling JE, Alimzhanov M, Bao L, Chuaqui C, Denz CR, Jenkins E, Larsen NA, Lyne PD, Pontz T, Ye Q, Holdgate GA, Snow L, O'Connell N, Ferguson AD. Potent and Selective CK2 Kinase inhibitors with effects on Wnt pathway signaling in vivo. ACS Med Chem Lett. 2016;7(3):300–305. doi:10.1021/acsmedchemlett.5b00452
Wells CI, Drewry DH, Pickett JE, Tjaden A, Krämer A, Müller S, Gyenis L, Menyhart D, Litchfield DW, Knapp S, Axtman AD. Development of a potent and selective chemical probe for the pleiotropic kinase CK2. Cell Chem Biol. 2021;28(4):546–558. doi:10.1016/j.chembiol.2020.12.013
Dalle Vedove A, Zonta F, Zanforlin E, Demitri N, Ribaudo G, Cazzanelli G, Ongaro A, Sarno S, Zagotto G, Battistutta R, Ruzzene M, Lolli G. A novel class of selective CK2 inhibitors targeting its open hinge conformation. Eur J Med Chem. 2020;195:112267. doi:10.1016/j.ejmech.2020.112267
Oshima T, Niwa Y, Kuwata K, Srivastava A, Hyoda T, Tsuchiya Y, Kumagai M, Tsuyuguchi M, Tamaru T, Sugiyama A, Ono N, Zolboot N, Aikawa Y, Oishi S, Nonami A, Arai F, Hagihara S, Yamaguchi J, Tama F, Kunisaki Y, Yagita K, Ikeda M, Kinoshita T, Kay SA, Itami K, Hirota T. Cell-based screen identifies a new potent and highly selective CK2 inhibitor for modulation of circadian rhythms and cancer cell growth. Sci Adv. 2019;5(1):9060–9083. doi:10.1126/sciadv.aau9060
Trashakhova TV, Nosova EV, Slepukhin PA, Valova MS, Lipunova GN, Charushin VN. 2-Hydroxybenzaldehyde (2-phenylquinazolin-4-yl)hydrazones and their ZnII complexes: synthesis and photophysical properties. Russ Chem Bull. 2011;60(11):2347–2353. doi:10.1007/s11172-011-0360-z
Wang X-S, Yang K, Zhang M-M, Yao C-S. Synthesis of 2-Arylquinazolin-4(3H)-one derivatives catalyzed by iodine in [bmim+][BF4-]. Synth Commun. 2010;40(17):2633–2646. doi:10.1080/00397910903318609
Kang H, Wang W, Sun Q, Yang S, Jin J, Zhang X, Ren X, Zhang J, Zhou J. Microwave-assisted synthesis of quinazolin-4(3H)-ones catalyzed by SbCl3. Heterocycl Commun. 2018;24(6):293–296. doi:10.1515/hc-2018-0115
Zhan D, Li T, Zhang X, Dai C, Wei H, Zhang Y, Zeng Q. Vanadium-catalyzed synthesis of 4(3H)-quinazolinones from anthranilamides and aryl aldehydes. Synth Commun. 2013;43(18):2493–2500. doi:10.1080/00397911.2012.717669
Tímea M, Miklós F, Lázár L, Fülöp F. Synthesis of 2-(hetero)arylquinazolinones in aqueous media. Arkivoc. 2016;2016(vi):257–258. doi:10.24820/ark.5550190.p009.894
Thompson MA. Molecular docking using ArgusLab, an efficient shape-based search algorithm and the AScoring function. ACS meeting:Philadelphia; 2004. 42.
Berman HM, Westbrook J, Feng Z, Gilliland G, Bhat TN, Weissig H, Shindyalov IN, Bourne PE. The protein data bank. Nucleic Acids Res. 2000;28(1):235-242. doi:10.1093/nar/28.1.235
Somoza JR, Koditek D, Villaseñor AG, Novikov N, Wong MH, Liclican A, Xing W, Lagpacan L, Wang R, Schultz BE, Papalia GA, Samuel D, Lad L, McGrath ME. Structural, biochemical, and biophysical characterization of idelalisib binding to phosphoinositide 3-kinase δ. J Biol Chem. 2015;290(13):8439-8446. doi:10.1074/jbc.M114.634683
Gaulton A, Hersey A, Nowotka M, et al. The ChEMBL database in 2017. Nucleic Acids Res. 2017;45(D1):D945–D954. doi:10.1093/nar/gkw1074
Sander T, Freyss J, von Korff M, Rufener C. DataWarrior: an open-source program for chemistry aware data visualization and analysis. J Chem Inf Model. 2015;55(2):460–473. doi:10.1021/ci500588j
Schöning-Stierand K, Diedrich K, Fährrolfes R, Flachsenberg F, Meyder A, Nittinger E, Steinegger R, Rarey M. ProteinsPlus: interactive analysis of protein–ligand binding interfaces. Nucleic Acids Res. 2020;48(W1):W48–W53. doi:10.1093/nar/gkaa235
Stierand K, Maass PC, Rarey M. Molecular complexes at a glance: automated generation of two-dimensional complex diagrams. Bioinform. 2006;22(14):1710–1716. doi:10.1093/bioinformatics/btl150
Karasala BK, Gollamudi P, Inkollu B, Vidavalur S. Russ J Org Chem. 2020;56(8):1446–1454. doi:10.1134/S1070428020080163
Horgan CC, Nagelkerke A, Whittaker TE, Nele V, Massi L, Kauscher U, Penders J, Bergholt MS, Hood SR, Stevens MM. Molecular imaging of extracellular vesicles in vitro via Raman metabolic labelling. J Mater Chem B. 2020;8(20):4447–4459. doi:10.1039/D0TB00620C
Sylvester PW. Optimization of the tetrazolium dye (MTT) colorimetric assay for cellular growth and viability. Methods Mol Biol. 2011;716:157–168. doi:10.1007/978-1-61779-012-6_9
DOI:
https://doi.org/10.15826/chimtech.2023.10.2.11
Article Metrics
Metrics powered by PLOS ALM
Copyright (c) 2023 Emiliya V. Nosova, Ilya I. Butorin, Margarita D. Likhacheva, Svetlana K. Kotovskaya

This work is licensed under a
Creative Commons Attribution 4.0 International License
.
Chimica Techno Acta, 2014-2023
ISSN 2411-1414 (Online)
Copyright Notice