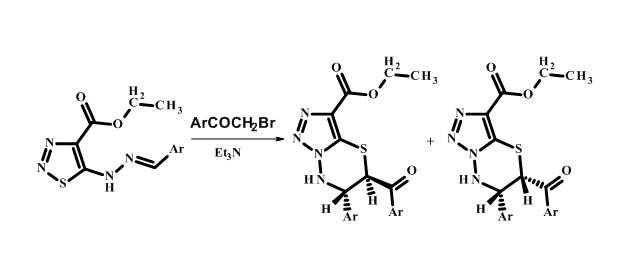 Synthesis and research of cis-trans isomerism for 5-(4-methoxybenzoyl)-6-(4-metoxyphenyl)-6,7-dihydro-5H-[1,2,3]triazolo[5,1-b][1,3,4]thiadiazine
Abstract
It was shown that the reaction of 1,2,3-4-methoxybenzaldehyde tiadiazolyl hydrazona and α-bromo-4-methoxyacetophenone in the presence of triethylamine allowes 5-(4-methoxybenzoyl)-6-(4-methoxyphenyl)-6,7-dihydro-5H-[1,2,3]triazolo[5,1-b][1,3,4]thiadiazine as a mixture of cis- and trans-stereoisomers. The influence of nature of the solvent and temperature on the ratio of isomers was studied. An increase of the relative amount of the trans-stereoisomer with increasing polarity of the solvent is disclosed. It is noted that the temperature does not affect the ratio of isomers.
Keywords
1,2,3-thiadiazole; Dimroth rearrangement; thiadiazine; isomerism; effect of temperature; solvent
References
L'abbe G, Vanderstede E. Dimroth rearrangement of 5-hydrazino-1,2,3-thiadiazoles. J Heterocycl Chem. 1989;26(6):1811-14. doi:10.1002/jhet.5570260652
Kalinina TA, Prokhorova PE, Glukhareva TV, Morzherin YuYu. Phosphorus pentachloride-induced transformation of (1,2,3-thiadiazol-5-yl) hydrazones of acetophenone. Russ Chem Bull. 2011;60(5):981-4. doi:10.1007/s11172-011-0154-3
Morzherin YuYu, Glukhareva TV, Slepukhina IN, Mokrushin VS, Tkachev AV, Bakulev VA. A new ring transformation in the series of 1,2,3-thiadiazoles. Synthesis of 5H-[1,2,3]triazolo[5,1-b][1,3,4]thiadiazines. Mendeleev Commun. 2000;10(1):19-20. doi:10.1070/MC2000v010n01ABEH001218
Morzherin YuYu, Glukhareva TV, Bakulev VA. Rearrangements and transformations of 1,2,3-thiadiazoles in organic synthesis. Chem Heterocyc Compd. 2003;39(6):679-706. doi:10.1023/A:1025689208261
Al-Etaibi A, John E, Ibrahim MR, Al-Awadi NA, Ibrahim YA. Stereoselective synthesis of dihydrothiadiazinoazines and dihydrothiadiazinoazoles and their pyrolytic desulfurization ring contraction. Tetrahedron. 2011;67(34):6259-74. doi:10.1016/j.tet.2011.06.034
DOI:
https://doi.org/10.15826/chimtech.2014.1.2.676
Article Metrics
Metrics powered by PLOS ALM
Copyright (c) 2014 T. A. Kalinina, O. A. Bystrykh, J. S. Shakhmina, T. V. Glukhareva, Zhi-Jin Fan, Yu. Yu. Morzherin

This work is licensed under a
Creative Commons Attribution 4.0 International License
.
Chimica Techno Acta, 2014-2023
ISSN 2411-1414 (Online)
Copyright Notice