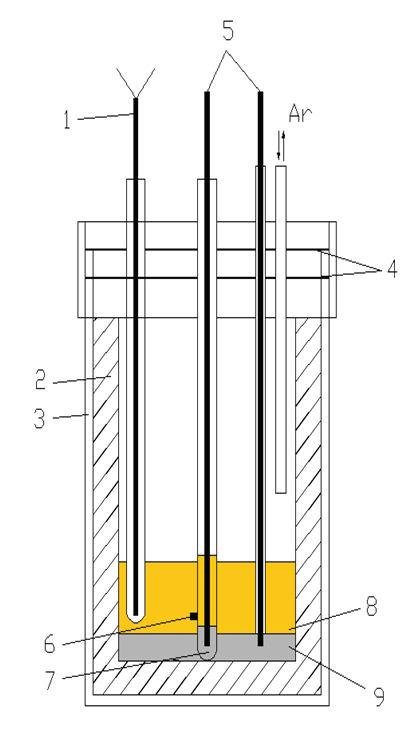 Lead activity in Pb-Sb-Bi alloys
Abstract
The present work is devoted to the study of lead thermodynamic activity in the Pb-Sb-Bi alloys. The method for EMF measurements of the concentration cell: (–)Pb|KCl-PbCl2¦¦KCl-PbCl2|Pb-(Sb-Bi)(+) was used. The obtained concentration dependences of the galvanic cell EMF are described by linear equations. The lead activity in the ternary liquid-metal alloy demonstrates insignificant negative deviations from the behavior of ideal solutions.
Keywords
thermodynamic activity of lead; ternary alloys; electrochemical cell; antimony; bismuth
References
Delimarsky YuK, Zarubitsky OG. Elektroliticheskoye rafinirovaniye tyazhelykh metallov v ionnykh rasplavakh [Electrolytic refining of heavy metals in ionic melts]. Moscow: Metallurgy; 1975. 321 p. Russian.
Morachevskii AG. Thermodynamic analysis of the interaction between components in liquid alloys in the system sodium-cadmium. Russ J Appl Chem. 1998;72(2):211-5.
Zaikov YP, Arkhipov PA, Plekhanov KA, Ashikhin VV, Khalimullina YR, Chebykin VV, Molchanova NG. Thermodynamic characteristics of Pb-Sb alloys. Russ J Non-Ferr Met. 2007;48:92-8. doi:10.3103/S1067821207020034
Khalimullina YuR, Zaikov YuP, Arkhipov PA, Ashikhin VV, Skopov GV, Kholkina AS, Molchalova NG. Rasplavy [Melts]. 2010;5:34-43. Russian.
DOI:
https://doi.org/10.15826/chimtech.2014.1.1.693
Copyright (c) 2014 A. S. Kholkina, P. A. Arkhipov, Yu. P. Zaikov
© Chimica Techno Acta, 2014-2021
ISSN 2411-1414 (Online)