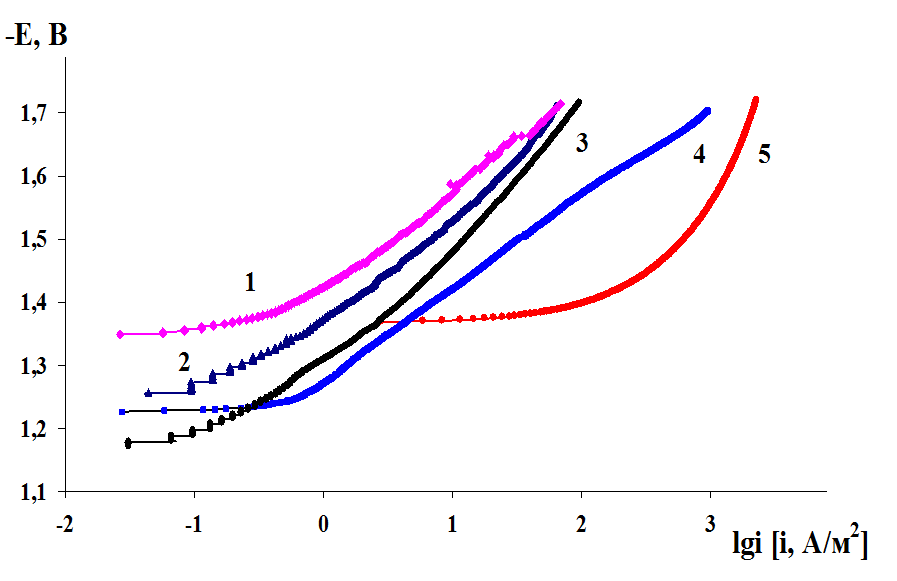 The influence of the magnesium alloys microstructure on the cathodic hydrogen evolution
Abstract
Solubility of several transition metal chlorides (NiCl2, CrCl2, MoCl3, FeCl2) was measured in KCl-AlCl3 based melts. It was found that the solubility of studied metal chlorides depends on K : Al mole ratio. MoCl3 solubility decreases with increasing AlCl3 content. Solubility of CrCl2 and FeCl2 reaches maximum at K : Al ratio of 1 and decreases when this ratio either de-creases or increases. The dependence of NiCl2 solubility on K : Al mole ratio is V-shaped with the maximum near 0.9–0.95. The effect of temperature on solubility of transition metal chlorides in KCl-AlCl3 melts was also investigated. Increasing temperature does not  alter the character of «solubility – K : Al mole ratio» dependences.
Keywords
The process of equal channel angular pressing; cathodic process; kinetics
References
Tarasov BP, Burnasheva VV, Lototsky MV, Yartys VA. [Methods for hydrogen storage and possible use of metal hydrides]. Alternativnaya energetika i ekologiya [Alternative energy and ecology]. 2005;12:14-37. Russian.
Fukai Y. The metal-hydrogen system: basic bulk properties. Berlin: Springer-Verlag; 2005. doi:10.1007/3-540-28883-X
Gavrilova NV, Shamilov YuN, Kharchenko EL. Alternativnaya energetika [Alternative energy industry]. 2008;1:60. Russian.
Skryabina N, Fruchart D, Miraglia S, De Rango P, Shelyapina MG. Phase transformations in Ti-V-Cr-H composition. Solid State Phenom. 2011;170:302-6. doi:10.4028/www.scientific.net/SSP.170.302
Antonova MM. Svoystva gidridov metallov [Properties of metal hydrides]. Kiev: Naukova Dumka; 1975. 128 p. Russian.
Kolachev BA, Il'in AA, Lavrenko VA. Gidridniye systemy: spravochnik [Hydride systems: a Handbook]. Moscow: Metallurgy; 1992. 350 p. Russian.
Valiev RZ, Langdon TG. Principles of equal-channel angular pressing as a processing tool for grain refinement. Prog Mater Sci. 2006;51(7):881-981. doi:10.1016/j.pmatsci.2006.02.003
Skryabina NE, Zabolotsky DS, Fruchart D, Girard G, Miraglia S. Innovatsionnyye tekhnologii. Perspektivnyye materialy dlya vodorodnoy energetiki [Innovative technologies. Promising materials for hydrogen energy]. Vestnik Permskogo Universiteta, Seriya: Fizika [Perm University Transactions: Physics]. 2009;1:89-96. Russian.
Skryabina NE, Fruchart D, Girard G, Miraglia S, Pinyugzhanin VM, Leiva D. Innovatsionnyye tekhnologii. Fizicheskiye printsipy formirovaniya nanostruktury splavov dlya obratimogo khraneniya vodoroda [Innovative technologies. Physical principles of formation of the nanostructure alloys for reversible hydrogen storage]. Vestnik Permskogo Universiteta, Seriya: Fizika [Bulletin of Perm University: Physics]. 2010;1:91-6. Russian.
Golovin PV, Medvedeva NA, Skryabina NE. Katodnoye povedeniye splavov na osnove titana v reaktsii vydeleniya vodoroda [Cathodic behavior of titanium-based alloys in the reaction of hydrogen evolution]. Vestnik Kazanskogo tekhnologicheskogo universiteta [Bulletin of Kazan Technological University]. 2012;17:58-61. Russian.
Medvedeva N, Skryabina N, Golovin P. In: Abstracts of International Symposium "Metal-Hydrogen Systems - Fundamentals and Applications". 2012 October 21-26; Kyoto, Japan. p. 498.
Wang YN, Huang JC. Texture characteristics and anisotropic superplasticity of AZ61 magnesium alloy. Mater Trans. 2003;44(11):2276-81. doi:10.2320/matertrans.44.2276
Conway BE, Tilak BV. Interfacial processes involving electrocatalytic evolution and oxidation of H2, and the role of chemisorbed H. Electrochim Acta. 2002;47(22-3):3571-94. doi:10.1016/S0013-4686(02)00329-8
DOI:
https://doi.org/10.15826/chimtech.2014.1.2.700
Article Metrics
Metrics powered by PLOS ALM
Copyright (c) 2014 A. L. Gabov, I. S. Belosludtsev, N. A. Medvedeva, N. E. Skryabina, D. Fruchart

This work is licensed under a
Creative Commons Attribution 4.0 International License
.
Chimica Techno Acta, 2014-2023
ISSN 2411-1414 (Online)
Copyright Notice