Scientific peer-reviewed journal founded in 2015. Authorized by Federal Service for Supervision in the Sphere of Telecom, Information Technologies and Mass Communications, license ПИ β"– Π€Π' 77-61465, April 10, 2015.
ISSN 2412-8872 (print)
ISSN 2414-9497 (online)
Frequency β€"3 issues per year.
Circulation β€" 500 copies.
Distribution β€" Russia and abroad.
Founders and Publishers:
Ural Federal University
19 Mira St., 620002, Yekaterinburg, Russia
Baikal State University
11 Lenin St., 664003, Irkutsk, Russia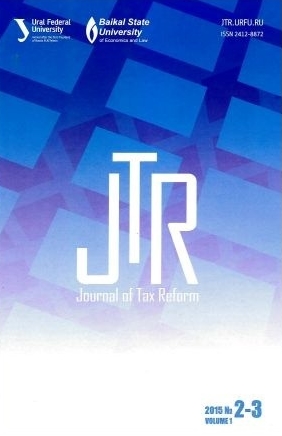 The primary objective (mission) of the Journal of Tax Reform is to improve the quality and credibility the scientific research in the field of tax reform; to promote comprehensive study of socio-economic and other consequences of tax reform and effects of various tax transformations.
The Journal covers in its issues papers and other materials related to administrative, managerial and economic problems of tax reform, highlights questions regarding historical experience of tax reform and tax evasion counteraction.
Vol 6, No 3 (2020)
Full Issue
Table of Contents
Administrative and managerial issues of tax reforms
| | | |
| --- | --- | --- |
| | Sergei G. Belev, Nikita S. Moguchev, Konstantin V. Vekerle | 210-224 |
Economic issues of tax reforms
| | | |
| --- | --- | --- |
| | Vlada V. Karpova, Viktoriia F. Tyschenko, Viktoriia N. Ostapenko, Yuriy B. Ivanov | 225-243 |
Econometric models of tax reforms
| | | |
| --- | --- | --- |
| | Ivan Todorov, Kalina Durova | 256-269 |
Tax reforms: historical experience
| | | |
| --- | --- | --- |
| | Alexander I. Pogorletskiy, Fritz SΓΆllner | 270-297 |