Scientific peer-reviewed journal founded in 2015. Authorized by Federal Service for Supervision in the Sphere of Telecom, Information Technologies and Mass Communications, license ПИ β"– Π€Π' 77-61465, April 10, 2015.
ISSN 2412-8872 (print)
ISSN 2414-9497 (online)
Frequency β€"3 issues per year.
Circulation β€" 500 copies.
Distribution β€" Russia and abroad.
Founders and Publishers:
Ural Federal University
19 Mira St., 620002, Yekaterinburg, Russia
Baikal State University
11 Lenin St., 664003, Irkutsk, Russia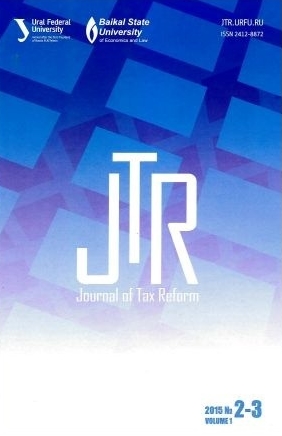 The mission of the peer-reviewed Journal of Tax Reform is to promote comprehensive research into tax reform and the effects of tax system reorganisation leading to improvements in the quality and credibility of research in the field of taxation.
The Journal of Tax Reform is aimed at presenting significant findings of original research carried out by professionals from various countries in the field of tax reform and taxation in general.
The Journal publishes original empirical and review articles elucidating administrative-managerial and economic problems in tax reform, as well as those discussing issues related to historical tax reform and practices for countering tax evasion.
Vol 8, No 2 (2022)
Full Issue
Table of Contents
Administrative and managerial issues of tax reforms
| | | |
| --- | --- | --- |
| | Jadranka N. ĐuroviΔ‡ TodoroviΔ‡, Marina S. ĐorΔ'eviΔ‡, Milica B. RistiΔ‡ CakiΔ‡ | 108-126 |
Economic issues of tax reforms
| | | |
| --- | --- | --- |
| | Sergei G. Belev, Evgenii O. Matveev, Nikita S. Moguchev | 127-139 |
Econometric models of tax reforms
| | | |
| --- | --- | --- |
| | Ochuko Benedict Emudainohwo, Okolo Marvis Ndu | 140-156 |
Sociology and psychology of taxation
| | | |
| --- | --- | --- |
| | Mohammed Muneerali Thottoli, Noof Amur Rashid Al Mamari | 157-169 |
Actions against tax evasion
| | | |
| --- | --- | --- |
| | Muhammad Syukur, Marziana Madah Marzuki, Maheran Zakaria | 170-185 |
| | | |
| --- | --- | --- |
| | Yu Kun Wang, Li Zhang | 186-198 |
Historical experience of tax reforms
| | | |
| --- | --- | --- |
| | Jun Ma, Yulia V. Leontyeva, Alexey Y. Domnikov | 199-211 |