Scientific peer-reviewed journal 'ÄúJournal of Tax Reform'ÄĚ (ISSN 2414-9497 (online), ISSN 2412-8872 (print)) was founded in 2015 by economists from Ural Federal University and Baikal State University. Journal is authorized by Federal Service for Supervision in the Sphere of Telecom, Information Technologies and Mass Communications, license –ü–ė 'ĄĖ –§–° 77-61465, April 10, 2015. Journal of Tax Reform is published 3 times a year.
The primary objective (mission) of the Journal of Tax Reform is to improve the quality and credibility the scientific research in the field of tax reform, and to promote comprehensive study of socio-economic and other consequences of tax reform and effects of various tax transformations.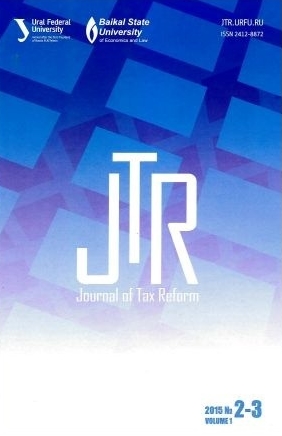 Modern taxation systems are constantly evolving. Accelerating dynamics of social and economic development determines the need for updating the national taxation systems. The overall quality and efficiency of taxation systems remains the cornerstone of sustainable development 'Äď a dominant concept in the XXI century. Meanwhile, improvement of the particular taxation system is a direct result of a tax reform. Besides, the globalization processes along with increasing e-commerce usage lead to the increase of the businesses'Äô international mobility. The latter, in turn, leads to the tax competition between national tax systems. National taxation systems are forces to adjust to the constantly shifting requirements of the global economy.
These tendencies in the national taxation systems' development determine the high-priority goals of searching for the most efficient taxation schemes and mechanisms. In this regard, it's extremely important to study the tax reforms and their consequences in various countries. This task can be solved by cooperation of both economic scientists and practicing, especially at the law enforcement level, economists. The relevance of research and development of tax reforms is reinforced by the increasing attention paid to the assessment of their aspects and consequences by the economists, businessmen, taxation system workers, civil servants and even general public.
Thus, Journal of Tax Reform is aimed to increase the scientific knowledge in the field of taxes and taxation, to search for the new taxation schemes, and to develop various measures to make taxation more just and efficient.
Vol 1, No 1 (2015)
Table of Contents
Administrative and managerial issues of tax reforms
| | | |
| --- | --- | --- |
| | Alexander Pogorletskiy, Nadezhda Bashkirova | 4-24 |
| | | |
| --- | --- | --- |
| | Liudmyla Matveychuk | 25-41 |
| | | |
| --- | --- | --- |
| | Yevgeny Yevstigneyev, Natalya Viktorova | 42-60 |
| | | |
| --- | --- | --- |
| | Sergey Barulin, Yelena Barulina | 61-75 |
Economic issues of tax reforms
Sociology and psychology of taxation
| | | |
| --- | --- | --- |
| | Valentine Vishnevsky, Aleksandr Gurnak | 113-132 |