ISSN 2411-1414 (Online)
Chimica Techno Acta (CTA, chimicatechnoacta.ru) is a peer-reviewed, international open access journal publishing original and high-quality articles, reviews, and letters, covering all applied aspects of chemistry and materials science. CTA is dedicated to providing an exclusive platform that generates discussions among researchers, scientists, engineers, and technology developers around advances, current trends and challenges in chemical engineering, characterization and testing of functional materials in terms of their orientation towards industry and large-scale production.
The following aspects are of CTA's particular interest:
Design & engineering of new (metal-, ceramic-, organic-based) materials for applied purposes;
Deep characterization and testing of functional materials;
Lab-to-industry technology transferring for current chemical, metallurgy and energy demands.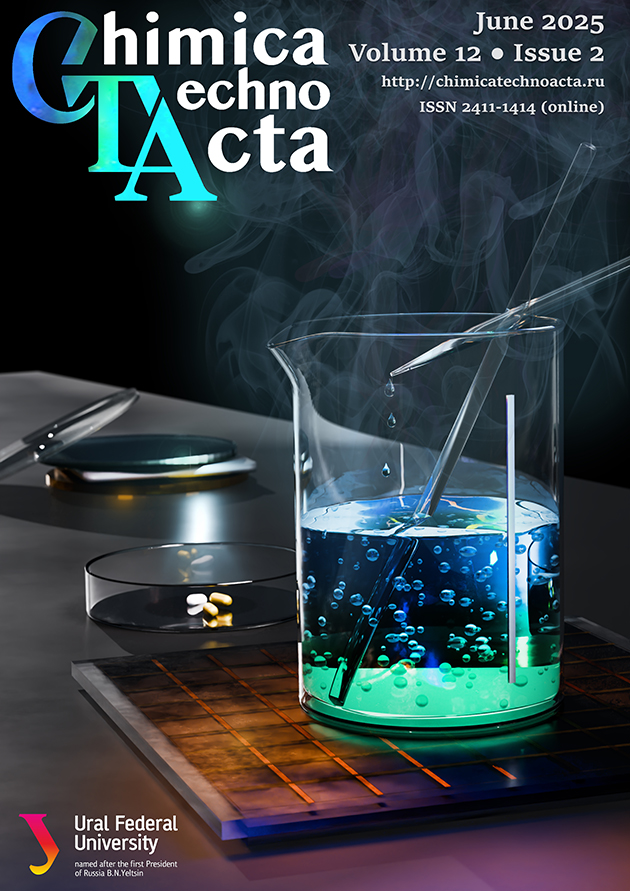 Chimica Techno Acta is published and funded by Ural Federal University (UrFU). The issues are published 4 times a year since 2014, when Chimica Techno Acta was founded by D.Sc. Prof. Yuri Yu. Morzherin and his colleagues. In 2017-2021, the Editor-in-Chief was D.Sc. Prof. Andrey Yu. Zuev (Ural Federal University, Ekaterinburg, Russia). The current Editor-in-Chief is D.Sc. Dmitry A. Medvedev.
Chimica Techno Acta is presented in the following databases (including Abstracting and Indexing databases):
Scopus
CAS (Chemical Abstracts)
DOAJ (Directory of Open Access Journals)
Crossref
WorldCat
Google Scholar
ROAD (Directory of Open Access scholarly Resources)
BASE (Bielefeld Academic Search Engine)
OpenAIRE (Open Access Infrastructure for Research in Europe)
eLIBRARY.RU and RSCI (Russian Science Citation Index)
VINITI (Russian Institute for Scientific and Technical Information) database
Full texts of the articles from both Current and Archived issues can be found on this website as well as in the Online Academic Archive of Ural Federal University.
For complete information about our Focus and Scope, Editorial Board and various policies please visit About page. If you are interested in contributing an article to Chimica Techno Acta, we recommend you to check out our Author Guidelines. If you have any further questions regarding our policies or submission process, do not hesitate to contact us.
Announcements
CTA's twitter account

Please follow our Twitter page, https://twitter.com/ActaTechno, where focused information on published papers and issues is provided.
Posted: 2021-10-06

Recent Changes

Dear authors and readers! We would like to announce a few recent changes regarding our journal.

1. In order to simultaneously cut the expenses and potentially increase the article and issue production speed, our journal is now online only.

2. Please pay attention to the (slightly) altered guide for authors:

- We now require you to suggest at least two potential reviewers for each new manuscript submitted.

- Requirements for preparing Articles, Letters and Reviews have been updated, https://journals.urfu.ru/index.php/chimtech/about/editorialPolicies#sectionPolicies.

Posted: 2021-04-20