ISSN 2411-1414 (Online)
Chimica Techno Acta (chimicatechnoacta.ru) is an open access, peer reviewed international journal publishing original scientific articles and reviews in all areas of pure and applied chemistry. Its broad scope covers all chemical sciences, but the preferences are given to studies of materials for practical applications. The main aim of Chimica Techno Acta is to provide an opportunity for chemists to publish their works free of charge in an open access international journal with high editorial standards.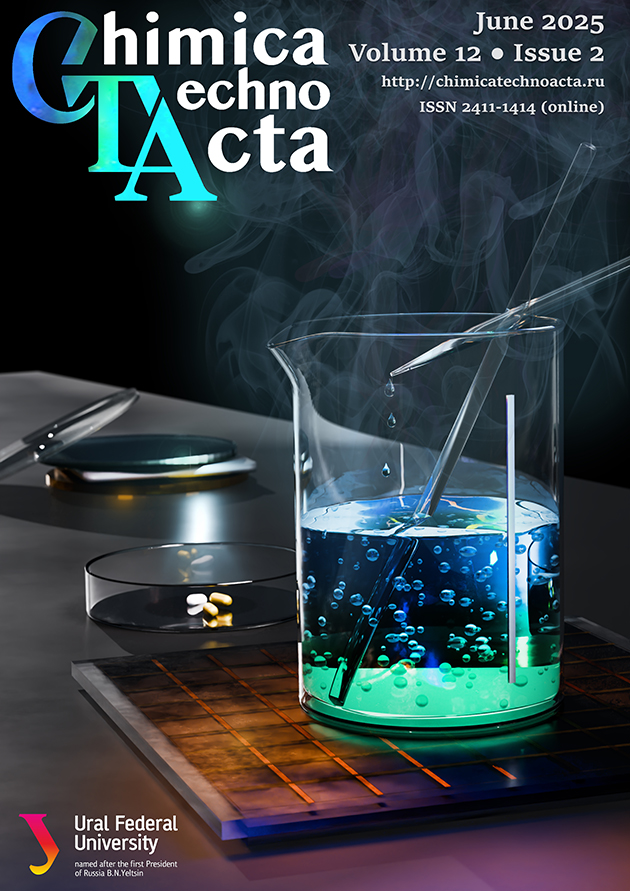 Chimica Techno Acta is published and funded by Ural Federal University (UrFU). The issues are published 4 times a year since 2014, when Chimica Techno Acta was founded by D.Sc. Prof. Yuri Yu. Morzherin and his colleagues. Since 2017, the journal's Editor-in-Chief is D.Sc. Prof. Andrey Yu. Zuev (Ural Federal University, Ekaterinburg, Russia).
Chimica Techno Acta is presented in the following databases (including Abstracting and Indexing databases):
Scopus
CAS (Chemical Abstracts)
DOAJ (Directory of Open Access Journals)
Crossref
WorldCat
Google Scholar
ROAD (Directory of Open Access scholarly Resources)
BASE (Bielefeld Academic Search Engine)
OpenAIRE (Open Access Infrastructure for Research in Europe)
eLIBRARY.RU and RSCI (Russian Science Citation Index)
VINITI (Russian Institute for Scientific and Technical Information) database
Full texts of the articles from both Current and Archived issues can be found on this website as well as in the Online Academic Archive of Ural Federal University.
For complete information about our Focus and Scope, Editorial Board and various policies please visit About page. If you are interested in contributing an article to Chimica Techno Acta, we recommend you to check out our Author Guidelines. If you have any further questions regarding our policies or submission process, do not hesitate to contact us.
Announcements
Recent Changes

Dear authors and readers! We would like to announce a few recent changes regarding our journal.

1. In order to simultaneously cut the expenses and potentially increase the article and issue production speed, our journal is now online only. From now on, no printed version will be available.

2. Please pay attention to the (slightly) altered guide for authors. Among the other things, we now require you to suggest at least two potential reviewers for each new manuscript submitted.

Posted: 2021-04-20