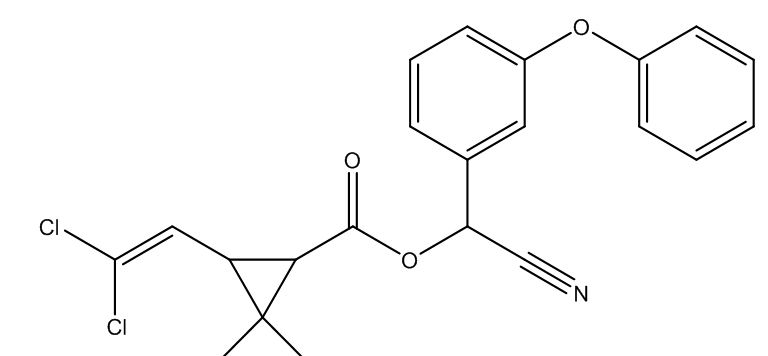 Influence of preparative form on the target efficiency and toxicity of the solid insecticide based on pyrethroid and neonicatinoid
Abstract
The influence of solid preparative form was studied on the «GET Dry» insecticide based on alpha-cypermethrin and imidacloprid. The target efficiency as acute and residual impact was studied when agent was applied against the bedbugs (Cimex hemipterus), German cockroach (Blatella germanica), common house flies (Musca domestica) and larvae of the leather beetles (Attagenus smirnovi). The agent demonstrated strong acute effect (about 100%) when applied against the cockroaches, bugs, and flies. Moreover, the agent demonstrates the residual impact on the cockroaches, flies, fleas for 45 days, and on the bugs for 30 days. The slight insecticidal activity was observed when the agent was applied against the larvae. We studied toxicity of the agent, LD50, when swallowed (moderately hazardous substances, class III) and when applied to the skin (low-hazard substance, class IV) as well as studied its inhalation hazard according to its volatility С 20 °C, irritant action when applied to the skin (slight) and eye irritation (moderate). Sensibilizing action was not observed.
Keywords
solid form; insecticide; pyrethroid; neonicatinoid; target efficacy; toxicity
References
Yaroshuk SB, Tretiakov AV; Obshchestvo s ogranichennoi otvetstvennostiu GET. Solid Insecticide. Russian Federation patent RU 2733659. 2020 Jun 6. Russian.
San Juan MRF, Cortelezzi A, Albornoz CB, et al. Ecotoxicology and environmental safety toxicity of pyrethroid cypermethrin on the freshwater snail Chilina parchappii: Lethal and sublethal effects. Ecotoxicol Environ Safety. 2020;196:110565. doi:10.1016/j.ecoenv.2020.110565
Gharaei A, Karimi M, Harijani JM, et al. Population growth of Brachionus calyciflorus affected by deltamethrin and imidacloprid insecticides. Iran J Fish Sci. 2020;19(2):588–601. doi:10.22092/ijfs.2018.117180
Tabasian H, Ravan S, Bandani AR, et al. The effect of esterase activity in resistance of Aphis gossypii to selective insecticides. J Food Agric Environ. 2010;8(3–4):1108–1112.
Chaolin D, Gosin L; Guangdong Liwei Chemical Industry Co Ltd. Synthesis method of cypermethrin compound. China patent 102746191А. 2012 Oct 24. Chinese.
Wing N. Pesticide ointment and pasty pesticide applicator. International patent 2017/098356. 2017.
Menke N, Shtannek D, Turberg A, Dautel' K; Bajer Khel'sKer AG. Russian Federation patent RU 2350079 C2. 2004 Jan 5. Russian.
Chan-Cheng M, Cambronero-Heinrichs JC, Masis-Mora M, Rodrigues-Rodrigues CE. Ecotoxicological test based on inhibition of fungal laccase activity: application to agrochemicals and the monitoring of pesticide degradation processes. Ecotoxicol Environ Safety. 2020;195:110419. doi:10.1016/j.ecoenv.2020.110419
Suman S, Mishra S, Shukla Y. Toxicoproteomics in human health and disease: an update. Expert Rev Proteom. 2016;13(12):1073–1089. doi:10.1080/14789450.2016.1252676
Bhatt P, Rene ER, Huang Y, et al. Systems biology analysis of pyrethroid biodegradation in bacteria and its effect on the cellular environment of pests and humans. J Environ Chem Eng. 2021;9(6):106582. doi:10.1016/j.jece.2021.106582
Varg JE, Kunce W, Outomuro D, et al. Single and combined effects of microplastics, pyrethroid and food resources on the life-history traits and microbiome of Chironomus riparius. Environ Pollut. 2021;289:117848. doi:10.1016/j.envpol.2021.117848
Segarra A, Mauduit F, Amer NR, et al. Salinity changes the dynamics of pyrethroid toxicity in terms of behavioral effects on newly hatched delta smelt larvae. Toxics. 2021;9(2):40. doi:10.3390/toxics9020040
Wen Y, Zhou L, Li D, et al. Ecotoxicological effects of the pyrethroid insecticide tefluthrin to the earthworm Eisenia fetida: A chiral view. Environ Res. 2020;190:109991. doi:10.1016/j.envres.2020.109991
Dalhoff K, Hansen AM, Rasmussen JJ, et al. Linking morphology, toxicokinetic, and toxicodynamic traits of aquatic invertebrates to pyrethroid sensitivity. Environ Sci Technol. 2020;54(9):5687–5699. doi:10.1021/acs.est.0c00189
Bhatt P, Bhatt K, Huang Y, et al. Esterase is a powerful tool for the biodegradation of pyrethroid insecticides. Chemosphere. 2020;244:125507. doi:10.1016/j.chemosphere.2019.125507
Wang XH, Souders II CL, Xavier P, et al. The pyrethroid esfenvalerate induces hypoactivity and decreases dopamine transporter expression in embryonic/larval zebrafish (Danio rerio). Chemosphere. 2020;243:125416. doi:10.1016/j.chemosphere.2019.125416
Maksoud HA, Mahfouz MK, Soliman MI, et al. Harmful effects of pyrethroid ester insecticide on the male reproductive system mainly through affecting testicular function and inflammatory markers. Biocell. 2020;44(1):111. doi:10.32604/biocell.2020.08399
Zhang J, Hao W, Zhorov BS, et al. Discovery of a novel series of tricyclic oxadiazine 4a-methyl esters based on indoxacarb as potential sodium channel blocker/modulator insecticides. J Agric Food Chem. 2019;67(28):7793–7809. doi:10.1021/acs.jafc.9b00826
Chen M, Du Y, Zhu G, et al. Action of six pyrethrins purified from the botanical insecticide pyrethrum on cockroach sodium channels expressed in Xenopus oocytes. Pestic Bio-chem Physiol. 2018;151:82–89. doi:10.1016/j.pestbp.2018.05.002
Glinyshkin AP, Yakovleva, IN, Meshkov YI, et al. Insectoacricides and insecticides and neoseiulus californicus (parasitiformes, phytoseiidae) safe and great application in protected ground. IOP Conf Ser: Earth Environ Sci. 2021;901(1):012068. doi:10.1088/1755-1315/901/1/012068
Zhang M; Qingdao Baizhong Chemical Technology Co Ltd. Production improvement process of imidacloprid. China patent 103641815A. 2014 Mar 19. Chinese.
DOI:
https://doi.org/10.15826/chimtech.2022.9.1.02
Copyright (c) 2022 Andrey V. Tretiakov, Sergey B. Yaroshuk, Vyacheslav F. Markov, Lyudmila G. Budnik

This work is licensed under a
Creative Commons Attribution 4.0 International License
.
Chimica Techno Acta, 2014-2022
ISSN 2411-1414 (Online)
Copyright Notice