"R-Economy" (ISSN 2412-0731) is a peer-reviewed electronic journal published in English. The journal observes both fundamental and practical results of the surveys in the spheres of regional development and economic space, state regulation and financial security, regional and municipal budgets, intersectorial regional complexes, as well as a number of other theoretical and practical questions of regional economies.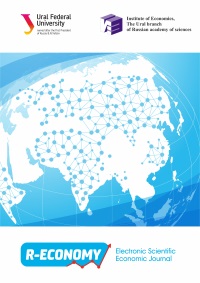 The mission of the ¬ęR-Economy¬Ľ journal is to provide the publication of the advanced studies in regional economics with an emphasis on the inclusion of the regions, Russian regions in particular, in the international socio-economic processes. We consider cooperation with economists from BRICS countries our major priority.¬†
¬ęR¬Ľ in the title of journal refers to its three basic directions 'Äď Region (regional development), Rating (comparative researches) and Regulation (state policy).
The Journal's key research areas include:
Regional differentiation and polarization;
Approaches and statistical indicators to measuring regional development and differentiation;
National and international ratings of regional development;
Methods of modeling and forecasting processes of regional differentiation and polarization;
Equalization policy in socio-economic development of regions.
The information about journal is distributed through communities where the founders are active members, e.g. RSA (Regional Studies Association), EACES (European Association for Comparative Economic Studies), HSE (The National Research University Higher School of Economics), NES (New Economic School), ARETT (Association of Russian Economic Think Tanks) and AC Expert, as well as among foreign academic partners of Ural Federal University under the international digest of  Graduate School of Economics and Management.
Vol 4, No 3 (2018)
Full Issue
| | |
| --- | --- |
| View or download the full issue | PDF |
Table of Contents
| | | |
| --- | --- | --- |
| | S. Lovińá Obradovińá, S. Matovińá | 88-94 |
| | | |
| --- | --- | --- |
| | J. Milankovińá, D. Pavińá, J. ńźorńĎevińá, A. Dragin, S. ńźukińćin Vuńćkovińá, M. M√©sz√°ros | 105-114 |
| | | |
| --- | --- | --- |
| | H. Kitonsa, S. V. Kruglikov | 115-120 |
| | | |
| --- | --- | --- |
| | N. Yu. Vlasova, O. O. Kalganova | 121-129 |